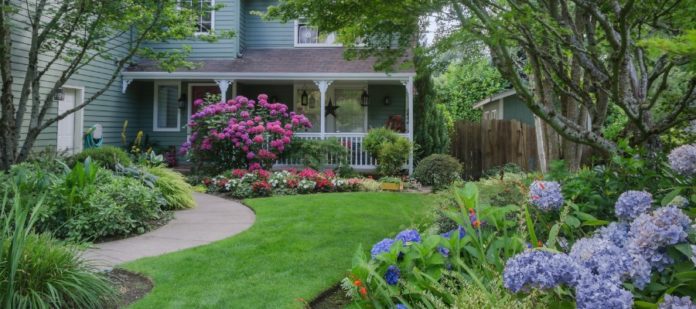 Step outside and look at your home. The homeowner's illusion may have persuaded you that your giant cinderblock needs no help to look its best. But the reality, for most homeowners, is that yards need regular sprucing. Luckily, you can spruce up your landscaping without any wasted energy or money.
Consider the Weather
What's feasible for your landscape heavily depends on what region of the world you live in. Your region's climate will impact your choices of plants and the design of your yard to take into consideration flooding, water rationing or the types of animals you want (or don't want) to attract.
Add Design Components
Consider what impact you want your home to make. Do you want it to stand out in your neighborhood? Are you looking for something eclectic and vibrant, simple and subdued, or clean and geometric? Your local home goods store should have plenty of creative items that you can scatter in your walkway to add visual interest. Repaint the front door for a unique punch of color, furnish the porch to give the space an inviting feel, or add lights to your walkway to give your home an ethereal glow during the night. With a little elbow grease, you can engineer a stunning natural stone walkway all on your own.
Garden Paradise
You have free reign to create a decadent garden palace or keep things simple with a few hanging flower baskets. If you stick to only flowers, your garden will look pretty sad when the winter months roll around. So, toss some evergreens into the mix to maintain a flourishing garden year-round. A water feature—such as a fountain or pond—will make your neighbor's peonies wilt with jealousy! But, if that's too flashy, window boxes are a nice alternative. For a classic feel, adorn your walkway with boxwood hedges.