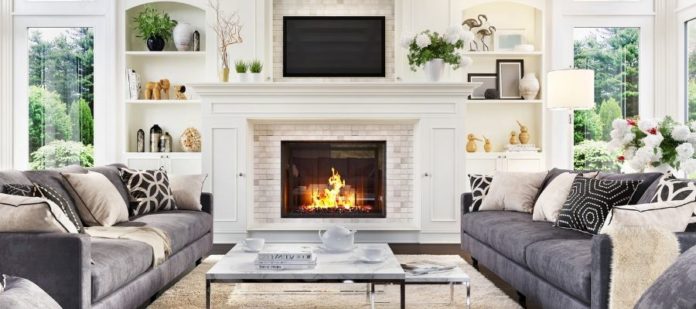 A rustic fireplace mantel can give your living room or basement that perfectly homey and cozy look. You can use it to hold decorative plates or candles, or you can hang stockings from it during Christmastime. Mantels can also be functional—if your TV hangs above the fireplace, the new mantel could hold speakers, a DVD player, or the cable box. After you install your fireplace mantel, you'll be able to relax by the fire with a drink in hand any night of the year.
The best time to install a fireplace mantel is during the home's construction. Ideally, a carpenter would attach special mantel brackets directly to the wall studs and build the drywall and bricks around them. However, not everyone is able to buy a brand-new house and make these design decisions themselves. Even if your existing fireplace doesn't have a mantel, fear not—with a little work and imagination, you can still have the mantel of your dreams. Follow these four easy steps to installing your own mantel.
Determine the Proper Height
Hold your mantel above the fireplace to determine how high it should be and to ensure it's centered. Mark the spot with a pencil, then use a tape measure to mark where you need the brackets to go. How heavy-duty your mantel is will determine how many supports you'll need; a heavier mantel will need more supports than a lighter one. Make sure to evenly space out the supports to evenly distribute their reinforcement.
Install the Supports
If your fireplace is surrounded by brick, you'll need a masonry bit and a drill to make holes in the spots you marked. The brick is hard, so drilling the holes may take some time, patience, and strength. Make sure you drill the holes deep enough so that the masonry anchors are flush with the wall. Once you've drilled the holes, simply slide in the support bolts.
Drill the Mantel
Once all the supports are in place, you'll need to drill into the mantel itself. The holes in the mantel should line up with the supports. Measure the distance between each support and mark the corresponding spots on the mantel. Drill the holes deep enough—but not too deep—so that the mantel fits as close to the wall as possible.
Installation
Test the fit before permanently installing the mantel. Place the mantel over the supports to make sure everything lines up and fits as it should. If everything fits correctly, put some adhesive in all the holes and finally put the mantel in place. Let the adhesive cure as long as necessary before putting anything on your new mantel.