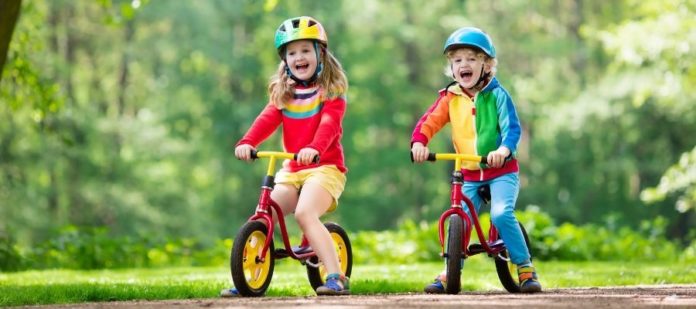 Summer means time for outdoor play. You and the kids were stuck inside all winter, so why not get outdoors as much as possible this season? Whether it's spending time at the beach, barbequing in the backyard, or taking nature walks, there's so much to do outside. One of the best ways to get your kids outside is to create an activity jar—it'll hold all your ideas for fun activities. We've listed a few of our favorite outdoor activities for kids that you can add to your jar—check them out!
1. Water Balloon Baseball
It's as fun and as wet as it sounds! Fill up some water balloons, grab a bat, and get to swinging. Kids will love the chance to soak themselves by popping balloons, and the sport helps them improve their hand-eye coordination in an exciting way. If your children are younger, try T-ball instead—it's less likely to frustrate kids who may keep missing the balloon.
2. Nature Scavenger Hunt
A fabulous way to get kids outside is to go on a nature scavenger hunt. If the kids are older, you can make it more complex with items that are tougher to find. No matter the difficulty level, the concept is the same: before beginning the game, go outside and find several items (pinecones, different types of flowers, et cetera) to jot down on a list. The children's goal is to find each item on the list. You can also find various printable lists online if you choose to go that route.
3. Outdoor Painting
Another way to get kids outside is to host an outdoor painting session. Bring out the watercolors, the paint-by-numbers, and the kid-friendly spray paint and let them create their own works of art. Allowing kids to embrace their creativity at an early age can stay with them for years, so show your excitement at whatever they create—that affirmation will stick them for a long time.
4. Bike Rides
A bike ride is a simple way to get outside and get in some much-needed exercise. Instead of hopping in the car to go to the ice cream shop, head off on your bikes instead. Though a bike ride can be just for fun, it can also be a great way for you and your kids to get to your destination while enjoying the fresh air. The kids will love biking to the beach or to the park, so make it a routine!
5. Chalk Bombs
The kids will want to do this every day this summer. It's simple enough: using a soap dispenser pump, fill water balloons with a washable chalk paint mixture consisting of one cup of water, two tablespoons of cornstarch, and a few drops of food coloring. Acting as a canvas, your driveway will soon be full of colorful splotches. You may even want to throw a few paint balloons yourself! For a fun activity, draw a few targets on the ground for your kids to aim at.