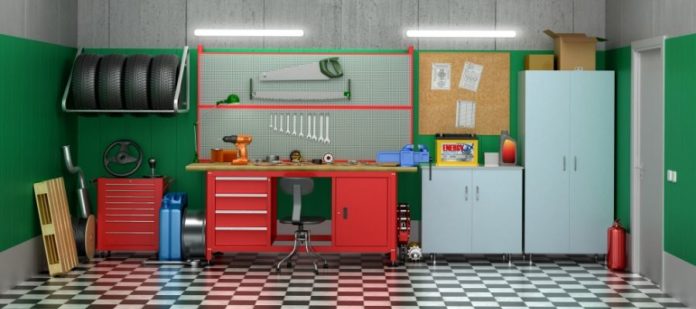 Having an empty garage is a rare phenomenon—especially if you have children, as it seems their stuff could fill the Grand Canyon. However, if you're lucky enough to have empty space, you have the opportunity to give it a purpose. Maybe you just moved into a new house or recently converted your carport into a garage—whatever the reason, you're going to need some new workshop gadgets for your garage. We share a few of our favorite items below.
Torpedo space heater
For those who live in colder climates, you'll need to stay warm when spending time in your garage during the dead of winter. As such, invest in the Master propane, forced air, 60,000 BTU torpedo space heater. It will heat up 1,500 square feet of garage in no time.
Magnetic Wristband by Kusonkey
If you are tired of losing nuts, bolts, and screws, you need one of these. There are 15 magnets packed inside the black adjustable wrist band. Each magnet is strong enough to hold dozens of fasteners and smaller tools. If you ever wished you had another hand while working on a project, the Kusonkey magnetic wristband makes a pretty close second.
Morpilot Laser Measure
Measure the distance from the workbench to the trash can and then throw your old tape measure in there. Morpilot has come out with a laser measure that is accurate up to 131 feet and will measure area and volume. No more scratching down numbers and trying to remember how to calculate area. It is waterproof, dustproof, and comes with sweet red laser enhancement glasses!
Mini-Fridge Toolbox
Now you can look like the hardest working person in the world but still indulge in a cold beer. If your garage is more of a play area, you can fool people into thinking it's a work zone with Versonel's mini-fridge that looks like a rolling toolbox. There are three working drawers for actual tools, so the disguise is complete.
MAXSA Parking Mat
It's time to say goodbye to the tennis ball on a string hanging from your garage's ceiling. Invest in a parking mat—you can lay it on the floor and it will stop you from driving too far forward and hitting any shelving or workbenches. Sturdy rubber guides will stop your car in the same spot every time. Plus, reflective red and white tape make them easy to see at night.