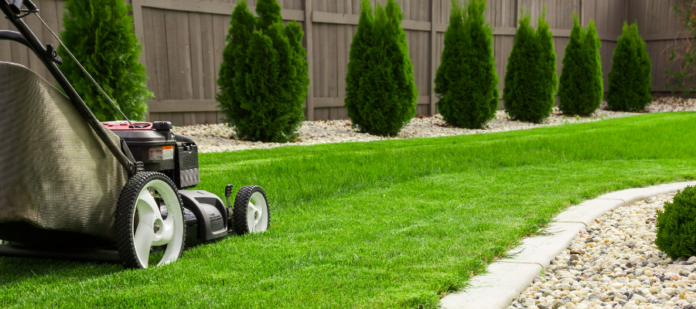 Your lawn was in hibernation mode all winter. But now that warmer weather seems to be here for good, it's time to make sure your lawn is ready for the season's outdoor festivities. Below, we offer seven tips to prepare your lawn for spring.
Clean Up Your Yard
To encourage air flow and prevent diseases and infestations, it's important to revive matted grass and remove branches, leaves, and other debris from your yard. If you leave plant litter on your yard, it'll take longer for the grass to turn green. However, you don't have to rake up every leaf—aggressive raking can actually damage your grass. If you can, we suggest using a leaf blower.
Aerate Your Lawn
If you suspect that you have compacted soil, consider aerating it. Aeration breaks up compacted soil, controls lawn thatch, and allows air and water to quickly reach plant roots, resulting in healthy soil and a beautiful yard.
Deal with Weeds
Ideally, you want to take care of weeds before they appear on your lawn. For herbicides to work their magic, they need to tackle weed seeds prior to germination. Lightly apply an herbicide all over your grass, which will eliminate any weeds you couldn't get rid of several months ago as well as new, unwanted weeds.
Lay Out Some Mulch
Replace old mulch around your plants and trees with fresh, heavy mulch. Not only does mulch make your lawn look neat, but it also helps the soil retain its moisture, making it essential for any lawn. Just be sure the mulch isn't too close to your home's foundation, as it will contribute to basement moisture issues. Remember, you want to create a boundary around your home in order to prevent water from entering it.
Mow At Least Once A Week
If your grass is just starting to grow, mow your lawn a couple of times a week at the beginning of the spring season. Mowing cuts away dead grass, warms up the soil, and encourages fresh grass to grow. You want your grass to grow properly, and by mowing it consistently, new blades will appear without any issues.
Take Care of Unsightly Bare Patches
Does your grass not look healthy? In the spring, you may be able to over-seed or fill in your lawn with grass seed. This will thicken the grass before weeds begin to sprout. Another option is to lightly fertilize your lawn—especially if you weren't able to last fall. Doing so will fill in brown spots and feed your grass essential nutrients that help prevent future heat damage.
Trim Trees and Shrubs
Spring is the ideal season for inspecting and trimming branches, as you can clearly see how they look before their leaves come in. If you notice any dead spots, cut them out—this way, your plants can support new growth.