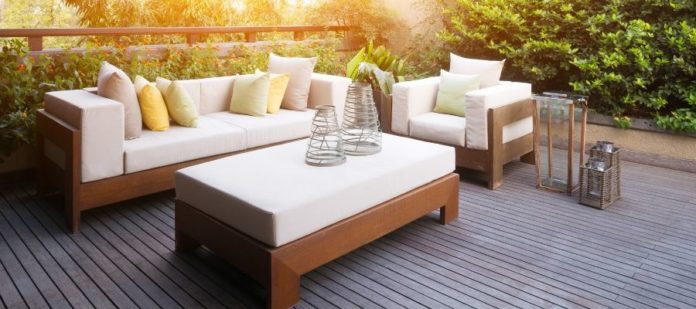 It's finally summer—the season that encourages people to step outside of their homes and embrace the gorgeous weather. To best enjoy nature during this time of year, many homeowners will lounge around on the patio night after night. A patio is a prime outdoor space for both entertainment and relaxation. But if this part of your backyard could currently use a little TLC, we can help you out. Below, we share seven effortless ways to improve your patio.
Power Wash Your Patio
It's no secret that the elements can destroy exterior structures, leaving unsightly chips and stains behind. However, power washing your patio will make it look new again. Just be sure to take extra care if you have a composite or wood patio, as the pressure may be too harsh on it.
Consider A Fire Pit
Simply put, a fire pit adds warmth (pun intended) to your patio. The pit will bring people together on the chillier summer nights, and it also contributes to your yard's overall ambiance.
Opt for Outdoor Lighting
If you're going to spend your evenings under the stars, it's important to illuminate your outdoor space. Landscape lights are an easy way to brighten up your yard, while string lights and torches make any patio memorable. For an enchanting twist, hang decorative lanterns or display votive candles on a table.
Roll Out A Weatherproof Rug
Want to enjoy your patio even more? Think about laying out a rug. A rug boosts the comfort of your outdoor space; it's as if you're extending your living space outside. Plus, you and your guests' feet will certainly thank you for it.
Provide Some Shade
Although we go outside to enjoy the sunshine, we occasionally need some shade, too. That's why a covered patio is the way to go. An awning, canopy, or covered pergola will effectively protect outdoor gathering areas from intense heat.
Grow A Garden
One of the easiest ways to improve your patio is by incorporating greenery as much as possible. Ferns, flowers, and other foliage really liven up a patio, adding interesting textures to your space. Your patio is also an excellent place for your favorite herbs—simply place the herbs in planters and hang them around your patio; it will look more welcoming in no time!
Take Care of Quick Repairs
Leaving your patio's damage untouched is sure to make it worse, therefore, you'll need to prioritize repairing these imperfections. Fix any damaged boards and be sure to replace any that are missing. Additionally, don't forget to change out any popped nails.