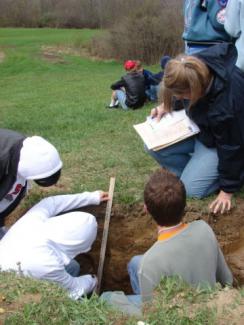 Attention All Teachers, Science Curriculum Specialists and Principals
If you work with students who have a strong interest in environmental issues, then check out the Northeast Ohio Envirothon.
The 2018 Envirothon is sponsored by the Ohio Department of Agriculture, Division of Soil and Water Resources and the Ohio Federation of Soil and Water Conservation Districts. This program provides a unique opportunity to introduce your students to the concept of environmental conservation and promotes the idea that we need to use the Earth's resources in a sustainable manner that will benefit present and future generations.
The 2018 Northeast Ohio Area II Envirothon will be held on Thursday, April 26, 2018 at the Cuyahoga County Fairgrounds, 19201 E. Bagley Road, Middleburg Heights, Ohio, 44130. A high school may send up to two, five-member teams. Homeschool groups are also encouraged to participate. Students currently in grades 9 through 12 or equivalent home school ranking at the time of the Envirothon may participate. Completed registration and release forms must be returned to Summit Soil and Water Conservation District by March 16, 2018. The winners of this contest will compete in the State Envirothon Contest at Cedarville University in June, 2018.
As in past years, the "ecostation" format will be utilized. At each station, students will answer questions from the five study content areas of Soils, Wildlife, Forestry, Aquatics, and Environmental Issues. The 2018 Envirothon theme is "Western Rangeland." If you would like a copy of the Rangeland study guide, contact Sandy Barbic at the number below and we will e-mail a copy to you.
Please contact the Summit Soil and Water Conservation District office with any questions, and to request a registration packet. If you are new to the Envirothon, we will be happy to speak with you about this great program.
Click here for more information.
Sandy Barbic
Education Specialist
sbarbic@summitswcd.org
330-926-2452