This interview with Big Kenny will leave you with one big and rich heart.
By Felicia Naoum
How it All Began
His life might be Big & Rich, full of glam and rock and roll fame, but Big Kenny of Big & Rich finds his best moments at home with his 8-year-old son, Dakota who happened to be playing piano during our interview leaving Kenny quite content and happy. Those moments are his big and rich moments.
And it is his family who Kenny misses the most while he's out on the road being the part of the country duo that fans have been craving since the release of one of country's sexiest songs when we're told to stop riding horses and start riding well cowboys. Can I get a yee-haw?
Back to a more serious note, Big Kenny shared how he and his other musical half, John Rich, of Big & Rich became the dynamite country duo they are today and have been in country music. The duo met thanks to a mutual friend Cindy Simmons. After being prompted by Simmons to connect with John Rich, who once played base guitar for Lonestar, Kenny attended one of Rich's shows. What could be sweeter than Rich and Kenny connecting and becoming the soulful country voices behind classic hits like "Lost in This Moment" and more recent hits like "California" (2017) is the fact that Kenny always wants you to leave with something sweet whether it's a moving musical tune or a piece of candy, yes candy, which he would throw out to the audience during shows. Kenny recalled the day he went to see Rich perform before meeting him and while Kenny was throwing candy to the audience because as he says, "I'd throw it out to make sure everyone left with something," a piece of flying bubble gum hit Rich right underneath his hat and "in that moment" it all began…Big & Rich style.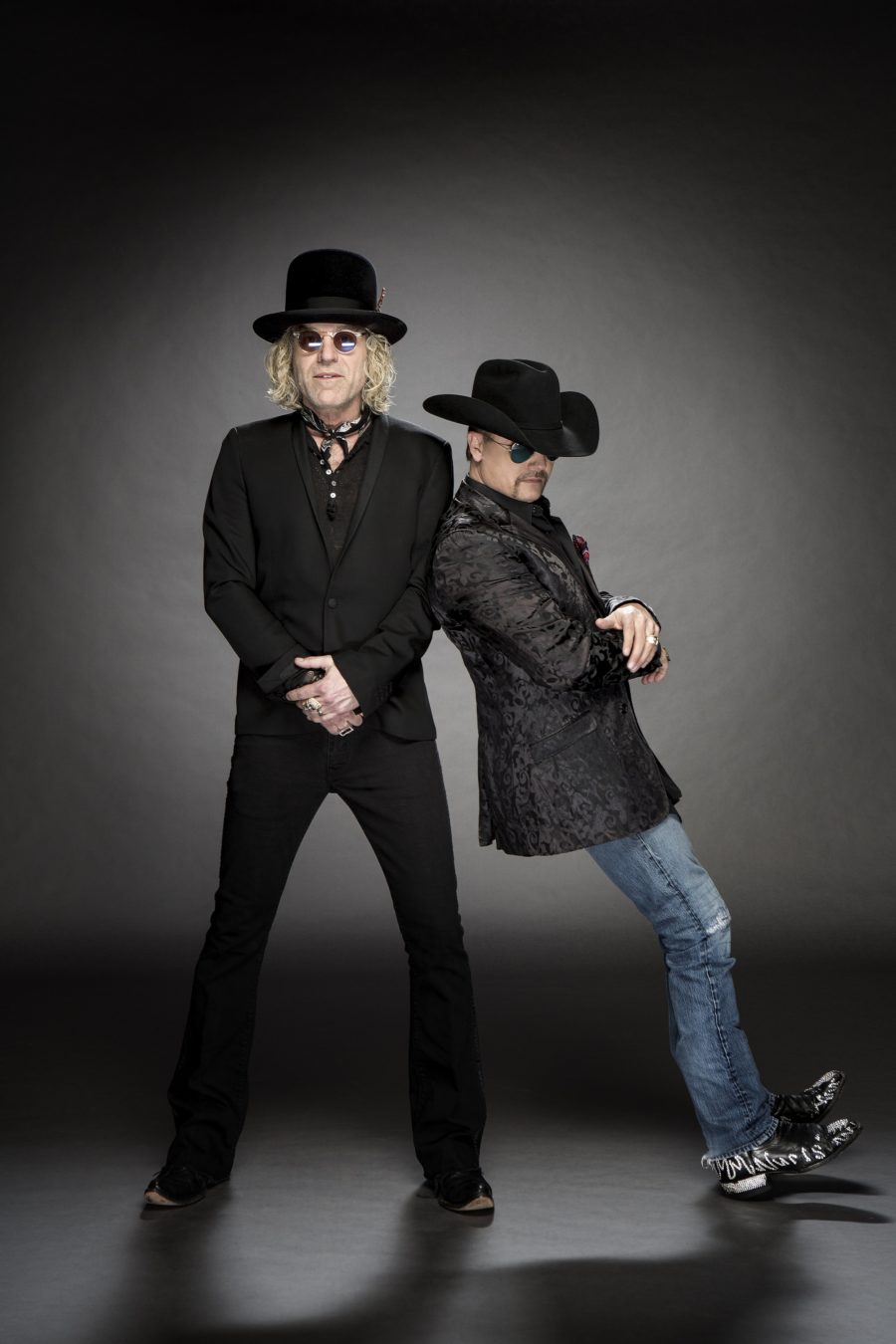 Tim McGraw Had a Feeling and an Impact
We knew then what we know now – Big & Rich is a big deal, especially when King of Country Mr. Tim McGraw wanted to share the stage with the duo and made it happen with a quick call to his agent back in 2004 during the release of Big & Rich's Horse of a Different Color album. McGraw heard Big & Rich's album through mutual friends and just like that, McGraw made it happen when he called his agent and said, "I want to have these guys on tour with me."
What a way for the duo to break into the country music scene with Tim McGraw.
"Did working with Tim McGraw teach you anything?"
"Absolutely. Tim taught us a lot of stuff. It was a huge tour. We got to see how everything operated moving city to city, day after day, huge crowds; how it all goes down so effortlessly." But the biggest compliment Kenny gave McGraw after learning a thing or two from him – "[Tim McGraw] taught us how a real class act, A-List artist does his job."
If Tim McGraw knew Big & Rich was the real-deal…then they were and still are the real deal.
I mean, we'll check out the hits to confirm it, but first we need a little inspiration behind a good country song and Kenny's got some.
Musical Inspiration
He started with Willie Nelson. He knows my heart. But he added soul when he recalled when Willie Nelson a "classic country" as Kenny labeled him and Ray Charles, who he labeled a "classic soul" came together on "Seven Spanish Angels." That's inspiration. Kenny shared that he grew up listening to AM radio and remembered the variety of inspiration that came to him at a young age like "Strawberry Wine" playing one minute and then George Jones and then "Strawberry Fields" by The Beatles the next minute. This next inspiration may come as a shock to the country world because this band doesn't have any twang in their vocals but "you see there influence in Big & Rich," said Kenny. The band is Queen.
All this inspiration (with a few more elements stirred in the pot) must be doing something right for these Big & Rich hits to be born.
Reminiscing on Classic Big & Rich Hits
Kenny said the reasons for Big & Rich's successful hits include luck, and the great hand of God coming down when writing a song, but one thing he forgot, which I'll add: mad talent.
Going back to the days of classic Big & Rich hits like "Save a Horse Ride a Cowboy" and "Lost In This Moment With You" —what do you think made these songs so great and lasting?
"I think we got lucky." Like I said, he forgot the obvious reason – him and his partner John Rich's talent. One thing Kenny explained is that it can take artists a hundred tries before landing that hit, but when you have it, you know it. And sometimes, if you're really lucky, those hits can influence a whole fan base in the most romantic ways.
"I'll never forget the reaction we'd get from when we played "Save a Horse;" it was written from a real earnest and honest place and people just gravitated towards it." Kenny compared the almost sexually saturated but still kind of classy country classic with the more loving "In This Moment" and says, "Those two songs are very drastically different. People probably met and fell in love to "Save a Horse" and got married to "Lost…"
Some hits though, might be more somber, but are made to move a mountain. Kenny said this hit hits too close to home: "Holy Water." The song was written for Kenny and Rich's sisters who both suffered domestic violence as well as many close friends in their lives and it doesn't stop there. "Holy Water" spreads the message of the pain victims of domestic violence suffer. "This song represents just how powerful music is and the message it can spread and the people it can reach," I said. I followed with the question, "So how does it feel to have the ability to do that?"
"The greatest blessing of having success as an artist is having a platform that allows you to make the world a little better, said Kenny" And the message is reaching people and certainly creating change as Kenny attested to the fans who tell him so, "Not a show goes by to this day that one of the songs we wrote, "Holy Water," or "8th of November (about a survivor of Operation Hump during the Vietnamese War)," is another one, that has a drastic effect and causes great change."
In a world with more good days than bad days, more tears than smiles, we need change and we're glad country music is doing that. But even country is changing.
Keeping Country…Country
"Do you feel it's hard to stay current but still classic country today?"
While Kenny admits that country music has certainly changed, he still feels everyone has a different opinion of country music and recalls the days when people labeled "Save A Horse" as sacrilegious. "What I love about our formats is it's such a cross genre of what is American music." Kenny recalled when Dolly Parton and Kenny Rogers got together to sing "Islands in the Stream" and used an orchestra at first giving the song a different appeal or "flavor" as Kenny calls it. But at the end of the day, Kenny says good music will always be recognized and always win regardless. "Flavors [are] ever-changing, if it's good music [people] will love it no matter what."
More Than Music, Game Time
Aside from making hits, Big & Rich is now making games too. The duo's new baby is Get Big $ Rich which Kenny said is their first "forte" into gaming. Kenny added that the duo wanted a new way to get all things Big & Rich to their fans with this overall entertainment approach in one game. You may or may not get Big & Rich from this game, but I'm sure you'll have one heck of a time. Find out more about Big & Rich's Get Big $ Rich casino style game at their website.
"California" and the Dreams That Get You There or Anywhere
Tell us about the inspiration behind the more recent 2017 hit "California" off the album "Did It For The Party." "Did It For The Party" debuted at No. 1 on Billboard's Top Country Album Chart and Top 10 of The Billboard Top 200.
Kenny shared that John was in an airport one morning and the idea just came to him. The song, as Kenny described, too, is about someone in love but with a passion and dream to pursue that means more to them than anything and they have to do it. As for dreams, I wanted to know how Kenny made his come true and how he thinks you can, too.
But first, by the way, he says nothing feels better than a dream that came true. "How does it feel that the album "Did It For The Party" debuted at number one?"
"Nothing better than having hit songs and fans singing along with you at a show."
So how does one get there or anywhere they want to go for that matter? You know, shattering dreams.
"Oh golly. The number one thing is everyday to put one foot in front of the other and continue to walk towards your dream. Just keep the passion and fire burning and know the only thing between you getting there is just a little time. Focus all your energy and before you know it, fans will start showing up and one day you're sitting here doing interviews like this one."
One I was so proud to have.
Thank you, Big Kenny.
"They seem out of reach, but I can attest to the fact that dreams do come true," added Kenny.
So can I.
I'll leave you with an encore.
"Music without prejudice is what we stand for. I have to believe that others are the same. If it's good, I know people will love it and God bless all the entertainers out there bringing joy to the fans. We've seen enough terrible things going down. Music is the greatest gift of life." – Big Kenny of Big & Rich
Big and Rich will be at the Hard Rock Rocksino on May 18th.
Information about tickets here