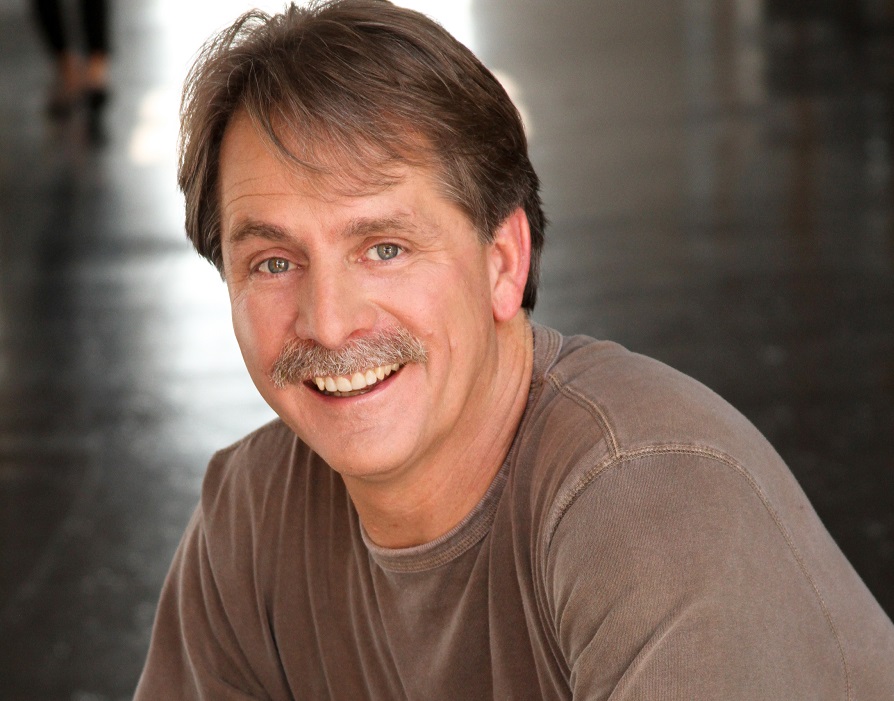 By Felicia Naoum
In a 2017 Hard Rock Rocksino interview, Ron White credited Jeff Foxworthy as one of the reasons White is successful today. "[Jeff] Foxworthy's generosity to share stage with me — that was the catalyst that made me a good comic." After sharing this quote with Foxworthy, he was appreciative of White's compliment, and went on to share his own comedic inspiration with readers — the one who Foxworthy claims helped him along the way is famous comedian turned main man of late night Jay Leno.  "Way before Jay was doing "The Tonight Show", [he] was always so generous with his time to other comics — especially guys starting out. Early on, I still remember Jay saying, in 1984, 'if you work clean, you'll always work.'"
Thirty years later in show business and Foxworthy is still working.
Not only did Leno inspire Foxworthy to work hard, he gave him a good name in show business and introduced him to other greats in the game like Johnny Carson. "He was the guy who actually told Johnny Carson about me. He went to them and said you need to look at this kid, "adds Foxworthy.
Not only has Foxworthy's career in entertainment spanned 30 years, many successes later, Foxworthy has also done "The Tonight Show" with Jay around 30-something times, he recalls.
It looks like Leno was right. He worked hard and 'clean', and he's still here.
Foxworthy's achievements don't wrap with his redneck comedy claim to fame either. He is the bestselling author of over 26 books. He is the largest-selling comedy recording artist in the history of comedy recording artists. He has Grammy nominees. He has talked to quite a few 5th Graders to see if they were smarter than your average adults. You know the FOX show — "Are You Smarter than a Fifth Grader?" — an educational game-show that the former host deemed as "brilliant" from the moment the concept was pitched to him. And when I asked him if 5th graders really do have a leg-up on most adults academic-wise, he answered, without hesitation, "Yes." But, in all fairness, the comedian says that he, like many others, have forgotten most things learned in 5th grade as he hasn't used many of his learnings since his school days. There is, however, so much the star hasn't forgotten such as who he is, how he got here, and why he does the things he does.
He ministers the homeless in his home state of Atlanta — a job that he schedules his Hollywood gigs around. You may or may not know the ministry gig. He doesn't like to make it the focal point of interviews. So, we won't make it a focal point of the story. He told me that his homeless ministry isn't something he strives to make public but will still briefly mention so that's what I was trying to convey. He cares about helping people but not boasting about it. He is not only generous to his fellow comics, but to those in his hometown circle as well. Ron White already told us so.
All the while, all the success in the world doesn't define him. At the end of the day, his role as a family man takes precedence in his life. His faith in God is a priority, too.  Everything else is just icing on the cake for the comedian who loves hunting and fishing and cooking as many regular folks do.
And as his fans know, he's just a red neck who isn't going to apologize for that either.
"In the realm of comedy, it seems you coined the term red neck. Has this ever gotten you in trouble considering the current political and comedic climate?"
"No, because I was talking about myself. Because that's what everyone in New York was calling me. I drove a truck. I was wearing boots and jeans. I like to fish. The more I travel the country, I see this isn't just a Georgia thing."
Whether it's a New York thing, a Georgia thing, an Ohio thing (get ready Northfield Park because he's coming October 6 at Hard Rock Rocksino Northfield Park) or a wherever, Jeff Foxworthy fans live thing, one thing Foxworthy points out — times have changed.
"People are much less likely to laugh at themselves. I don't ever remember it being so contentious," expresses the comedy vet.
Foxworthy takes us back to the early 90s — a time the quadruple (he does a lot) star calls the height of the redneck comedy days — when one-liners were one-liners, he says. The meat of all his shows was and still is inspired by his family. Foxworthy believes that most families in the audiences are going through, or at least thinking similar things that his family are.
But regardless of any political divide the country is facing today, or the world is — rather the world closer to Foxworthy — the comedy world — Foxworthy has learned we are more alike than we are different. "Even though the country is divided and you went to the most polar opposite politically and sat them down, I bet you most people would agree on 85 percent of the things we have in common. We scream and yell at the 15 percent that makes us different. I've been to all 50 states. People are people. People want to be loved, people want to be significant. People want to be heard. We hone in on what's different — not what we have in common," shares the creator of the new family game "Relative Insanity."
Foxworthy is focusing on the positive. It doesn't sound like a sales pitch or a gimmick. It just sounds like who he is. While he describes himself as a creative person and never one to sit on the couch — his latest birth "Relative Insanity" (see more info here)— a game that came to him from nights of his family members playing "Cards Against Humanity" on Thanksgiving and Foxworthy looking for a way to make the well-liked game still fun but clean. Sounds like a familiar word from Leno. Foxworthy spent further nights writing out hundreds of punchlines and then sets all on index cards to develop his new idea. The game lived in a shoebox wrapped in rubber bands and tested out by his family before becoming Amazon's number one game that you can play with all of your relatives and have a hoot while doing so. Just ask the staff at Jimmy Fallon's late night show who spent the day playing the game in the office before Foxworthy's appearance on the show. Foxworthy said they were having some 'insane' fun if you will. Foxworthy explains that a good game is one you can't put down. "If a game makes you laugh, you will play it over and over again."
Foxworthy's game is successful. His career has been successful. But that wasn't always the case.
Sometimes, with all of their success, it may seem like celebrities are immune to struggles. This notion couldn't be further from the truth for Foxworthy. "There were a lot of days of struggles," admits the celebrity. Foxworthy reminisces of the days when he had pocket calendars that helped him track the pay amounts for each comedy gig he booked. He recently found a calendar from 1985. The calendar confirmed the days of struggle the now A-list comedian once faced. "[I] did 406 shows and made $8,300 dollars for the year [in 1985]. I had eight straight years I did over 500 shows. I was never scared to work. I thought this is how you get good."
At one point, Foxworthy was making so little money that he was afraid to spend money and went without making large purchases like a home. He saved and saved. And got better and better at his craft until he became the comedian that others [like Ron White] credit in their interviews.
But for Foxworthy, he's just a family man first. In fact, being a family man is such a priority for him that when his success took off, he would fly home from each show in time to see his children off to school as early as six in the morning. "I'm a husband, I'm a dad, I'm a brother — that's who I am, and I hope who I am stays consistent," Foxworthy once told a reporter.
Not only is the comedian who is known as the red neck jokester a family man first, but he's also a man of God and he could care less what the religious naysayers have to say about it.
"You are not shy about your faith in God. Did you ever fear that you would not be accepted in the public eye because of it or that it has negatively impacted your career in certain ways?"
"I think it probably has. I know there are people who make fun of me for it. I don't care. I don't answer to them."
Foxworthy goes on to share that if his faith makes him a better dad (the comedian openly shares that his father left his family when Foxworthy was a kid and married multiple times), a better husband and an overall better man, then he doesn't see the issue with his faith. He says he isn't one to shove his beliefs down anyone's throat so to speak. He is just living his life on his terms and helping those the best he can. But as we gather, he won't apologize for who he is.
As a family man, Foxworthy finds his downtime spent in a cookbook. With fall coming, he's exploring different soup recipes, currently a taco soup, but stays away from baking as it is too calculated. "Baking is hard because you really have to follow the directions."
Foxworthy seems to make his own rules.
His rules though don't drift too far from his first love of comedy. For Foxworthy comedy comes before any other area in the entertainment field. "If it went away, I would miss it [standup comedy] because I love doing it. I think I would be okay because like I said, it's what I do, it's not who I am."
And while fame and the comedian lifestyle isn't one that is the end all be all for Foxworthy, he'd be lying if he said he didn't have any fears relating to his career. "My fear — I don't want to be the guy that wasn't funny anymore."
And for those about to rock at Hard Rock Rocksino Northfield Park October 6, stay tuned for a collection of Foxworthy's family life, travels from the road, time with Larry the Cable Guy, his take on generations present and past, including today's social media take-over versus how he grew up and more. Foxworthy says all his comedy CDs are snapshots of his life at that point and time. So, if you hit up the live show, you will get various glimpses of his life at different points and times.
And the stage is genuinely where Mr. Foxworthy wants to be. So, as you sit in the audience, you will find that he is his most authentic self on stage because as he says, "I didn't get into standup to be in television or movies." If Foxworthy had to pick one thing to always do, he says "it will always be standup."
See you October 6, 2018 at Hard Rock Rocksino Northfield Park on the stage with Jeff Foxworthy — the only place — other than home — he wants to be.