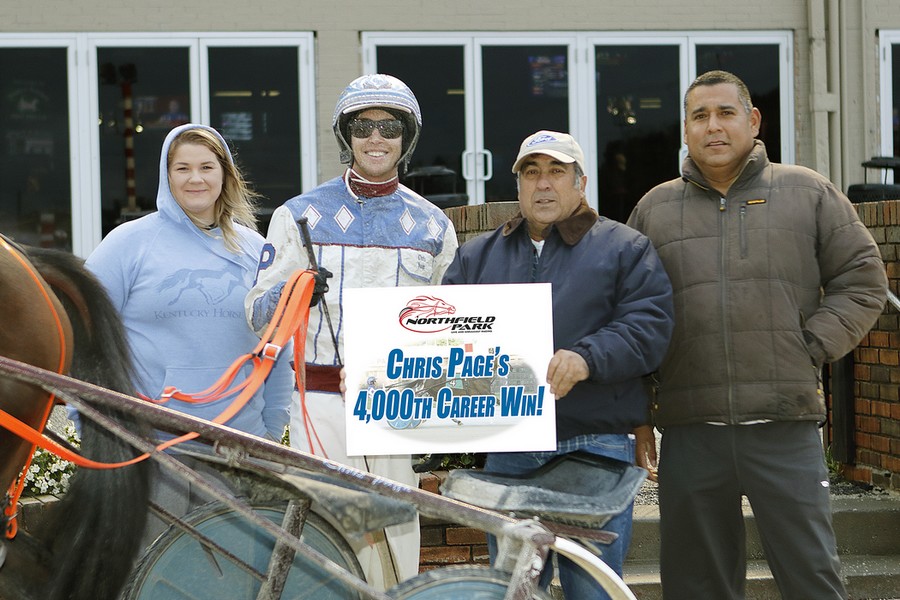 Chris Page drove from his hometown of Delaware, Ohio, to Northfield Pa ark on Monday (October 30) needing just one win to reach his 4,000 career milestone.
The program started and Page went right to work, winning the very first race of the evening aboard Scarlet Cat. He started from post-2 and sat the pocket through fractions of :27.4, :57 and 1:25.1. Page tipped Scarlet Cat approaching the stretch and the sophomore gelding paced by his competition, winning by 1 ½-lengths in a lifetime best 1:54.2.
Page is not from a "horse family." Neither of his parents have ever been involved in harness racing. His love for horses began when he started helping his cousin, Tom Hall, work in his stable at the Knox County (Mount Vernon, Ohio) Fairgrounds.
His love for the sport was cemented when he attended his first Little Brown Jug.
"That was the year that Life Sign won," recalled Page, "It was an epic Jug and is one of the best races ever."
Chris drove his first race in 2000, finishing sixth in a $900 FFA pace at the Knox County Fair. He won his first race in 2001 at the Champaign County Fair aboard Titanic Fella.
Page graduated from Mount Vernon High School in 2002 and then attended The Ohio State University.
Chris' driving career started blossoming in 2006 and he has since driven several sub-1:50 miles and has purse earnings that are approaching $30 million. His richest win is a $250,000 Ohio Sires Stakes Final.
Crazy Wow is Chris' favorite horse to drive. However, the best Page has ever steered is Foiled Again, the richest horse in the history of harness racing.
"What an honor it was to drive him," explained page.
Page, 33, says his future plans all include staying in Ohio.
"I have traveled a lot and have driven at a lot of tracks," said Page. "At this point of my life, I am happy making a living right here at home. After all, I'm a Buckeye, baby!"