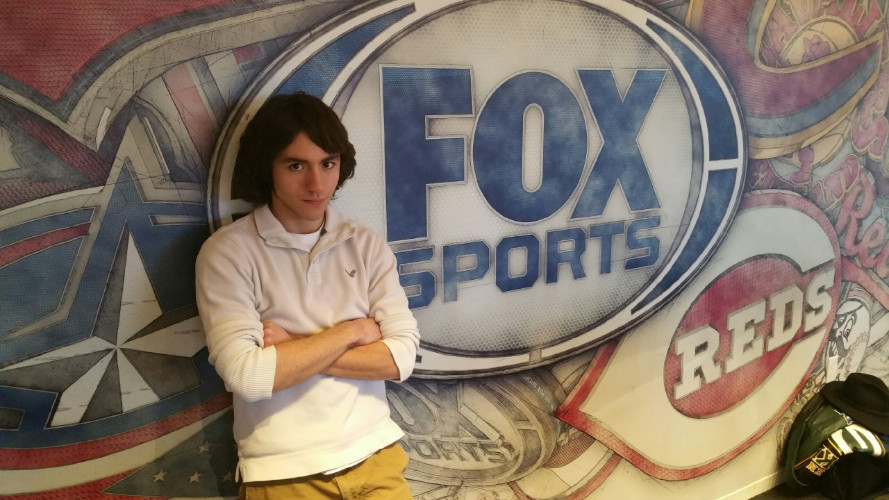 By Chris Ramos
Cleveland turns into a postcard image when you're on the twenty-fifth floor of the 200 Public Square. From viewing The Q and Progressive Field to seeing Lake Erie wave in the distance, the scene was breathtaking to say the least. I was lucky enough to attend a meeting of The Society of Broadcast Engineers (SBE) Chapter 70 of Northeast Ohio on March 21st. A meeting which involved highly intuitive minds to discuss technical equipment and recent activity. In other words, I was way out of their league. Television and Radio are hard businesses, it takes astounding work ethic just to keep pace, and although I do not plan on stepping into the broadcasting realm, it was still a rewarding experience, one in which a young kid like me should be grateful for.
All of this came to fruition for me personally because of Gary Miller. He was generous enough to invite me along. We also traveled with Jim Baird, who worked for Channel 5 and Channel 8 for numerous years, it was a pleasure meeting him. We strolled into the marble indulging lobby of the illustrious 200 Public Square, heading up towards the elevators where the other attendees were.
Bill Kennedy, Chief Engineer of Fox Sports Ohio, led to us upward to the twenty-fifth floor. Before entering the conference room, we were invited to the kitchen which was just in the other room, to eat and help ourselves to a beverage. This time was used as a social period, as the guests could converse and marvel at the spectacular view. Gary and I walked out into the lobby that led into the conference room, where several plaques and accolades were shelved inside a display case. We took a couple pictures and talked about the benefit of having an exposure to such a meeting as this one. We were in an exclusive area, let me make that very clear. Even going to the bathroom required Mr. Kennedy to type in a code for entry.
Once 7:00 arrived, we entered the conference room and took a seat, as SBE Chapter 70 Chairman, Blake Thompson, began the meeting. All of the attendees gave a brief introduction about themselves. Continuing on, Mr. Thompson began an overview of future plans and current activity reported from those in attendance, such as Gary. After the meeting was complete, Bill Kennedy gave us a recap of Fox Sports Ohio and its sister network, SportsTime Ohio. STO was created in 2006, by the Dolan family, to broadcast the Indians. In 2012, STO was sold to Fox Sports, officially placing the networks under the same umbrella.
When this discussion came to an end, we said farewell to the view that was beginning to harness an orange aura due to the sunset and packed back into the elevator as we were headed to the second floor for our tour.
We walked through a glass door entrance, into a small room with two red chairs, and in between them embedded on the wall was Fox Sports. We awaited at a locked door as Mr. Kennedy, playing the role of a shepherd, opened it and gave entry to us into the studio. He started the tour off with showing us the production control room. It was as this point, I felt as though he was Willy Wonka.
He answered questions with great enthusiasm, as I stood wide eyed, scanning the consoles, video monitors, vision mixers and several other components that make up the brains of the studio. I was completely clueless, ignorant to the technical discussion ensuing. That's not to say that jokes weren't thrown into the air, followed by plentiful laughs. We did enjoy ourselves too.
From there, Mr. Kennedy led us to the sets of the Cavs Postgame show as well as Drennan Live, allowing us to pretend as though we were live in action for the camera which is shown in the gallery below. Once we were done posing for pictures and inspecting the hefty tripod stationed multi-format cameras, the tour wrapped up with a trip to the server room.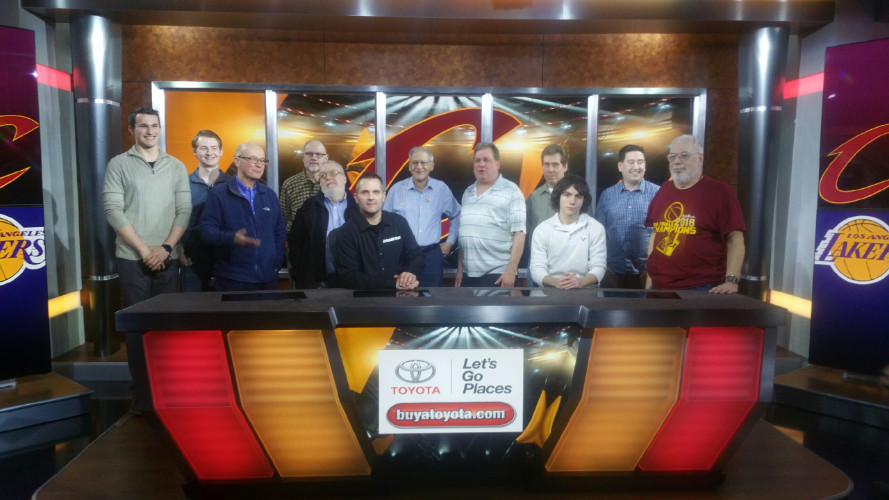 Wires were aligned and numbered with stern precision. Computers and routers were stacked to the ceiling, the amount of work to establish this setup is riveting, in fact it is a clear example of how amazing human beings really are. I paced slowly, feeling the ventilation systems blow upon my skin. If the control room was the brain, then this was the heartbeat. I remained silent just as I had been for most of the tour, letting the guys who knew what they were talking about, take the spotlight.
When it was all said and done, I loved every bit of this opportunity. It was an extremely rare one for a young kid like me. In fact, I really had no business being there which is why I was quiet and respectful. I was under the wing of the finest engineers around, listening to the passion backed words about their work. This exposure opened my eyes about the several layers within the broadcasting profession, it showed me the details which escape the casual eyes. Or rather, are hidden from them. Again, I am a writer and nothing more but meetings such as this one allow me to gain new perspectives and help build possible connections. After all, Journalism is apart of the media family. I would once again like to thank The Society of Broadcast Engineers Chapter 70 for allowing me to visit and feel happily welcomed, as well as Gary Miller for allowing me to be his traveling companion. I won't forget this.
Save
Save