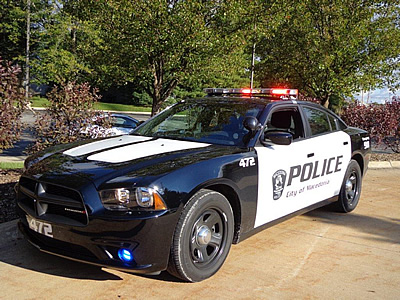 Editor's Note: These reports are a sampling of the Macedonia police reports for the last 30 days.
Several shoplifting reports were reported at Walmart, Kohls, and Walgreens.
POSSESSION DRUG ABUSE INSTRUMENTS
On 6/11 at 1027 hours, police responded to LaQuinta Hotel reference a crack pipe and a bottle of pills that were found in a room being cleaned.  They found the person renting the room. He was charged with Possessing drug abuse instruments M2 through Stow Municipal Court.
---
HIT-SKIP
On 6/13 at 1024 am, a police officer was dispatched to Wendy's for a report of a hit-skip which had recently occurred. The police officer spoke to one of the drivers who was involved in an accident at the Macedonia Commons Blvd. and East Aurora Road Intersection. The other driver had gone into Wendy's to use the restroom and had not returned for several minutes.
The missing driver's description was given to dispatch and other officers responding searched the area. They located the driver near Outback Steakhouse. She was arrested and transported to the jail. Upon search of the driver's vehicle who had fled, they discovered a broken glass pipe with burnt residue, commonly used for smoking meth, a clear plastic baggie containing a white crystal matter and broken pieces of hypodermic needles. The driver was charged with Open Container (MM), Falsification (MI), Stopping After an Accident (MI), Drug Paraphernalia (M4), No OL (M), and Marked Lanes (MM) through the Macedonia Mayor's Court.
---
ASSAULT AT WORK
On 6-14 at 14:08, a police officer was dispatched to a business on Empire Parkway for an assault that occurred. After a verbal agreement, one employee punched the other employee in the mouth. When he was struck he spun around and the right side of his face hit a fan. He was then asked to leave. The employee that was struck did not press charges but wanted a report filed.
---
ASSAULT
On 6-16 two police officers responded to a home on Apache Run to investigate a complaint of an assault.  Upon arrival, they talked to a male and a female involved in the assault.  As part of the investigation, the male was searched. He had an ink pen in his pocket, that had the pen part removed. It contained residue of a white powdery substance consistent with drug abuse. Neither wished to pursue any charges for the physical confrontation they were involved in. The male was charged with possession of drug paraphernalia a misdemeanor of the fourth degree through Macedonia Mayor's Court.
---
DOMESTIC VIOLENCE
On 6/17 at approximately 0257 hrs., police were dispatched to a home on Ledge Road for a female who called the non-emergency line stating she needed help at her house and then hung up. Dispatch attempted to call her back but the call went right to voicemail.  Upon arrival, they pulled into the drive and viewed a woman at the front door. The officer could see a male walk inside the house. Once the police officers entered the house. Both the male and the female stated they were arguing and it became a little heated. Neither had any signs of abuse on them. Both completed a statement advising that did not want to pursue charges.
---
LAWN MOWER THEFT
On 6/19 at 1428 hours, a resident reported a theft of his lawn mower. It was taken out of his shed sometime between 6-10 and 6-13. It was gray and red, self-propelled 21 inch Honda valued at $640.49.
---
ASSIST RESCUE SQUAD, AND POSSESSION OF DRUG ABUSE INSTRUMENTS
On 6/28 at approx. 0413 Macedonia dispatch received a call from Key Inn. The caller stated that her boyfriend was possibly overdosing. Initially, the male told MFD (who also arrived on the scene) that he had not used anything. There was some drug paraphernalia found on the scene. And the female had indicated they had bought and used heroin.
The mail was asked multiple times if he would like to go to the hospital and he refused each time. They asked how much heroin had they bought and he said $40 worth. They asked him who the syringe belongs to and he claimed ownership. The syringe its caps and bottle cap was seized as evidence. A prosecutor was contacted and approved of a charge of Drug Abuse Instruments for the male. He will be charged through Macedonia Mayor's court with Drug Abuse Instruments (M2).
There were also 2 reports of Domestic Violence at Key Inn in the last 30 days. Both involved endangering children.

---
Dunkin Donuts Theft
On 06/30 at approx. 0649 hours, police responded to a Dunkin Donuts, an employee who stated that they had video evidence of a black female stealing money. The female, who is not currently an employee, was observed on the tape taking money from an area for employees only. They believe that she was a former employee due to the knowledge of where they month drawers were kept. Dunkin Donuts Management stated they wish to press charges. No update on this incident has been received as of today.