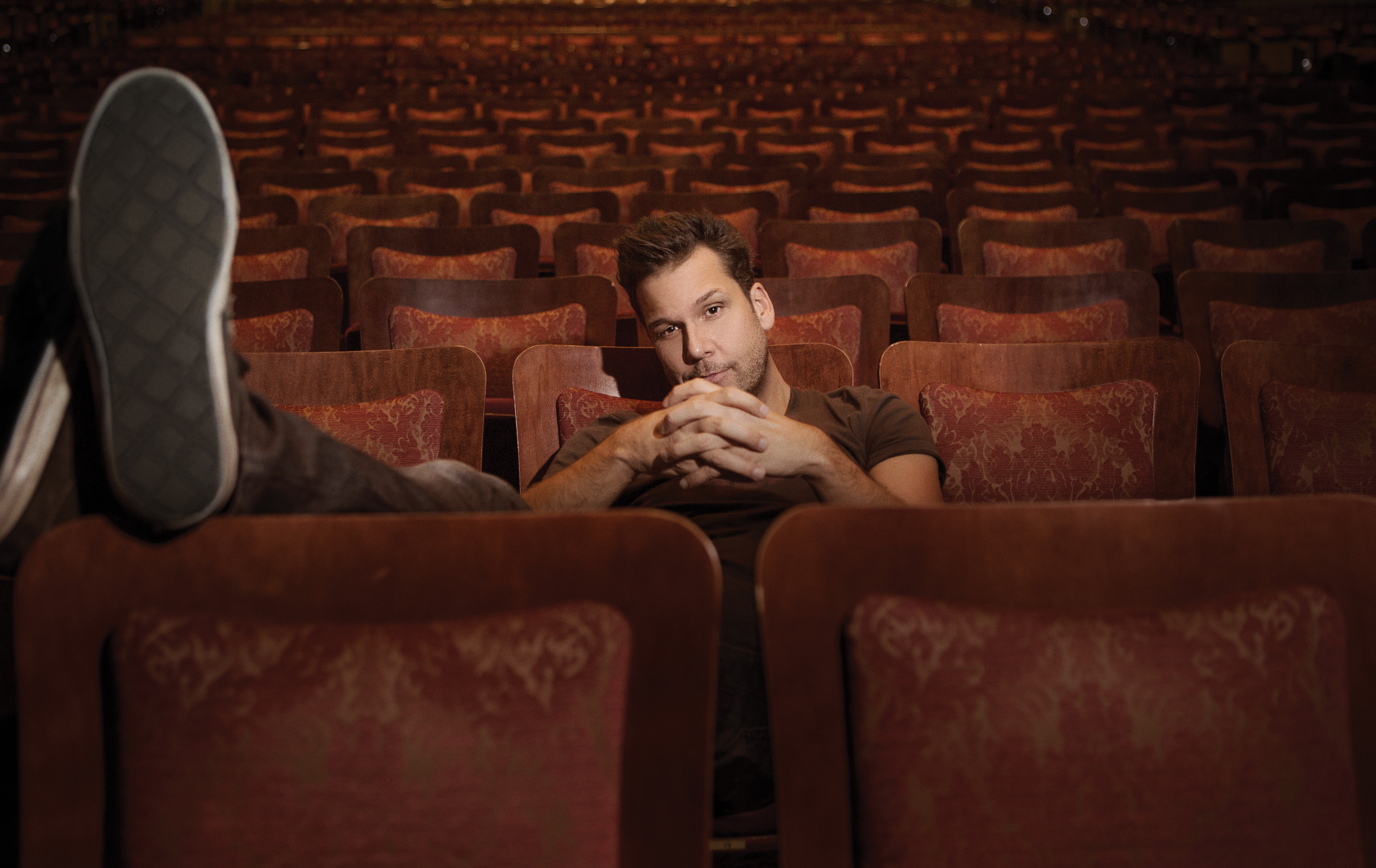 By Felicia Naoum
Fear may have stopped Dane Cook in his younger days. He was a shy kid who played alone. But one day he pushed fear aside and met courage. Ever since, he has been unafraid and continues to reach for the stars. Cook speaks openly and candidly with me about his days in the dark; days that included being on welfare and growing up with a mom who suffered from anxiety. Triumphantly, Cook's mom faced her fears too and became what he calls his hero for doing so. And, well, during our interview, Cook became my hero, too, for not letting fear win. And the truth is, the jokes not on this funny guy. The jokes just might be on those past fears though.
Back in his early days, Cook would watch comedians at stand-up shows. He would feel uneasy in his seat doubting his ability to take the stage. But, one day, when a scheduled performer named Earnest Glenn was called to the stage and nowhere to be found, Cook stood up instead and accepted the moment as his own – the moment that would free him and mark the beginning of a household comedian name. See, Cook may have stood up when they called Earnest Glenn, but ever since, he has been standing up as Dane Cook. Sometimes, you have to take a moment for your own. You know, create your moment. Don't always wait for it. Like Dane Cook did.
Fast forward to today, performing in front of 20,000 people is a breeze for Cook. Though, he admits to still struggling with nerves when meeting a mere 15 fans backstage. Maybe he just goes big or goes home? I doubt he ever goes home. I bet he's one of those that even if his voice shakes and his palms sweat, he still remains unstoppable. If a shy person has the courage to take the stage when they are not even being called, that's courage times two…no…that's courage times 10.
"Getting on stage was like an immediate cure for this disease of fear that I had," says Cook. A cure that landed him among the greats. And a cure that proves facing your fear IS conquering your fear.
In 2006, Cook joined the ranks of comedic legends like Bill Cosby, George Carlin and Steve Martin when his comedy album "Retaliation" became the highest comedy album in 28 years. He explains that life-changing moment – also marked as one of the moments he felt like he "made it."
"What does it feel like to be in the same category as Cosby, Carlin and Martin with your 2006 "Retaliation" being the highest comedy album in 28 years?"
"Oh wow, that's a great first question. I remember getting the phone call from my manager…"
His manager asked if he was sitting down and reminded him that he put his heart and soul into the album that made number four on the Billboard Charts. It was Cook's milestone moment as he calls it and one he takes very seriously and humbly. Cook explains that in that moment he was given the reputation of somebody that delivers. But even more, Cook reminds me that he was no longer that lonely young boy who played alone with his action figures. He was playing on a much bigger stage, with many more people, and bigger people. I mean, Cook traded action figures for the ranks of comedians like Steve Martin. To say he has done well for himself is an understatement.
"It felt like a win," adds Cook.
Cook hasn't just won at comedy. He acts, and even directed over the years (most recently "Troublemaker") with a unique love for each of them. With stand-up, Cook compares the act to a lone wolf as he says, "Everything lives or dies by what you put into it." On the contrary, Cook appreciates acting because he gets to step outside of himself while also collaborating with others.
What stands out most to me about Cook's take on acting is his opinion of former costars like Jessica Simpson and Andy Dick who he starred with in "Employee of the Month" (2006). Even though Cook already won, it's Jessica Simpson who he says is "winning." I agree, have you heard about that clothing empire she built and that voice?
"I met with Jessica Simpson…she was just so winning and she was just so real." Cook went on to credit the singer as a mogul for cultivating a fashion empire. The sweetest thing he says about the star is that he sees her for who she really is and not necessarily who the world thinks she is. "I saw past the media representation of what she was about." Similarly, he sees Andy in the same light. "The Andy I knew was a really valuable person and very smart comedian."
I might add another talent to Dane Cook's list: seeing the good in others.
Although Cook reminds me that the stage is where he can be accepted for just being himself, he is not done with film. Cook is currently writing a drama that he hopes to direct and star in. But more than just putting out a new project, it's the quality in and of that project that Cook cares most about. "I don't care how much money it makes or who sees it and says what about it. I care about what I put into it and how I feel about it."
Cook admits that his latest work in progress is more emotional than funny but assures he will never lose his funny. I'm sure fans are grateful because they seem to be loving him still.
I'm certain if you visit his May 11 show at Hard Rock Rocksino Northfield Park, you will get plenty of laughs. Cook gives his shows his all because he knows what it is like to be in the audience anticipating a good time. "I know the value of purchasing that ticket," empathizes Cook.
And not to toot his own horn, but Cook shares feedback about the current tour and as I said, fans are loving the show more than ever before. Some even calling this show his best in 20 years. Cook says he has versatility, confidence and a deep connection these days. But what impresses the comedian is who is in the seats. "Three generations of people at my show laughing and having a good time together. I was blown away by that."
Perhaps, too, Cook took note from some of his favorite comedians of all time to get to where he is today. He certainly learns from the best. And he couldn't pick just one. "That's a hard one. That's a humdinger of a question – to use a term I never used" when I ask who his all-time favorite comedian is. Cook says he is a student of so many styles but chooses Richard Pryor and George Carlin as his top two favorite comedians. He describes these inspirational comedians as introspective and observational. According to Cook, these architects of comedy looked deep in themselves and to the world to find their message.
Although Mr. Cook is philosophical at times with profound insight, he says he is truly young-hearted most days. The 46 year-old feels a young 19 except when he's playing basketball and his knees hurt he jokes.
A youthful spirit doesn't interfere with a wise and humbling attitude for Dane Cook. He knows where he has been. "Even though this is a hard life and sometimes it's unforgiving, I can still be so fortunate to come out of poverty, being a welfare kid, to having had success and my own home, to things I never dreamed of…"
All the gratitude in the world makes Dane Cook simply happy to wake up each day and look forward to his next show or next script. And that happiness is the same happiness he felt the night Earnest Glenn didn't take the stage and Dane Cook did.
If you're aiming for a Dane Cook level of success, he has pointers for you. Dane Cook embraces the negative and turns it into a positive. It's all about the struggle.
"You need the struggle. The struggle is where you get raw and get real." Cook adds that knowing yourself will lead to "winning" – whether it's Dane Cook "winning" or even Jessica Simpson "winning" or better yet, just YOU "winning." He believes we can win when we are introspective (like Pryor and Carlin). Cook also references the band Fleetwood Mac as he speaks of introspection. "I love the truth in their music. The raw honesty of who they were and who they want to be."
You can find Dane Cook with that same raw honesty at Hard Rock Rocksino Northfield Park May 11. Get your tickets here.