By Felicia Naoum
Engelbert Humperdinck, perchance still slightly coy, especially about giving away too many details about his upcoming shows, still has a lot to share. Humperdinck opened up to Nordonia Hills News to talk openly about his shyness, inspiration, how his first hit single "Release Me" was the precursor of his career, and how he has sustained longevity – 50 years in the music business. This once extremely shy English pop singer, who would hide behind curtains and coffee tables when singing, has since graced many stages around the world.
For Humperdinck, it has been 64 gold albums and 23 platinum albums, a Golden Globe, and stars that shine on the Hollywood and Vegas Walk of Fame to name a few of his recognitions. With such success and stamina, not many would expect shyness to be a factor that constitutes Engelbert Humperdinck. He appreciates all music does, especially in its commonality of connecting people everywhere. Today, Humperdinck finds great ease in the spotlight. His fans find that same ease in his performance. Come see his show July 30 at the Hard Rock Rocksino as he takes the stage to celebrate his 50-year career in music.
FN: According to your website, you were known to be very shy growing up and never thought of singing as a career. How did you overcome such shyness to sustain a public career for so many decades?
EH: I was very shy, and I would sing for my parent's parties from behind a curtain or under a coffee table, but it was the applause that drew me out. I would belt it out from the darkness and security of my safe place, but all the time I was longing to be as brave as I was loud.
The spotlight eventually became my comfort zone. I always wanted to make my parents proud but it was most definitely the roar of the crowd, the rush from the curtain rising and falling, and the songs that I was lucky enough to have in my career, that kept me faithful to the road I traveled. I'm still shy, but with a name like Engelbert Humperdinck, I had to learn how to get over it and get on with it!
FN: Your first single, "Release Me" made its way into the Guinness Book of World Records, among many other successes like 140 million records sold, gold records, a golden globe, etc., how do such successes resonate with you?
EH: The shiny records on the walls and the milestones are due to so many factors. What amazes me, more than the number of records sold and cherished moments in time over the past 50 years, are the life stories that connect with the songs and the voices that always sing along.
It truly touches my heart to travel to places all over this world and find out that music really is a beautiful common thread. It weaves its way in and out of our everyday, but makes the memories that much easier to remember. Melodies and stories are my kind of elixir.
FN: Being that your career began almost 50 years ago, do you find it challenging to sustain yourself as an artist?
EH: Fifty years in any business would be a challenge, but I love what I do, and the creative fuel drives me to always work at my craft and not rest on my laurels. I find it hard to turn off , so I try and channel my energy into writing. The success of "Release Me" set some high standards for me right out the gate. The opportunity that led to my appearance on Sunday Night at the London Palladium was an absolute blessing, and I knew it. I was scared to death but eager to get my career going. That song started my life and the hard knocks years that lead up to it, helped me to sustain it, with the help of the fans who have supported me every step of the way.
FN:Who has inspired you musically throughout your career past, and present?
EH: I was inspired as a young man by the big band sounds. As a Dorsey, no relation, Jimmy and Tommy Dorsey, and that whole scene were instrumental , so to speak, to my first dalliance in showbiz. I loved the saxophone, and I did a paper route to earn money for my lessons.
Later, I listened to Nat King Cole and realized that the warm tones of an amazing vocalist were like putting butter on my bread. I was hooked on the rich quality, and I've been a fan for life.
His song "When I Fall in Love" was the first record I bought for my wife.
Today, I still set my car station to the 40s, but I love to hear great vocalist like Adele, who have the pipes, but also a style that is immediately recognizable. I also really appreciate the art of songwriting. Ed Sheeran is an amazing talent today, and the huge variety of singer-songwriter talent from the 60s and 70s are what fill my jukebox.
FN: It has been said that fans coined your stage name "Gerry Dorsey" after an impression you do of Jerry Lewis. Will the audience get to experience any impressions or special treats at your show?
EH: I did impressions for many years. There was a wealth of characters in show business when I first started, and it was considered a compliment for someone to impersonate you. I did it in a way that told a story of the wonderful, bigger than life legends I had met over the years.
I've racked up some really great tales to tell, and I was pretty good at it as I had listened to them all so much on the radio when I was in the army.
Once in awhile, I come out with the voice of a familiar friend but honestly, the impressions took too much time away from the songs, and I had a long set list….still do.
The show has some special throw-back moments as well as some surprises but that is all I shall say. Come and celebrate 50 years with me and see if you can still see that shy boy who sang behind the curtain when it goes up in your hometown.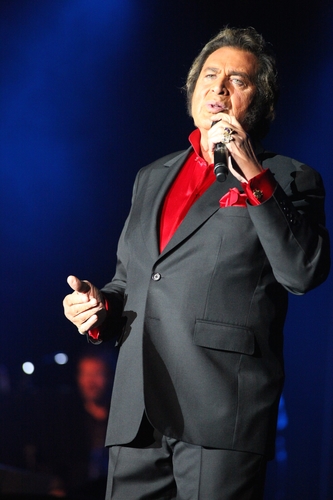 Photos courtesy of Hard Rock Rocksino Northfield Park
Save
Save
Save
Save
Save
Save
Save