By J.C. Sullivan
To describe the life and times of one immigrant to the American South could be also be aptly titled "Holy Men in Modern Times." One chapter would describe Wexford-born Peter Whelan. Oh, he was human, to be sure, but his devotion to God and his fellow man is evident in the way he chose to live his life. He was also a Confederate Chaplain to Irish-Americans in the Montgomery Guards, part of the 1st Georgia Volunteers.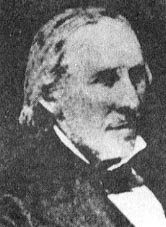 Peter Whelan was born in 1802 in County Wexford, Ireland. He attended Birchfield College in Kilkenny for two years, where he received classical and mathematical education. He may have been influenced by the desperate appeal of John England, the bishop of the new diocese of Charleston, South Carolina. Priests were sorely needed, particularly in the South. He was ordained a priest of the Benedictine Order in Charleston on November 21, 1830. He offered his first Mass in the state of Georgia in 1835 in the home of Robert Semmes. In 1854 a yellow fever epidemic claimed the life of Savannah's first Bishop, Frances Gartland in 1854. Father Whelan was summoned to Savannah and was stationed there for the remainder of his life.
In September 1861 Bishop Augustine Verot was named the third Bishop of the Savannah Diocese, which was formed in 1850. Arriving at his new post from Florida, he was asked to send a chaplain to Fort Pulaski. The Fort, on the Savannah River, guarded the approaches to the city. It was thought to be impregnable as no artillery shells could be directed at it from any nearby land. Part of the garrison there were Catholic troops, in particular the Montgomery Guards, mostly Irish from Savannah.
The militia unit was organized on August 20, 1861. Not having their own banner, Captain Lawrence J. Guilmartin contacted the Sisters of Mercy in Savannah. After Mass on Saint Patrick's Day, 1862, a presentation ceremony was held. Private Bernard O'Neill was appointed standard-bearer and Major John Foley presented it to him.
Father Whelan was present on April 10, 1862 when Federal forces began an artillery bombardment of the Fort. Using new 'rifled' artillery, the rounds were able to reach the outer walls from Tybee Island, more than a mile away. Thirty hours later, with one wall breached by the shot, it was determined that the entire ammunition magazine was in danger of exploding, If that happened the entire garrison would be killed. Colonel Charles H. Olmstead agreed to surrender. Now prisoners-of-war, Father Whelan and the Montgomery Guards were transported to Governor's Island, New York. Bernard O'Neill hid the banner on his person.
Wartime conditions persisted for prisoners and Father Whelan, through the office of Father William Quinn, pastor of St. Peter's Church, Barclay St., New York, applied for the position of Prison Chaplain so he could offer daily Mass at Castle William. Through Father Quinn he was discharged and put on parole. Father Whelan could have left but he chose to remain with his men and minister to them. He eventually returned to Savannah where the Vicar General assigned him the task of overseeing the spiritual needs of the confederate military posts in Georgia.
On one occasion another Confederate chaplain, the Reverend James Sheeran of the Fourteenth Louisiana, on leave from Virginia, visited him. In his diary he observed, "He stands nearly six feet with drab hair, coarse ill shaped countenance, round or swinging shoulders, long arms, short body and long legs, with feet of more than ordinary size…. One day he met a brother priest, to whom nature was no more liberal than to himself. "Well," said he, "…your mother and mine must have been women of great virtue….because they did not drown us when the first saw us. None but mothers of great…patience would have raised such ugly specimens of humanity."
During May of the same year Fr. William Hamilton, pastor of Assumption Church in Macon, accidentally came upon Andersonville Prison and stopped to learn how many Catholics were there. His experience led him to petition the Vicar, suggesting a priest be provided; Father Whelan was asked. He arrived at Andersonville on June 16, 1864. Even though other priests and the Bishop visited briefly, Whelan remained for four months. Although he never penned his feelings, a pastor from Macon did. "I found the stockade extremely filthy: the men all huddled together and covered with vermin….they had nothing under them but the ground."
At the fall of the Confederacy, Father Whelan returned to Savannah and served there until 1868. Now aged sixty-nine and in failing health from his wartime tribulations, he administered his last baptism in 1871 and died in February of the same year. The funeral procession was reported in the Savannah Evening News as the longest ever seen in the city. After a 10:00 a.m. Mass a procession of eighty-six carriages and buggies of civilians, religious societies and Irish organizations escorted his mortal remains through Savannah's crowd-lined streets to the Catholic Cemetery. Colonel Olmstead led Confederate Army and Navy veterans. An officer who knew Father Whelan said, "I followed this good old man to his grave with a sense of exultation as I thought of the welcome that awaited him from the Master whose spirit he had caught and made the rule of his live."
Bibliography
Gilliam Bowen, Diocese of Savannah
Father Whelan of Fort Pulaski and Andersonville, Georgia Historical Quarterly, Spring, 1987.