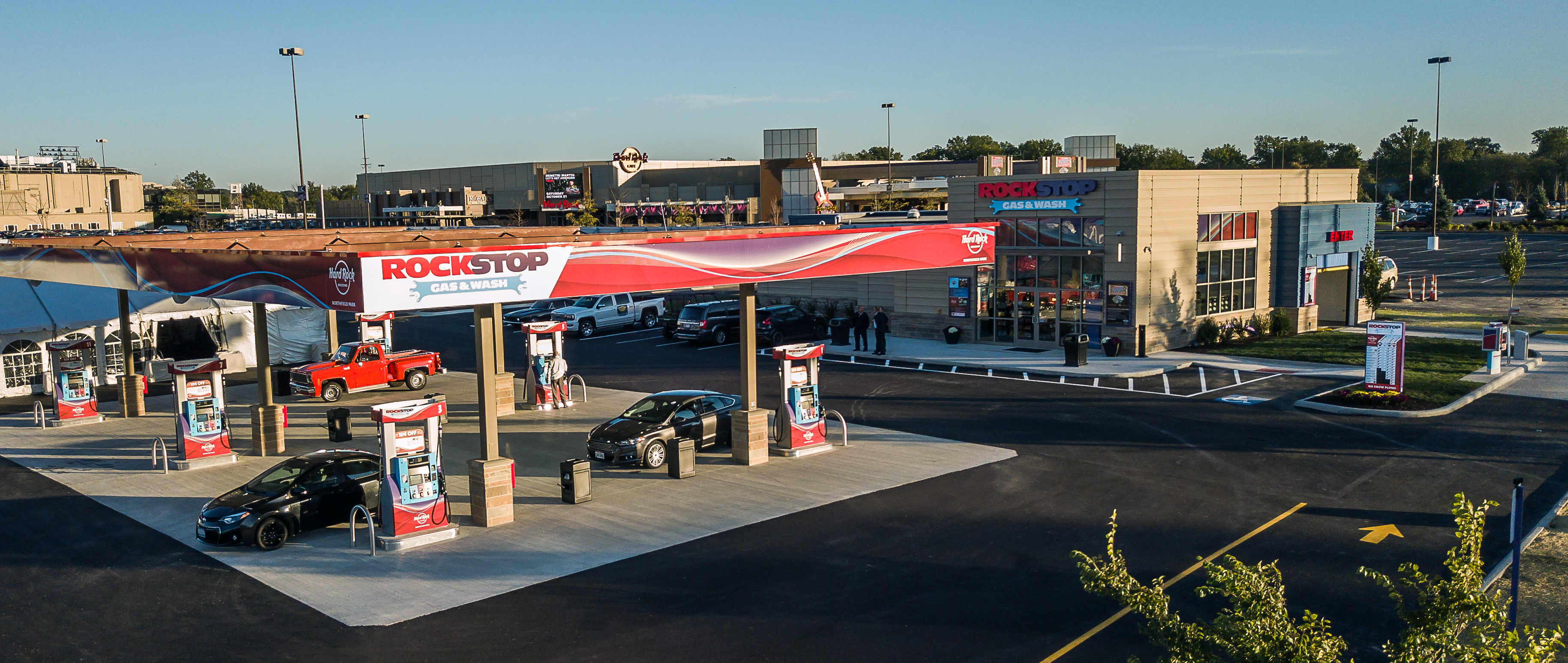 NORTHFIELD, OH, Oct. 19, 2017—Hard Rock Rocksino Northfield Park celebrated the grand opening of ROCKSTOP GAS & WASH, a new Hard Rock branded and first of its kind, state-of-the-art gas service station and car wash. The new property amenity is the largest investment made since the opening of the Rocksino.
As part of the celebration, the Rocksino gave away a free tank of gas and a free car wash to the first 50 patrons. Cleveland Play House rock Star celebrity impersonators, including Dolly Parton, Prince, Madonna, and Lady Gaga fueled the cars. See more pictures of the opening here. James Hetfield's 1967 Chevy Camaro, part of Hard Rock International's memorabilia collection, was on display for fans to strike a pose. Lucky prize winners received weekly car washes for a year, gas cards, and more. The celebration continues through Oct. 31 with a "Car Wash Happy Hour" — 50% off all car washes every day, 2pm – 5pm.
"On behalf of our local ownership, Milstein Entertainment, and Hard Rock International, we're proud that Northeast Ohio is the location of the first Rocksino in the Hard Rock family, a regional gaming, dining, and entertainment destination" says Mark Birtha, president, Hard Rock Rocksino Northfield Park. "Thus, it was only fitting to develop Hard Rock International's first-ever gas station and car wash template here as well, in order to provide a unique venue to our local and regional clientele. Hard Rock International is innovative and committed to constant evolution in all aspects of its business. Hence, we created ROCKSTOP GAS & WASH which will redefine the types of benefits and experiences we can provide to our guests," adds Birtha.
Construction on ROCKSTOP GAS & WASH started in late May, generating over 100 construction jobs and over 20 new permanent jobs.
According to Birtha, members of the Rocksino's Rock Star Rewards loyalty program will receive a discount on their gas purchases and may use their points to redeem gas and car wash services. Depending on the Rock Star Rewards tier level, the gas discounts per gallon are 5 cents, 7 cents, or 10 cents. "We are constantly enhancing our loyalty program as a commitment to deliver 'authentic experiences that rock' to our Rock Star Rewards members, team members, and those in the local and regional community," says Birtha. "Offering a one-of-a-kind gas, retail and car wash amenity with a Hard Rock flavor was the next evolution in that vision."
ROCKSTOP GAS & WASH is located on the Northwest side of the Rocksino along Northfield Rd. (Rt. 8). The site occupies 45,000 sq. feet, including a 3,685 sq. foot retail/car wash building and six double-pumps – a total of 12 handles to dispense gas. The pumps feature Hard Rock style lighting effects and LED TV's. The full-service retail store features all of the expected sundries in a "rockin" space with Hard Rock feel and flavor. With ROCKSTOP GAS & WASH, Ohio has its first Pepsi spire machine in the venue, offering over 180 flavor combinations.
"Both Hard Rock International and our ownership in Northeast Ohio are excited by the positive feedback we have received from our guests about ROCKSTOP," says Birtha. "The early success already will translate into an announcement very soon of the next ROCKSTOP GAS & WASH location at a Hard Rock property this spring! I would not be surprised to see ROCKSTOP GAS & WASH go worldwide over the next few years. More to come on that, so stay tuned."
Bowen Designs is the architect for both projects. Adam Building Company is overseeing the construction.
ABOUT CLEVELAND PLAY HOUSE
CLEVELAND PLAY HOUSE founded in 1915 and recipient of the 2015 Regional Theatre Tony Award, is America's first professional regional theatre. Throughout its rich history, CPH has remained dedicated to its mission to inspire, stimulate and entertain diverse audiences in Northeast Ohio by producing plays and theatre education programs of the highest professional standards. CPH has produced more than 100 world and/or American premieres, and over its long history more than 12 million people have attended over 1,600 productions. Today, Cleveland Play House celebrates the beginning of its second century of service while performing in three state-of-the art venues at Playhouse Square in downtown Cleveland. www.clevelandplayhouse.com
Cleveland Play House is made possible in part by state tax dollars allocated by the Ohio Legislature to the Ohio Arts Council (OAC). The OAC is a state agency that funds and supports quality arts experiences to strengthen Ohio communities culturally, educationally, and economically.
About Hard Rock Rocksino Northfield Park
Hard Rock Rocksino Northfield Park is Ohio's award-winning gaming, dining, and entertainment destination, located on the Northfield Park harness racing grounds, which offers more than 200 live harness races each year. True to Cleveland's musical history as a birthplace of rock 'n' roll, the Rocksino offers the legendary vibe of the Hard Rock brand, including more than 2,300 gaming devices offered both inside and outside, varied dining options and unparalleled live music events. The Hard Rock Live music venue, the fifth of its kind, hosts sell-out crowds of up to 2,100 guests for live entertainment by renowned musicians, in addition to hosting guests for a variety of functions and banquets. Hard Rock fans enjoy phenomenal dining at the world-famous Hard Rock Cafe; Kosar's Wood-Fired Grill, football legend Bernie Kosar's finest steakhouse; Concerto Italian Kitchen, a fast-casual restaurant, featuring personal pizzas, creative pasta dishes, gelato, and more; Fresh Harvest, an endless buffet with seven action stations; and Constant Grind, a bistro with sandwiches, sweets and more. In addition, the Rocksino offers a Rock Shop with famed Hard Rock merchandise to take home memories of the Rocksino experience, as well as a 350-seat live venue, Club Velvet, features comedians and illusion acts, dance parties, special events and is also readily available for private parties and events. As a focal point for the Center Bar leading into Hard Rock Cafe, Van Halen's red hot motorcycle makes "everybody want some" as one of many "arena rock" pieces from Hard Rock's unmatched, priceless memorabilia collection at the Rocksino. On October 18, 2017, the Rocksino opened ROCKSTOP GAS & WASH, a new Hard Rock branded and first of its kind, state-of-the-art gas service station and car wash. For more information about Hard Rock Rocksino Northfield Park, please visit www.hrrnp.com