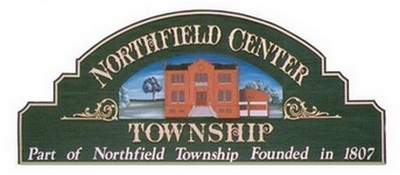 Pursuant to Ohio Revised Code 519.12, notice is hereby given that the Northfield Center Township Board of Trustees will conduct a Public Hearing on Monday, April 3, 2017 at 6:30 pm in the Northfield Center Town Hall, located at 9546 Brandywine Road, Northfield Center, Ohio 44067. The purpose of this meeting is to afford the Public the opportunity to express opinions regarding the Zoning Commission's recommendation to the Trustees to remove the word "only" from Section 390.06, Letter "T", Number 1 of the Northfield Center Township Zoning Resolution.
The complete text of the proposed amendment and all documents pertaining to it are available for review at the Northfield Center Town Hall during normal business hours: Weekdays from 7:30 a.m. to 4:30 p.m. or on the Northfield Center Township web site: www.northfieldcenter.com (click on the "Agendas" link). Those unable to attend the Public Hearing are encouraged to submit their comments in writing to the Town Hall either by regular U.S. mail, email (townhall@northfieldcenter.com), or fax (330.650.0815) by 4:00 pm on Friday, March 31, 2017.
There will be a Regular Trustees Meeting at 7:00 pm following the Public Hearing at which the Trustees may vote on this subject.
By order of the Northfield Center Township Board of Trustees
Samuel J. Ciocco, Administrator
9546 Brandywine Road, Northfield Center, Ohio 44067
Phone: 330.467.7646 (ext. #5)