International Restaurant Brand Partners with MARV Films &Twentieth Century Fox to Deliver Explosive Flavor with Limited-Time Offering
Northfield, OH– This fall, guests can combat hunger at Hard Rock Cafes around the world by sinking their teeth into a blockbuster-inspired burger offered in partnership with MARV Films & Twentieth Century Fox. In celebration of the new movie release, Kingsman: The Golden Circle, Hard Rock is offering the new Poppy Burger at select locations around the world now through Friday, October 6, 2017. The Poppy Burger is a dangerously delicious take on the man-made burger prepared by the motion picture's villain, Poppy, played by Julianne Moore.
"While sinfully enjoyable, in no way is this burger made with Poppy's preferred ingredients," says Rick Wittkopp, Food & Beverage Director, Hard Rock Rocksino Northfield Park. "This delicious burger features a juicy half-pound Certified Angus Beef® burger, basted with a bourbon whiskey glaze and topped with pulled pork, melted cheddar cheese, garlic aioli, crisp lettuce and vine-ripened tomato. Served on a sesame seed bun with a side of Golden Circles (onion rings), this burger is sure to impress both food and movie critics!"
Matthew Vaughn, Film Director and Producer of the Kingsman Series says, "As godson to Hard Rock Cafe's co-founder, Peter Morton, you can certainly say that I've always been a fan of the Hard Rock brand. My first job was a bus boy in the Hard Rock Cafe and it is a brand that I will always love for the fond memories it gave me. I feel privileged they are now my partners."
ABOUT HARD ROCK INTERNATIONAL
With venues in 74 countries, including 178 cafes, 24 hotels and 10 casinos, Hard Rock International (HRI) is one of the most globally recognized companies. Beginning with an Eric Clapton guitar, Hard Rock owns the world's greatest collection of music memorabilia, which is displayed at its locations around the globe. Hard Rock is also known for its collectible fashion and music-related merchandise, Hard Rock Live performance venues and an award-winning website. HRI owns the global trademark for all Hard Rock brands. The company owns, operates and franchises Cafes in iconic cities including London, New York, San Francisco, Sydney and Dubai. HRI also owns, licenses and/or manages hotel/casino properties worldwide. Destinations include the company's two most successful Hotel and Casino properties in Tampa and Hollywood, Fl., both owned and operated by HRI parent company The Seminole Tribe of Florida, as well as other exciting locations including Bali, Chicago, Cancun, Ibiza, Las Vegas, and San Diego. Upcoming new Hard Rock Cafe locations include Phnom Penh, Cairo, Cape Town and Chengdu. New Hard Rock hotel, casino or hotel-casino projects include Atlanta, Atlantic City, Berlin, Budapest, London, Los Cabos, Maldives, New York City, Davos, Ottawa, Dalian and Haikou in China. For more information on Hard Rock International, visit www.hardrock.com.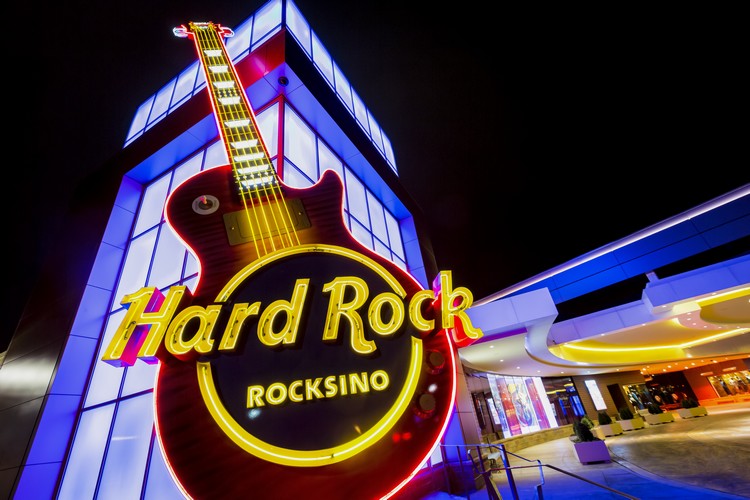 ABOUT HARD ROCK ROCKSINO NORTHFIELD PARK
Hard Rock Rocksino Northfield Park is Ohio's award-winning gaming, dining, and entertainment destination, located on the Northfield Park harness racing grounds, which offers more than 200 live harness races each year. True to Cleveland's musical history as a birthplace of rock 'n' roll, the Rocksino offers the legendary vibe of the Hard Rock brand, including more than 2,300 gaming devices offered both inside and outside, varied dining options and unparalleled live music events. The Hard Rock Live music venue, the fifth of its kind, hosts sell-out crowds of up to 2,100 guests for live entertainment by renowned musicians, in addition to hosting guests for a variety of functions and banquets. Hard Rock fans enjoy phenomenal dining at the world-famous Hard Rock Cafe; Kosar's Wood-Fired Grill, football legend Bernie Kosar's finest steakhouse; Concerto Italian Kitchen, a fast-casual restaurant, featuring personal pizzas, creative pasta dishes, gelato, and more; Fresh Harvest, an endless buffet with seven action stations; and Constant Grind, a bistro with sandwiches, sweets and more. In addition, the Rocksino offers a Rock Shop with famed Hard Rock merchandise to take home memories of the Rocksino experience, as well as a 350-seat live venue, Club Velvet, features comedians and illusion acts, dance parties, special events and is also readily available for private parties and events. As a focal point for the Center Bar leading into Hard Rock Cafe, Van Halen's red hot motorcycle makes "everybody want some" as one of many "arena rock" pieces from Hard Rock's unmatched, priceless memorabilia collection at the Rocksino. On October 18, 2017, the Rocksino will open ROCKSTOP GAS & WASH, a new Hard Rock branded and first of its kind, state-of-the-art gas service station and car wash. For more information about Hard Rock Rocksino Northfield Park, please visit www.hrrnp.com.