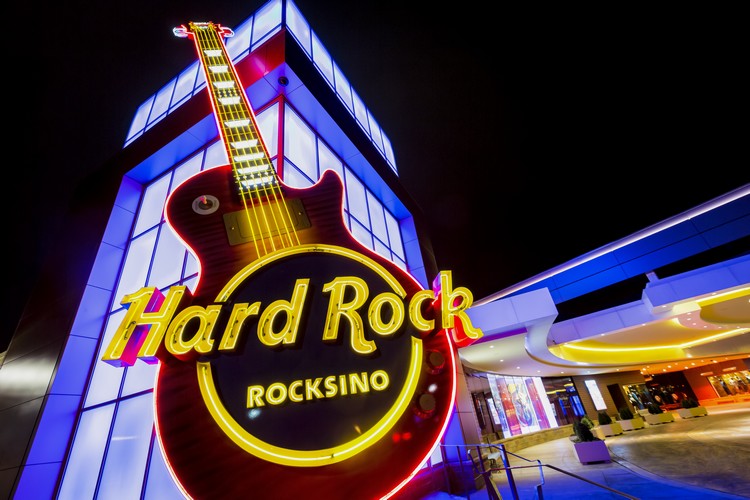 Proceeds from the sale of mustaches inspired by the iconic rocker and the 2018 "Freddie for a Day" pin to benefit the Mercury Phoenix Trust
 NORTHFIELD, OH In honor of the 72nd birthday of legendary rock icon, Freddie Mercury, Hard Rock Cafes globally will host "Freddie for a Day" celebrations. The one-day event brings Freddie fans and staff together to honor the musician's life and legacy, while raising awareness and funds for the Mercury Phoenix Trust. On Wednesday, Sept. 5, Hard Rock Cafe locations around the world will sell wearable mustaches and pins inspired by the legendary rocker to benefit the Mercury Phoenix Trust. The celebration will continue with various events at local Hard Rock Cafe locations.
"Freddie Mercury was a legendary singer, songwriter and record producer, and we are honored to continue our longstanding support of the Mercury Phoenix Trust through the 'Freddie for a Day' program," said Stephen K. Judge, President of Cafe Operations for Hard Rock International. "This year, we are excited to bring the program to more cafes than ever before and support 'Freddie for a Day' in our locations around the world, in addition to our European cafes, which have participated in the program for six years."
 To celebrate Freddie's birthday, Hard Rock Cafes around the world will give customers the opportunity to purchase a limited-edition "Freddie for a Day" pin ($14/13.95€).  On Sept. 5, for one day only, guests will also be able to purchase wearable mustaches ($5) or a wearable mustache and appetizer ($10) to help them become "Freddie for a Day." Proceeds from the sales of pins and mustaches will benefit the Mercury Phoenix Trust. Guests and staff can also join in on the fun of Freddie's birthday by wearing their best Freddie Mercury-inspired gear to Hard Rock Cafes, where the day's celebrations will feature a full day of Queen music and mustaches.
"Our 'Freddie For A Day' initiative is a global AIDS fundraising and awareness campaign, enabling fans around the world to help the Trust in its work and have fun whilst doing so," said Claudia Walker, head of the Mercury Phoenix Trust. "All of us at the Trust are delighted to be extending our relationship with Stephen Judge and his team as Hard Rock Cafes go global with 'Freddie For A Day.' What a wonderful way to celebrate Freddie's life and at the same time raise funds for the charity set up in his name to fight AIDS worldwide."
Visit www.hardrock.com for additional details on "Freddie for a Day" and local market events.
Hard Rock International
With venues in 74 countries, including 185 cafes, 25 hotels and 12 casinos, Hard Rock International (HRI) is one of the most globally recognized companies. Beginning with an Eric Clapton guitar, Hard Rock owns the world's greatest collection of music memorabilia, which is displayed at its locations around the globe. Hard Rock is also known for its collectible fashion and music-related merchandise, Hard Rock Live performance venues and an award-winning website. HRI owns the global trademark for all Hard Rock brands. The company owns, operates and franchises Cafes in iconic cities including London, New York, San Francisco, Sydney and Dubai. HRI also owns, licenses and/or manages hotel/casino properties worldwide. Destinations include the company's two most successful Hotel and Casino properties in Tampa and Hollywood, FL., both owned and operated by HRI parent company The Seminole Tribe of Florida, as well as other exciting locations including Atlantic City, Bali, Cancun, Daytona Beach, Ibiza, Las Vegas, and San Diego. Upcoming new Hard Rock Cafe locations include, Maldives, Manila, Malaga, Georgetown, Fortaleza, Casablanca and Chengdu. New Hard Rock hotel, casino or hotel-casino projects include Atlanta, Berlin, Budapest, Desaru Coast, Dublin, London, Los Cabos, Maldives, New York City, Ottawa, Dalian and Haikou in China. For more information on Hard Rock International visit www.hardrock.com.
About The Mercury Phoenix Trust
The Mercury Phoenix Trust was founded by Brian May, Roger Taylor and their manager Jim Beach in memory of rock band Queen's iconic lead singer FREDDIE MERCURY who died in 1991 from AIDS. In the last 26 years the Trust has given away over 16 million dollars in his name and funded over 700 projects in the global battle against HIV/AIDS. For more information on the Mercury Phoenix Trust visit: www.mercuryphoenixtrust.com.
About Hard Rock Rocksino Northfield Park
Hard Rock Rocksino Northfield Park is Ohio's award-winning gaming, dining, and entertainment destination, located on the Northfield Park harness racing grounds, which offers more than 200 live harness races each year. True to Cleveland's musical history as a birthplace of rock 'n' roll, the Rocksino offers the legendary vibe of the Hard Rock brand, including more than 2,300 gaming devices offered both inside and outside, varied dining options and unparalleled live music events. The Hard Rock Live music venue, the fifth of its kind, hosts sell-out crowds of up to 2,100 guests for live entertainment by renowned musicians, in addition to hosting guests for a variety of functions and banquets. Hard Rock fans enjoy phenomenal dining at the world-famous Hard Rock Cafe; Kosar's Wood-Fired Grill, football legend Bernie Kosar's finest steakhouse; Concerto Italian Kitchen, a fast-casual restaurant, featuring personal pizzas, creative pasta dishes, gelato, and more; Fresh Harvest, an endless buffet with seven action stations; and Constant Grind, a bistro with sandwiches, sweets and more. In addition, the Rocksino offers a Rock Shop with famed Hard Rock merchandise to take home memories of the Rocksino experience, as well as a 350-seat live venue, Club Velvet, features comedians and illusion acts, dance parties, special events and is also readily available for private parties and events. As a focal point for the Center Bar leading into Hard Rock Cafe, Van Halen's red hot motorcycle makes "everybody want some" as one of many "arena rock" pieces from Hard Rock's unmatched, priceless memorabilia collection at the Rocksino.  On October 18, 2017, the Rocksino opened ROCKSTOP GAS & WASH, a new Hard Rock branded and first of its kind, state-of-the-art gas service station and car wash. For more information about Hard Rock Rocksino Northfield Park, please visit www.hrrnp.com.