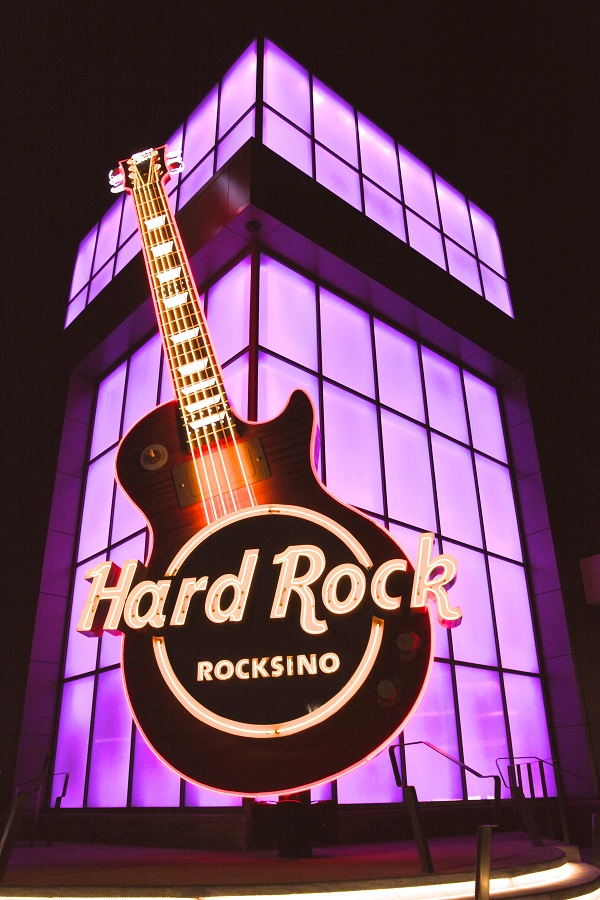 NORTHFIELD, OH, October 9, 2018— Hard Rock Rocksino Northfield Park today announced its month-long efforts of philanthropy for breast cancer awareness, prevention, and research is on track to raise $200,000 for patients in Northeast Ohio. All proceeds benefit Susan G. Komen Northeast Ohio's 22-county service area.
"We proudly earmark all PINKTOBER funds that we raise this month for essential patient services in our local community, including free mammograms, diagnostic services, financial assistance, transportation and other vital services," says Mark Birtha, President, Hard Rock Rocksino Northfield Park.
With the help of sponsors, the Rocksino's PINKTOBER event has raised $250,000 over the past 3 years for local cancer-fighting efforts. In 2018, PINKTOBER is on track to double last year's month-long fundraising contribution of $100,000 to Komen Northeast Ohio. The highlight of this year's fundraising campaign, features a nearly sold-out concert with Scott Stapp of "Creed," auctions, delicious dinner, and more.
"We extend a special thank you to all of our event sponsors who generously partnered with us to help fight this disease in our local community," says Birtha. "Partnerships are critical in these efforts. It is up to all of us to keep the cancer awareness and research momentum alive. We've all been, in some way, affected by this disease or know somebody who has had or has it."
This is the fourth year of PINKTOBER at the Rocksino and the 18th year since Hard Rock International began the event as a world-wide fundraising effort to help develop a cure for breast cancer.
The Rocksino works in partnership with a variety of local nonprofit organizations to help them address critical issues affecting the health, wealth, and prosperity of our community. With all charitable endeavors, we take tremendous pride in actively living one of our founding mottos, "Take Time To Be Kind." Since our opening in December 2013, we have donated over $3.5 million to local charities.
The Rocksino's fundraising events throughout October include delicious pink drinks or desserts in each of its five dining venues. Sweet treats like pink strawberry swirl cheesecake, red velvet brownie with espresso whipped cream, and chocolate covered strawberry cannoli and, of course, pink cookies are on the various menus. PINKTOBER collectible pins may be purchased in the Rocksino's retail shop and Northfield Park Racetrack is holding its "Pace for the Cure," a harness racing event, featuring all female drivers from across the U.S. on October 20. For more information on all of the Rocksino's PINKTOBER events, visit www.hrrnp.com.
-more-
About Susan G. Komen Northeast Ohio
Komen Northeast Ohio serves a 22-county region of Northeast Ohio and is one of more than 100 Affiliates around the globe responsible for leading the global movement to end breast cancer forever. From Lorain County to Ashtabula County; from Cuyahoga County to Belmont County; from small hospitals to large county health departments, Komen addresses unmet community needs through education, outreach, screening and survivor support initiatives and through funding local programs targeting medically underserved women and men. For more information: http://komenneohio.org/about-us/
About Hard Rock Rocksino Northfield Park
Hard Rock Rocksino Northfield Park is Ohio's award-winning gaming, dining, and entertainment destination, located on the Northfield Park harness racing grounds, which offers more than 200 live harness races each year. True to Cleveland's musical history as a birthplace of rock 'n' roll, the Rocksino offers the legendary vibe of the Hard Rock brand, including more than 2,300 gaming devices offered both inside and outside, varied dining options and unparalleled live music events. The Hard Rock Live music venue, the fifth of its kind, hosts sell-out crowds of up to 2,100 guests for live entertainment by renowned musicians, in addition to hosting guests for a variety of functions and banquets. Hard Rock fans enjoy phenomenal dining at the world-famous Hard Rock Cafe; Kosar's Wood-Fired Grill, football legend Bernie Kosar's finest steakhouse; Concerto Italian Kitchen, a fast-casual restaurant, featuring personal pizzas, creative pasta dishes, gelato, and more; Fresh Harvest, an endless buffet with seven action stations; and Constant Grind, a bistro with sandwiches, sweets and more. In addition, the Rocksino offers a Rock Shop with famed Hard Rock merchandise to take home memories of the Rocksino experience, as well as a 350-seat live venue, Club Velvet, features comedians and illusion acts, dance parties, special events and is also readily available for private parties and events. As a focal point for the Center Bar leading into Hard Rock Cafe, Van Halen's red hot motorcycle makes "everybody want some" as one of many "arena rock" pieces from Hard Rock's unmatched, priceless memorabilia collection at the Rocksino. On October 18, 2017, the Rocksino will open ROCKSTOP GAS & WASH, a new Hard Rock branded and first of its kind, state-of-the-art gas service station and car wash. For more information about Hard Rock Rocksino Northfield Park, please visit www.hrrnp.com.