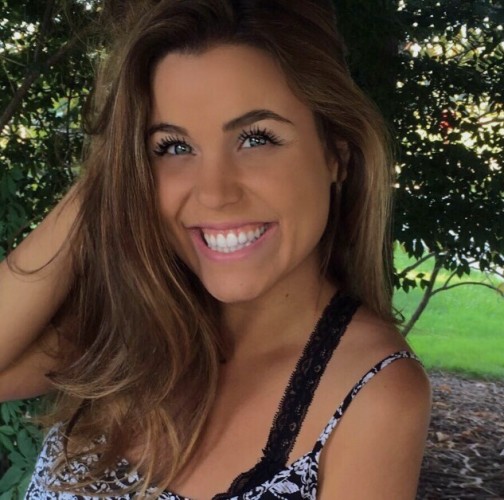 We all know that when winter rolls our way, it's hard to keep the spirits up that everyone once had in the summertime. How do people cope with the gray, dullness of winter? Some classy gals spend their days shopping in the one store that allows you to escape to your own paradise.
Picture it. There is a pink, gold-encrusted door. Inside unfolds a room that sparkles with a mixture of bright, warm-colored patterns. The vibrance of the colors mixed with the shimmering accents allow anyone to escape to their own summertime paradise. This paradise is more commonly known as the store, Lilly Pulitzer. For anyone who seeks the trendiest room decor, but aren't trying to deplete their bank account, there is a list below that describes how one can achieve their dream Lilly room while only spending the minimal amount.
Make the most of what you have and what you can find! Although Lilly Pulitzer is all patterns, the subtle things are indeed what makes up the whole mood of the store! For example, it's the underlying color blocks of the room that allow the patterns to truly pop! A person can use the "Lilly Color System". This means using the main colors of her most famous patterns. These colors include turquoise, hot pink, bright green and hints of orange or fuchsia. This could be used in a room as a comforter, blanket, body pillow, chair, basket or piece of furniture.
White is right! If the opportunity presents itself, use as many white accents as possible.! White lamps, furniture, sheets, pearls, picture frames, etc. It allows the room to feel more open and makes the room look less "busy" when all of the patterns are added in the last step.
Make it, to shake it up! For all of the artistic types, go crazy! Look up the different Lilly Pulitzer quotes and incorporate them on a canvas! Anything with a white border that comes across a little plain can be spiced up. Use the "Lilly Color System" with paint bought from Hobby Lobby!
Paint your own designs! The First Impression pattern is easy to paint for anyone. Apply it to a wooden letter sold at Hobby Lobby, a picture frame or an entire furniture piece!
First Impression Steps:
● STEP ONE: Start with the lightest color pink. Take the largest brush and make arches in the shape of a regular flower.
● STEP TWO: Next, take the medium brush and dip it in the medium pink. Do the same type of arches as before, but overlap it so that more white gaps are filled in.
● STEP THREE: Now, take the dark pink with a medium brush and repeat the technique used in the previous step.
● STEP FOUR: To start the leaves, take the smallest brush and dip it in the lighter shade of green. Create light strokes in a regular leaf shape of an oval.
● STEP FIVE: Dip in the dark green with the small brush and repeat the same technique overlapping the light colored ovals.
● STEP SIX: Finally, take the turquoise paint and use any brush to fill in all the white gaps to color in the background.
Make use of your shopping addiction! If you really are interested in creating a Lilly Pulitzer room, you most likely have shopped at the store or know someone who has before. Utilize the bags, giveaways and magazines from Lilly Pulitzer!
● The shopping bags have their own Lilly Pulitzer pattern on them with a bright pink ribbon! Cut the bags and use the different sides of the bags as wall decor! All you have to do is get double sided tape or Velcro Brand Tape strips for a stronger hold! In addition, you can use the bags for storage and organization! It adds to the trendy look of the room without any eye sore.
● Need to decorate a study area? You can print out Lilly Pulitzer designs and used them to border a weekly schedule, calendar or use a backdrop on a piece of cardboard paper.
● Giveaways are always fun! Sometimes shopping at Lilly Pulitzer has it's perks! Recently, they gave away a free pattern candle with a purchase!
Monogram Obsession! What better than adding an inexpensive Lilly Pulitzer piece with your own monogram? Nothing beats that. Etsy is a famous site that directs you to other sites to buy a variety of merchandise!
● Go to etsy.com
● Search for "Lilly Pulitzer Inspired Monogram Pillows" from "Chloe Bella Gifts"
● Type in your monogram. Boom! Your new accent pillows are coming to you for only $22! Normally, Lilly Pulitzer pillows cost from $50-$100!
Snuggle up in Lilly Designed Blankets!

● Go to etsy.com
● Search for any of these different Lilly Pulitzer patterns from "from "Happy Night Xmas"
○ "Rare New Lilly Pulitzer Pattern Roses Custom Blanket, Print on Blanket, Unbrand"
○ "Rare New Lilly Pulitzer Pattern Love Birds Spring Custom Blanket, Print on Blanket, Unbrand"
○ "Rare New Lilly Pulitzer Pattern Summer Jellies Be Jammin Custom Blanket, Print on Blanket, Unbrand"
● These blankets work perfectly as a substitution to the $400 Lilly Pulitzer comforter! This soft blanket is only $29.99 and comes in many sizes that fit all different types of beds!
To finish off the Lilly Look. Add any gold, sparkly accents you have. Make your own spin on your room by adding any shimmering light fixture, gold candle or sparkly canvas you can find.
So Lilly Pulitzer was absolutely right when she said, "Anything is possible with sunshine and a little pink!" Anything is possible if you can use your own sparkling light, dedication, passion for fashion and time. You can create your own paradise right in your own room. Now is as good of a time as ever to start living the life you want. Living a life of Lilly Pulitzer!