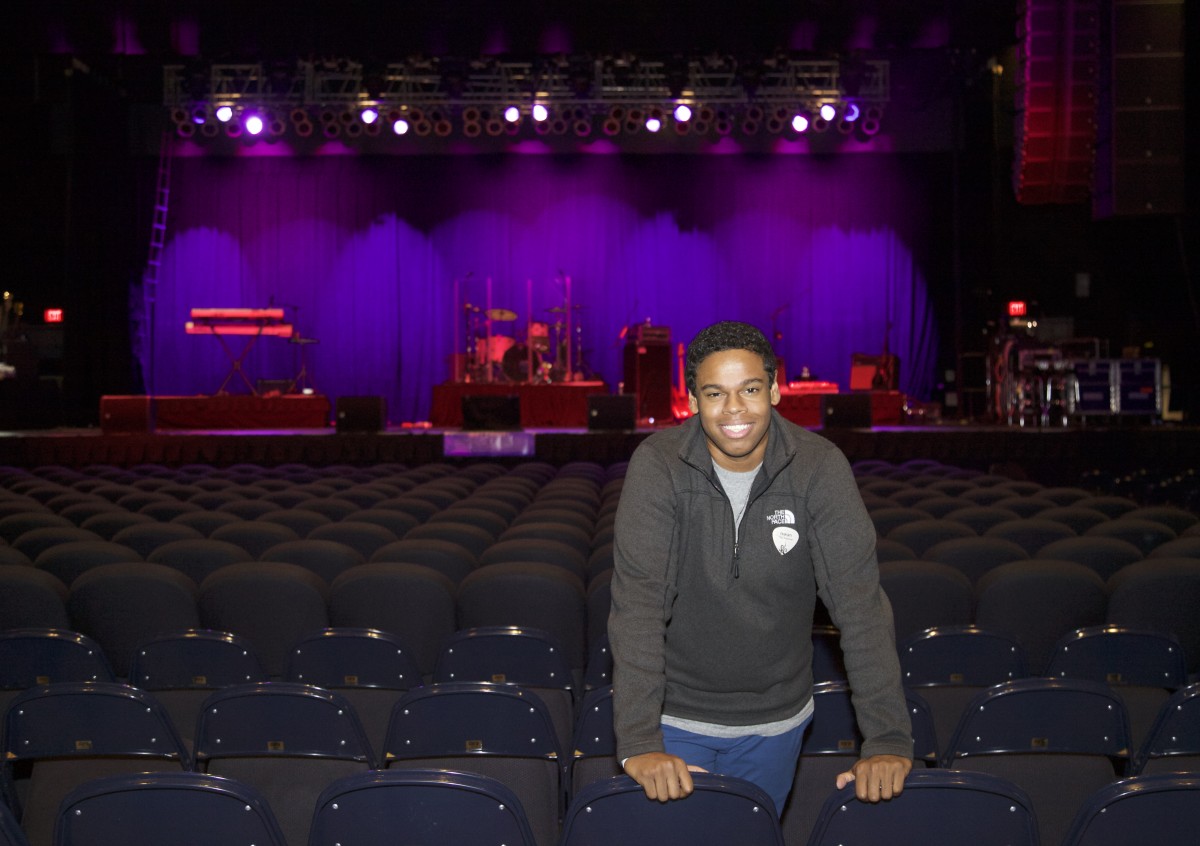 Meet the Rocksino Entertainment Intern — Isaiah Williams
By Felicia Naoum
Isaiah Williams grew up in Aurora, just a mere 20 minutes from the place that many Ohioans love to rock out at and play hard at. You know, the place with the Ohio address that does it Vegas-style 24/7 — the Hard Rock Rocksino Northfield Park.  The entertainment venue also happens to be where William's 2018 summer internship is taking place. Williams might be interning at a place full of glitz, and rock and roll glam, but he knows that you can't just play hard. He knows that you work — in his case — much harder than you play.
The entertainment intern says he could have easily spent his summer elsewhere, but chose a place that could bring him even closer to his goals of working in the entertainment business, media finance, and media production realm. "To be honest, there were many other ways I could have spent my summer. As an entrepreneur, I could have been expanding my company or consulting, but, instead, I wanted to learn and that's why I'm interning." This Babson College (Boston, MA) senior has his priorities in line. His eye is not only on the prize, but he's walking, or in this case rockin', towards that prize a little each day at the Rocksino.
Williams says he spends his days shadowing "the awesome people in the entertainment department." Williams gives us a spec inside of what goes on behind stage doors so to speak. Many of us know what it's like to rock out at a show, or play the slots, but not many of us realize how much goes into the business-side of a production. And all of these aspects are what Williams is eagerly studying each day as an entertainment intern. "The entertainment department is one of the smallest departments, but I think it is one of the mightiest," confidently says Williams.
I'm sure you've heard of some of the upcoming shows at the Rocksino. The venue is showcasing legendary stars like Gladys Knight, and Boy George to name a few.  And to compound on William's use of "might," the Rocksino indeed possesses a mighty stage with mighty rockers, and a lot of mighty behind-the-scenes strength to make it all happen.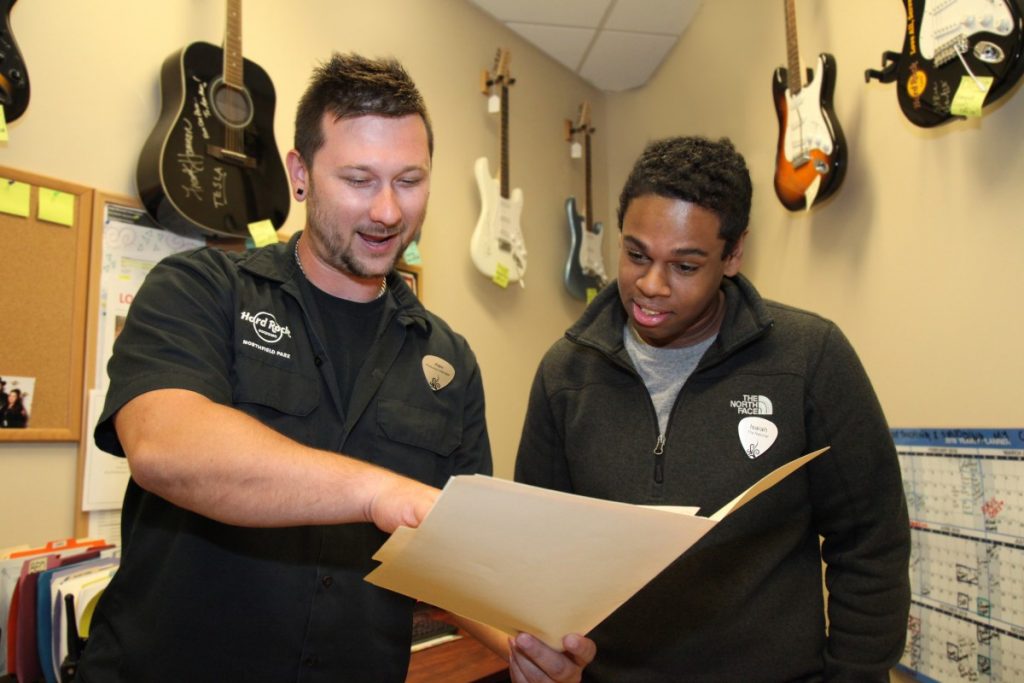 Williams further shares that as an intern, he helps with executing artist offers, reading and drafting talent contracts, and conversing with managers regarding contract dates. Additionally, Williams observes day of show events as well as the production team and the technical aspects. His most favorite part of interning is observing the technical and backstage process because it is not quite familiar territory to him.
So of all things to major in and study, why entertainment business for this intern? Well, the field is one that Williams always had a strong affinity or connection to. "It's always been a passion. As I got older, and started to produce some of my own media, I realized that I had a pretty creative mind and I also started a few businesses. I have an entrepreneur mind as well. Being able to square the business side with the entertainment side kind of became the goal."
When your internship is at the Hard Rock Rocksino Northfield Park, it's safe to say — goal met.
Circling back to William's creative mind, he finds comfort and gratitude in the Rocksino allowing him to fuel his creative hunger each day.
"Do you need a lot of creative freedom in a position to excel at it," I ask.
"Yes, because I think my business background lets me know that not everything I need to do is going to be financially feasible. I'll be extremely calculated, but I'd like to be able to be creative, problem solve and [have] creative freedom for sure. I think a place like the Rocksino definitely nurtures that creative freedom."
Aside from remaining a creatively free soul within his internship, Williams credits the Rocksino for teaching him lifelong skills that he can use throughout his career. Primarily, for Williams, understanding which resources you have available and how to use such resources is a key takeaway from his internship experience thus far. "Knowing what you can and can't offer or what you do and don't have. Knowing your resources and knowing how to strategically allocate those," says Williams. Williams elaborates that resources can exist in a variety of ways including financial, man power, and marketing. Through this knowledge and exposure, Williams states that he has gained quite a valuable education, especially in observing business negotiations. "I learned a lot of applicable deal-making skills. The numbers tell a story. There's something you can learn from numbers in the entertainment industry. People think tickets are arbitrary prices, but it's really thought-out and really planned."
More than business, Williams says he has most of all learned the needs of the audience. It has always been the audience who lights up the stage anyway. The Rocksino strives to make their guests happy. Williams concurs that guest satisfaction truly is key.  "More than anything, I think I learned: what entertains people, what excites people, what shows people are going to be more excited about than others, what goes into marketing a show, and being on people's radars."
There's even more. The list of learning appears to be endless for the intern.
"The labor that goes into putting a show on the day of the show; making the artist happy. I learned and seen so much in only four weeks," says Williams with great gratitude.
And while a summer internship is often seen as temporary, Williams doesn't planning on being gone for too long. Once he completes his degree, the gracious observer will continue to soak in all professional things Northeast Ohio. Northeast Ohio is his chosen place. And the place that rocks, you know, the Rocksino, kicked off his chosen path, but not just in offering him an internship. The Rocksino gave Williams much more. I'll explain.
"Northeast Ohio is the only place I want to work. I have been fortunate enough to travel, and see a lot of different parts of the country. First, it is home." And, well, we all know home is where the heart is. But, quick side note, it's also where rock and roll thrives on the stage, behind the scenes, and even at a slot machine or two.
"But second, adds Williams…
It's right for a lot of innovation. I want to be entrepreneurial and I want to do it here. Much like what the Rocksino did. They placed an entertainment venue and a gaming venue in a place that hadn't really been before. This is a prime example of the work I hope to do. Northeast Ohio is the place."
The innovation that IS the Hard Rock Rocksino Northfield Park gave Williams an example to follow for the life of his career. Some gifts don't have a value. Some gifts are invaluable.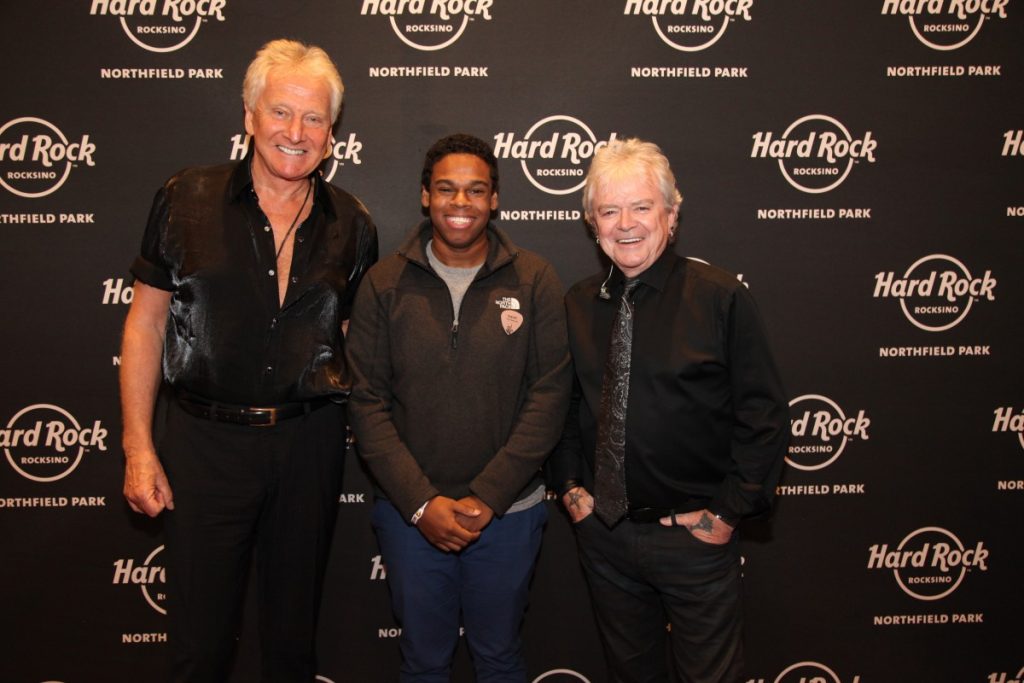 Williams, the receiver of this gift, is this creatively-inspired, business-minded, college student who is prideful of his hometown and passionate of all he is afforded through learning. He is open-minded, too. So open-minded that he will not dismiss any opportunity that comes his way. He really is like a sponge in that he will soak up all the knowledge and experience he can.
"There is no opportunity in the Northeast Ohio entertainment industry that I would not consider as long as I felt I could learn from it, and there would a significant chance for me to apply as an entrepreneur." Williams adds, "Candidly, I think that's what sets me apart [being entrepreneurial]." We all need something that makes us stand out from the crowd. Williams knows his niche. To still be a student and an intern, amerced in the learning process, and knowing exactly who you are, is a robust combination.
Before getting too ahead of himself, though, Williams is very aware that he still has an avalanche of learning to weather through. More so, he recognizes how his valuable learnings will prepare him for his future career in the Northeast Ohio area. "I'll be able to apply a local knowledge to a local venture. I'm learning lessons that could perhaps not be as applicable in LA or New York — the landscape is different. That is the value — it will help me in Northeast Ohio."
Because, once again, for Williams, home is where his heart is, his career lives and yes, we already know, where true rock and roll is, too.
Speaking of heart, Williams also finds great value in people and relationship-building. The intern says he wants to make invaluable connections and develop relationships with people any and everywhere not necessarily Ohio alone.
They always say it takes a village. And, well, I've yet to meet one person who credits their success solely to themselves. As Williams strives to build relationships that will last him a lifetime in his work and throughout, he is able to pass on knowledge to his peers as well.
I always ask the rock stars and the comedians to share their advice on chasing dreams. Williams is no different. He is an entrepreneurial star, in his own right, who gets to share his advice with you, too.
"I would say don't be stubborn. Be open. Listen much more than you talk. I had a specific goal and I achieved that goal because I listen and I ask questions. Choose a place that lets you learn and has something to teach you."
And a big part of Williams achieving that goal, aside from his dedication and passion, among other things, is because of the opportunity afforded to him by the place where more than just entertainment and late-night rock and roll lives on, but a place that lets you chase dreams and be better than you were yesterday — the Hard Rock Rocksino Northfield Park. Trust me, I know. 
"Being at the Rocksino, there was never a doubt that I would learn."
-Entertainment Intern, Isaiah Williams, Hard Rock Rocksino Northfield Park