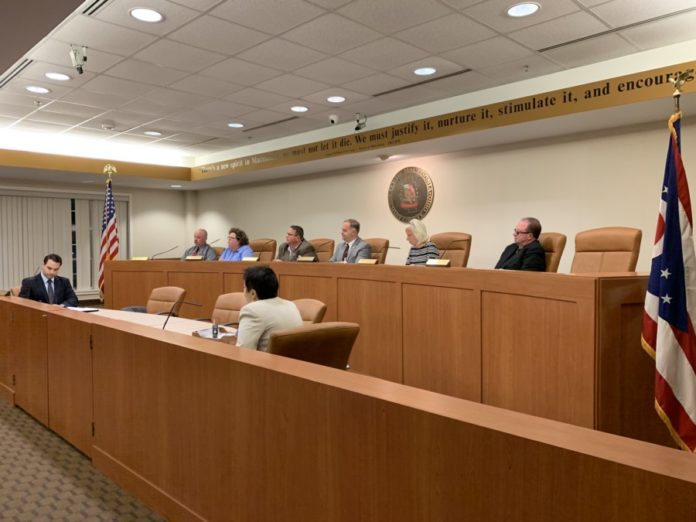 Highlights from the Macedonia City Council Regular Meeting, Thurs., October 24, 2019 – See agenda here.
Public comments:
Concerned Citizen #1- voiced pleasure with improved roads and Council work sessions extended to 1 hour, but was disappointed that Council seemed to lose focus on the promises made at levy time. She asked for all legislation to be available online and more discussion on topics such as the mayor's salary increase (needed to be communicated more to the public) and the censure of a Council member (if actions were enough to be censured, there should be full discussion). MAYOR'S COMMENTS – Technology updates should help communicate more to the public. Safety concerns were no. 1. Also, salary discussions were publicized in all media outlets. COUNCILMAN BILKIE explained that the use of the word "emergency" meant that it would be immediately effective, not an actual emergency, and would not need a resolution. COUNCILWOMAN BRANDT admitted that the public should have been more informed. Salary discussions began in July. **
This citizen also mentioned that she like the discussion in the work session. You can listen to the audio from the work session here: (audio)
A guest encouraged support of Issue 14, supporting the ADM Board which helps over 50,000 people each year. This is a renewal, not a new tax.
Concerned Citizen #2 discussed the need for a larger drive apron at Speedway. There are safety concerns. MAYOR'S COMMENTS – Plans have been submitted.
The following resolutions and topics were read and voted on if necessary:
Ord. No. 85 – 2nd Reading – Creating the position of Service Department Supervisor within the department of Public Service
Ord. No. 86 – 2nd Reading – Amending ordinance No. 69 w/ regards to compensation schedule for non-union city employees and name change for Assistant Fire Chief. See ordinance here: Ord.No.69-2019 (Amend Ord 51-2019 Non-Union Pay)
Ord. No. 90 – 2nd Reading – wage and hospitalization items were revised in the agreement with the union
Ord. No. 91 – amending ordinance no. 114-2018 relative to current expenses and other expenditures of city Jan. 1, 019 – Dec. 31, 2019
Ord. 92 – 1st Reading – 2020 Appropriations
Ord. 93 – 1st, 2nd & 3rd Reading – approving use of the city planned capital purchase program for certain planned capital purchases (setting funds aside for future capital purchases)
Resolution No. 94 – authorizing city engineer to prepare plans, bids and speculations and to authorize mayor to advertise for bids for replacement of water main the entire length of Ledgeview Rd. (This is fully funded by Cleveland Water.)
Motion to accept the donation from Home Depot for lights (value $400); passed
Motion to cancel the Nov. 28 Council meeting because of Thanksgiving; passed.
Mayor's Report
The Ladies Locker Room in the Rec. Center is now open
Don't forget to vote on Nov. 5
The pavilion in Veteran's Memorial Park is completed.
1st Graders from St. Barnabas visited city Hall.
Don't text and drive.
Committee reports were given before the meeting was adjourned.
The next Park & Rec Committee meeting is on Nov. 6 – 6 pm
Leaf collection begins Oct. 28
Haunted Hay Ride was successful – 1,000 people attended, 3 wagons; plan to continue next year
Halloween Party at Fire Station – 4-6 pm
Santa Claus will come again to Macedonia – details to come
New 911 system has arrived – will be installed sooner than later
**Editor's Notes –
The mayor's salary will go up to $90,123 on December 1st. That is an increase of 38%.
Salaries of various NE Ohio mayors were made available earlier this month.
You can watch the council meeting video here: