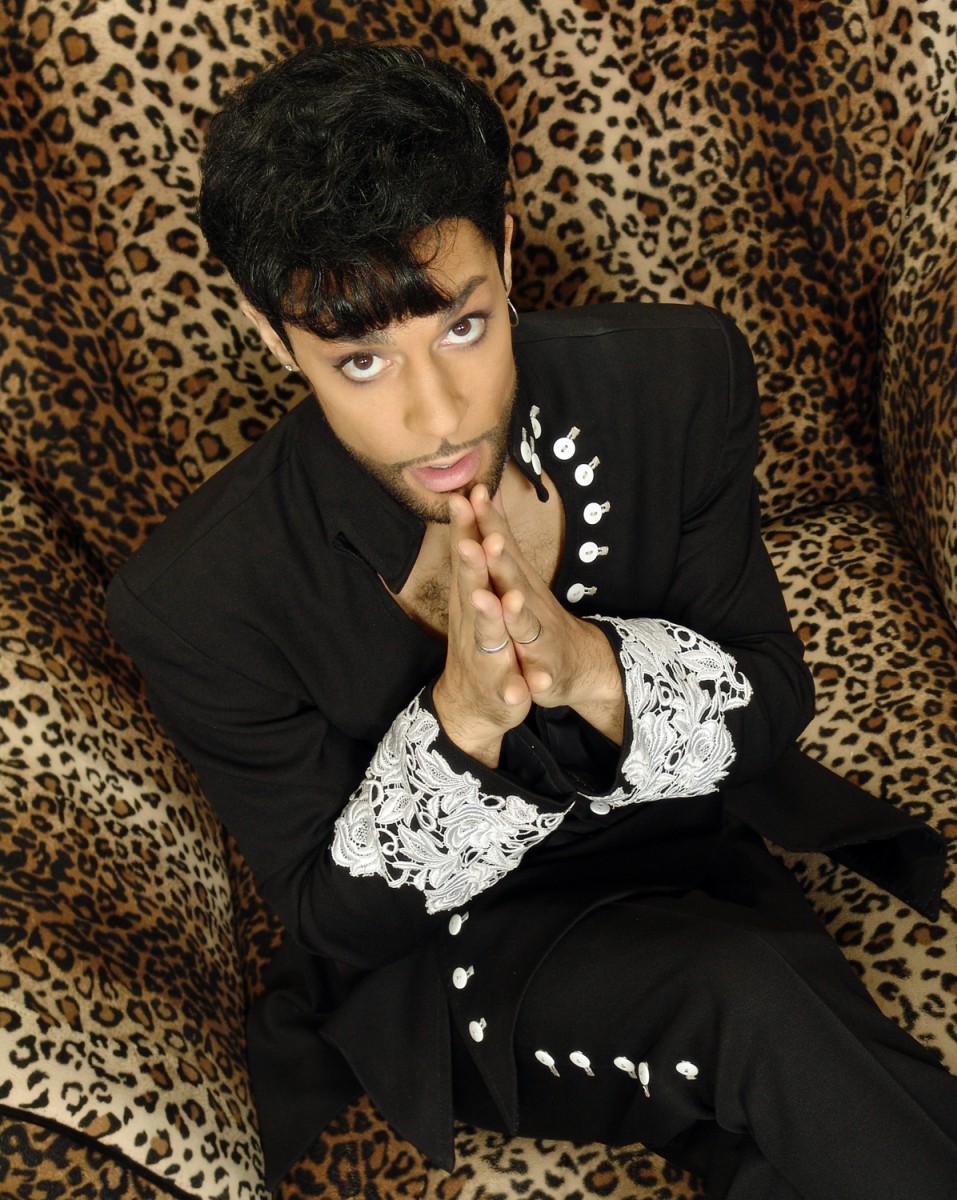 By Felicia Naoum
He grew up listening to classic rock music. He didn't know much about Prince in his youth. Ironically, decades later, this all changed. Today, Jason Tenner leads the biggest Prince tribute band in the country — 
Purple
Reign
. Sometimes, you just don't know where life is going to take you — possibly in the chair next to David Letterman. If you're a guest on David Letterman, you're pretty legit. Back in 2008, 
Purple
Reign
 made history as the first ever tribute band to hang out, late night style, with Letterman. Letterman himself said, "Oh, they were great!" Great enough to also win countless tribute band awards in Las Vegas — where the band is based. But, thankfully, they don't follow the famous Vegas tag line: What happens in Vegas, stays in Vegas to a tee because they will be playing at Hard Rock Rocksino Northfield Park August 17. So, for Purple Reign, what happens in Vegas spreads to many places. You're in luck Ohioans.
Prince himself is long gone — living in the hearts of Prince fans everywhere. If Prince lives in your heart, meet his next best version — on the stage August 17 at the Rocksino.
Why is 
Purple
Reign
 the #1 Prince Tribute Band? I asked Tenner himself. He doesn't credit the status to himself or his band necessarily. He thinks much broader.
"It was kind of something given to us because of David Letterman and by the people of Vegas."
Clearly, Sin City didn't allow this Indiana man to forget where he comes from. He knows humility, but, he also knows honesty. He knows how hard his band has worked and continues to work.
When you are number one, there are factors that set you apart. Tenner is aware of these factors and shares them without the slightest brag. He explains that living in Vegas has allowed him first-hand exposure to some of the best performers out there. Additionally, he has studied other Prince tribute bands. Don't we all need to know what we are up against? I think so. And, in studying the competition, Tenner has observed that not all Prince tributes dance and sing to the level that his band does nor do they all look the part. Further, he says, "I look a lot like him."
Staggering stats will make your jaw drop. If you think tribute bands don't work as hard as any other band, please think again.
For the past 21 years, 
Purple
Reign
 has played at least 4 shows a week. I'm much better with words than numbers so I'm not even going to try to add that up but we all know that's a ton of hours. When you put in the work, you set yourself up for success. When you follow a formula, you also set yourself up for success.
Tenner enlightens me with the 10,000 rule which is putting in at least 10,000 hours worth of work.  Something I think we can all aim for.
"When you put in that many hours of doing something, it becomes second nature," he says.
And, well, in this case, second natures brings you in first place. There's nothing second about Purple Reign.
Not all tribute bands get to meet the artist they are honoring. Tribute bands aside, not many individuals get to meet music royalty like Prince.
But Tenner did.
Tenner says he met the music legend in a rather adult environment but would not go into the details.However, he did give me insight into Prince's character and I'm sure fans will appreciate the tidbits. "He's very playful. He likes to play with people." Tenner, too, possess a playful side. Earlier in the interview, Tenner, innocently said "We da best" — in reference to how hard Purple Reign worked to become the number one Prince tribute band. His "playful" comment was coated with laughter. On a serious note, Tenner believes Prince was a fan of 
Purple
Reign
. "If he wasn't into what we did, he would've ignored me and pretended I didn't exist."
Another benefit that 
Purple
Reign
 has is that Tenner is friend's with Prince's first wife, Mayte Garcia. From their friendship, Tenner shares that Garcia was able to give him more insight into Prince's character. Tenner says he has learned that Prince "has some really deep, dogmatic religious ideas that he kind of superimposed, and that made him [Prince] colorful."
Certainly more colorful than just "
Purple
 Rain," the hit album and song by Prince. 
Side note, Tenner's favorite Prince song is "Strange Relationship." 
There are many more colors to Prince and to 
Purple
Reign
 as well. You can see all the colors of Prince and 
Purple 
Reign
 August 17 at the Rocksino. For now, though, I'll share some more.
You will get as humanly close to Prince as possible if you attend the Rocksino show. Tenner, who also records his own personal music, doesn't struggle to keep his own identity as a tribute artist. To him, playing Prince is an acting job. An act he does quite well. Tenner does find though that individuals have a difficult time separating him from Prince than he does, especially after Prince's passing in 2016. True fans want to believe Prince is still here. Tenner gives those moments to fans time and time again. Each time, it's effortless for Tenner. Remember, when it's effortless, it's that much more natural. "I don't think about doing it until I put my makeup on,and my clothes, and I become him."
And while Tenner effortlessly becomes Prince in his # 1 
Purple
Reign
 tribute band, he would do it all the same even if the band status was different or less than a great success.
I say to Tenner, "Being chosen, by CBS, to ring in the New Year with the Late Show, is bigger than a big deal. How do you swallow or comprehend those moments?"
"I love to do this. Whether there are cameras and 3 million people, or 150 people, I love to do this. I have very capable and competent musicians. We change the show. I don't really think about it like that."
What Tenner means is that he doesn't think of fame in ways that many people do. The fame fascination doesn't live within Tenner. He's still that boy from Indiana who happens to play Prince. Tenner adds, "I don't watch TV and never been star struck. I've been blessed to meet lots of stars. People are people."
So, to answer my question, this is how he comprehends those moments.
"I comprehend it from the standpoint of entertainment and business — that was [being on David Letterman] a moment that helped expose what we do to a much wider audience."
While the audience has grown, so has Tenner's love for Prince.
"These days, I've become a fan through the process of doing the job of being Prince."
Tenner jokes that he traded Afro wigs and bell bottoms to become prince. There was a "bigger demand" for Prince he says. It's Prince, of course, there is a bigger demand. Tenner agrees that the demand is even bigger now since Prince's passing. "How did Prince's death affect you? Did your performances change in anyway as a result of his death?" I ask.
"It took me awhile. I couldn't believe it. I never thought, for a moment, he was addicted to opioids. I hate to say it, it seems of things that a lesser person would be involved in." Tenner goes on to explain that he sees drug addiction as a disease. "He was human. We're all human," assures Tenner.
After Prince's death, Tenner says that Purple Reign upped the ante by increasing their level of production including adding dancers to the show. "We wanted to make it is the true spirit…"
Tenner and Purple Reign continue to keep Prince's spirit alive as well as the spirit of conquering dreams.
How so?
"I spent countless hours on stage and in my room. Do the work. Don't think there's a shortcut," he says. Remember the 10,000 rule, friends? There's no shortcut with a number that big. Tenner says shortcuts are not worth it anyway. "Taking shortcuts means you have to go back and patch things." Instead of wasting time patching things up on the path to your dreams, why not just go in wholeheartedly?
I will warn you, and Tenner will warn you that there will be continuous roadblocks along the way. Still. No shortcuts.
"Don't let a side step deter you. Don't quit. All of us in this world are here on a non-permanent journey. You short nothing by taking a chance…being brave," explains Tenner.
Tenner adds that rather than spending time wondering, just do what Nike says. Just. Do. It.
"Get out there, do the work and it will bare fruit…"
Possibly enough fruit to follow in musical genius footsteps and perform as Prince at the Hard Rock Rocksino Northfield Park on August 17.