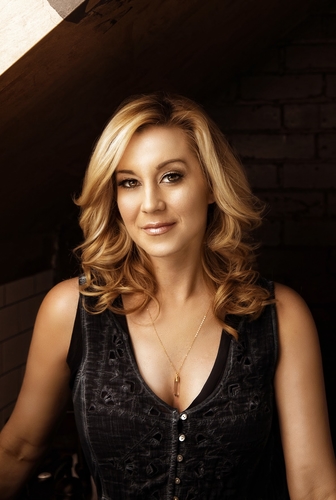 Photo credit: Robby Klein
She's humble, she's conquering, and she's ready to rock some country with you
By: Felicia Naoum
Kellie will certainly entertain you, that's a given. Rolling Stones named her 2011 album, 100 Proof, the No. 1 County Album of the year. But before this No. 1 Album, Kellie, a down-to-earth North Carolina paid her dues at a young age. We remember and love Kellie from the iconic talent show that made dreams come true for fifteen seasons, American Idol. Kellie appeared on Season 5 of Idol and stole America's hearts forever. And forever, Kellie will be thankful for Idol. "I was very blessed to have American Idol be the road that led me to Nashville," she said.
Kellie is a Carolina girl, who in fact has been inducted into the North Carolina Music Hall of Fame with stars including the legendary Andy Griffith. But fame aside, she is light, she is jovial and she will make you laugh continuously. Just turn on her CMT series, "I Love Kellie Pickler" and you'll see why. Her voice – that's another story, it will blow you away and the honest lyrics that she sings will hit you, sometimes hard. She is the real deal and she doesn't allow fame to pull her away from those Carolina roots. "I don't take it for granted. I'm so thankful to be able to use music as a vehicle to be a part of people's lives and to help people," said Kellie.
Kellie returns her blessings, too, as she has completed 11 USO Tours for the troops thus far. "I have been so blessed to work with the USO for so many years now; it's life-changing and puts things into perspective," expressed Kellie.
When Kellie isn't giving back, she is making hit songs that have profound meaning. I asked Kellie where a good country song comes from. "It comes from life – the truth. People relate to the truth; people relate to what's real," she answered. Kellie speaks on her hit song that is, as she calls it, "conquering" but it is Kellie Picker who has conquered and continues to conquer.
Kellie is about to conquer Cleveland. Fans are lucky as she is gracing the Hard Rock Rocksino in Northfield with her captivating vocals.
I asked Kellie what fans can expect from the show. "We always aim to have a good time: we do songs from all four albums; we love to throw in a cover here and there," shared Kellie.
Now that's a treat! Kellie will give you the full experience by touching on all of her albums. You may even get the song that fans "wonder" about. That one song that still seems to touch everyone, "I Wonder".
Kellie discussed the meaning of "I Wonder" with me as she spoke of her experiences with fans about the impact of the emotional song. "So many people have shared their personal stories with me over the years, whether they were adopted or never met their biological father, or their grandma raised them; everyone has a story. I'm always taken back with how people share personal details of their life with me. I'm so thankful that they do because there is such a healing process in that moment," said Kellie.
If music can heal us, it can make us stronger. Kellie has accomplished a lot in her life but she prides herself on connecting with people and people connecting with each other – through music, through songs like "I Wonder."
"Hearing everyone's story over that song has helped a lot of people; it's conquering. It's about conquering mountains and you know, going after your dreams – chasing them – being your own person – you're not gonna let anyone or anything that has ever happened to you hold you back," added Kellie.
Even Kellie has faced and conquered her own hardships. Through the midst of storms, Kellie remains positive. Kellie has a refreshing spirit albeit a jaded past. "I think for me, I realized at a very young age, that the company you keep is so important. It so hard to not become a product of your environment. There are some people you have to love from a distance and that's okay."
The one's that are close to Kellie are highly appreciated by her. Kellie wants the folks in her circle to be honest with her but to also be an inspiration. "They have qualities that you aspire to be like," she said. Kellie added, "I've been so blessed with great, amazing friends that have become family. I have the most incredible sister in the world (she is) a sanctuary in my life." Kellie also shared how great her husband is. Kellie is truly blessed and as she said, she takes none of it for granted because she knows that life isn't all glory and fame. "Everyone has experienced heartache or struggle at some point and if they haven't, they will. It's part of life; there's no dodging it," said Kellie.
Through the struggle, Kellie caught her break. We touched briefly on her Idol days. I wanted to know if she ever thought it would lead her here. She graciously responded with, "I didn't realize at nineteen how powerful the show, American Idol, was. There is no way to prepare for how drastic your life changes," said Kellie.
Even though Kellie made it big, she is constantly thankful. I asked Kellie to sum up her feeling, in just a few words, when she is performing in front of fans. Her words were as humble as ever: "Extremely blessed and very grateful."
Kellie assured me that fans still have a lot more Kellie Pickler on the way. She has a drive that is unstoppable with projects in the works. You may wonder what makes Kellie get up and make the chart-topping music that she does. "I guess the connection that music has. Music has the ability to connect people and tell a story through the form of a song and just being able to see the world and share your story. We all have so much in common," she said.
One thing most of us definitely have in common are dreams.
Kellie shared advice for those with dreams.
"I think you have to believe in yourself. You have to have faith and believe, visualize it happening, and you have to be willing to make the sacrifices and do the work that comes along," shared Kellie.
Further, Kellie expressed — "Be very mindful and selective of the people that you do business with. It's very important that you have people around that have integrity. Surround yourself with people that are better than you. Kellie further explained this by giving examples to work with those who are seasoned at their craft so they can teach you quality work. "If you wanna be a better basketball player, play with the best," she said. In turn, you will gain knowledge. "You will use that as fuel to move forward and have the life that you want," added Kellie.
Kellie made the life that she wanted, and yes, you can, too. While you're out there chasing dreams, make sure you get to the Hard Rock Rocksino Northfield Park on Saturday, March 4th for a show that an everyday, wholesome woman made happen by following her dreams.
Facts provided by Kailey Pearce
Save