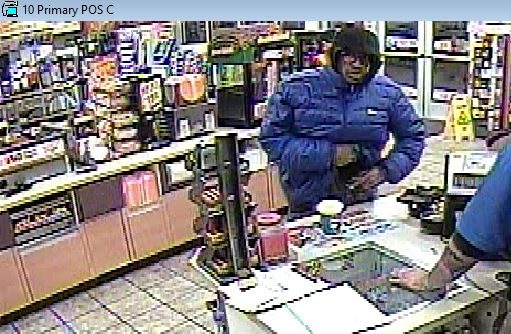 From SGT SEAN HATHAWAY
On Monday 12/11/2017 at approximately 03:37am Macedonia Officers were dispatched to Speedway located at 755 E Aurora Rd for a report of an armed robbery that had just occurred. Dispatch advised that it was a black male who had brandished a handgun, taken money, then left westbound on SR 82. Ptl. Szaibel and I were both in the area. Ptl. Szaibel went west on SR 82, while I went directly to Speedway. When I arrived at Speedway the scene was very calm. Eric Meahl was sitting parked in the lot, backed in near the front doors. I asked him if he had seen what happened, as we had just received a report of a robbery that had occurred. Eric stated that he did not see the robbery, but he did see a black male just exit the store and walk westbound, then around the back of the building. Eric stated that the male had on a blue jacket and a winter hat. I checked the back of the building and into the parking lot of the Blue Willow. There was nobody in the immediate area.
I returned to the front of the store, where I spoke with the cashier who reported the incident, Michael Kowell. Kowell stated that a black male came into the store and poured a cup of coffee, then went up to the register to pay for it. When Kowell went to ring the male out, he brandished a handgun and told him nothing funny. Kowell stated that he put money from the cash register into a Speedway bag and handed it him. The male took his coffee and bag of money, then exited the store. Kowell described the male as black, middle aged, and approximately 6 ft tall. He was wearing a blue jacket with a hat.
Ptl. Szaibel, Ptl. Hetrick and I checked the area in and around Speedway to look for any items the suspect may have dropped or discarded, such as a cup of coffee. We were unable to locate any such items. Management at Speedway was contacted by Kowell. When the manager arrived on scene video was reviewed. Video showed a black male wearing a blue jacket and a hat enter the store at 0334:18. The male walks to the east side of the coffee counter, then around to the west side. He then walks over to the cashier area, where the robbery occurs. Kowell starts to ring the male out. The male lifts his jacket to reveal a handgun. He demands money from the register, Kowell complied. The male is seen exiting the store shortly after 0336.
Ptl. Szaibel and Ptl. Hetrick collected evidence from the scene, to include coffee pots, a sugar packet, a cup lid, and a mat that the suspect could have potentially touched. Surveillance video was burned onto disks. All items were tagged into evidence.