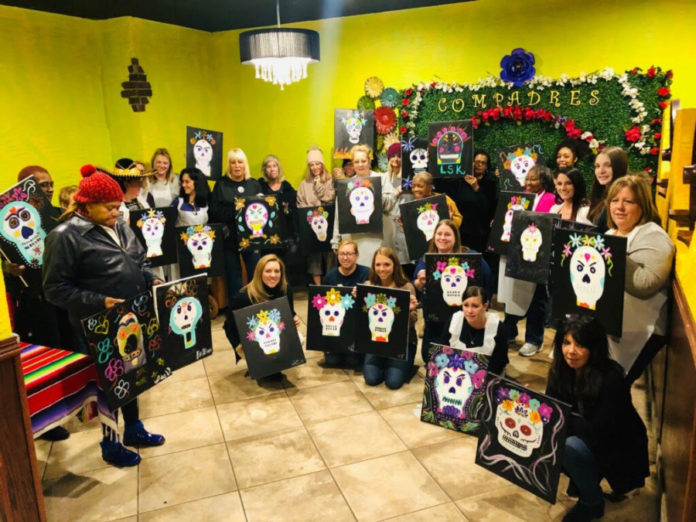 On a chill Saturday night, 51 people sit in Compadres Mexican Grill ready to eat Tacos, sip Margaritas, & Paint a canvas with a portrait of a Sugar Skull.
Sarah from So-So Artsy Paint Studio guides the group at Compadres Mexican Grill through the process, explaining which brushes to use, the colors that would fit best and the proper technique. Before they begin, Sarah explains that everyone is here to relax and have fun and to be proud of your art no matter what. "Why?" Because "There are no mistakes in Art!"
Painters are taught how to make a background, drawing lines with different paints on the blank canvas. Sarah teaches them to blend colors to create a spooky dark background behind the Sugar Skull.
She shows people how to dance with their canvas, shaking it up and down to make it dry faster. People take a second to grab a bite of tacos or a sip of margarita before jumping right back into work on their art. During breaks, attendees pose together snapping photos for sharing on social media. With post taglines that say, "Bob Ross is my homeboy" or "I drank the paint water".
These kinds of events are not new, but they seem to be gaining in popularity. They bring out corporate groups, women looking for a ladies night out or couples on a date. Whatever the mission, the Nordonia Hills area now has a great place to eat, drink, paint and create
simultaneously!
Melinda Sheppard, the owner of So-So Artsy Paint Studios said hers was Northfield Village's first paint-and-sip shop. The business opened its doors in June 2018.
"It's just a way to tap into that creative part of us that we all have," Melinda said."
Melinda said 85 to 90 percent of attendees have no experience in art. You don't need any skills to attend.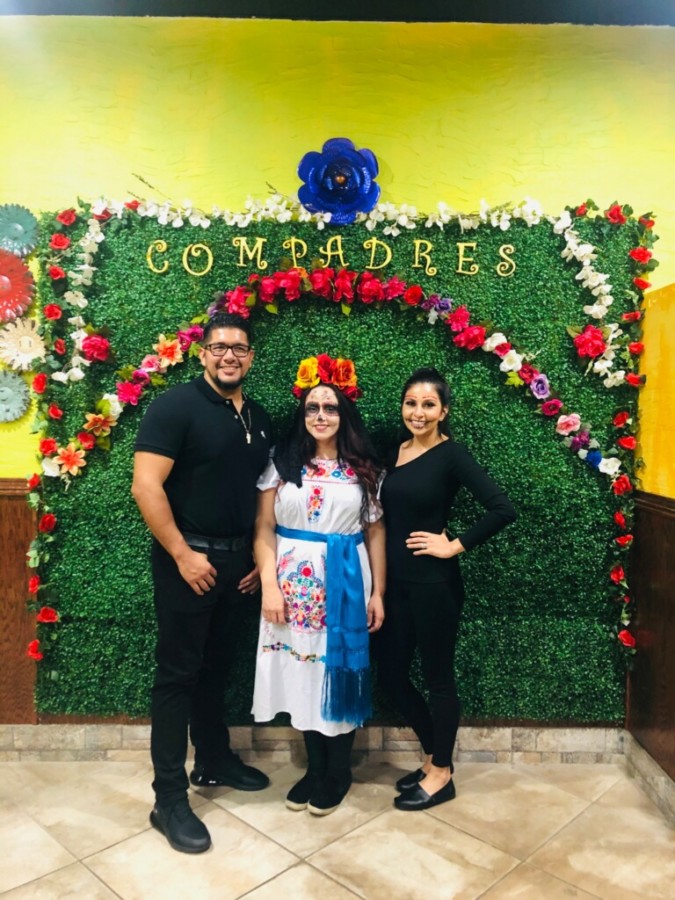 Bonney & Jerry Navaro, the owners of Compadres Mexican Grill, decided to start hosting Margarita, Tacos, & Paint Night to bring something fun and exciting for their customers. The unlimited Taco Bar gives you the opportunity to create your own Tacos and put whatever fillings you want.
Keoina Blackmon, 25, of Stow Ohio has been attending Margarita, Tacos, & Paint night with her friends since July 2019. The Stow resident has also attended five Paint Party events not including her daughter's upcoming birthday party at So-So Artsy Paint Studios. "This gives us a chance to do something for ourselves," she said.
Alea Gundic, 38, of Northfield Village likes the events because it's a good, short break from the stresses of life and its very relaxing & therapeutic. Alea doesn't live far from Northfield Village Plaza and frequents Compadres Mexican Grill weekly to take advantage of the great deals they offer." Not only that, it's also a fabulous place to meet and chat with friends!" she said.
Where to go? Compadres Mexican Grill
10333 Northfield Rd., 330-467-0567 Events are $25.
Next Margarita, Tacos, & Paint Night (FelizNavidad!)
December 14th @7pm
Tickets can be purchased at Compadres Mexican Grill! Margarita, Tacos, & Paint Night available almost monthly.
Visit sosoartsy.com/services for a complete schedule.