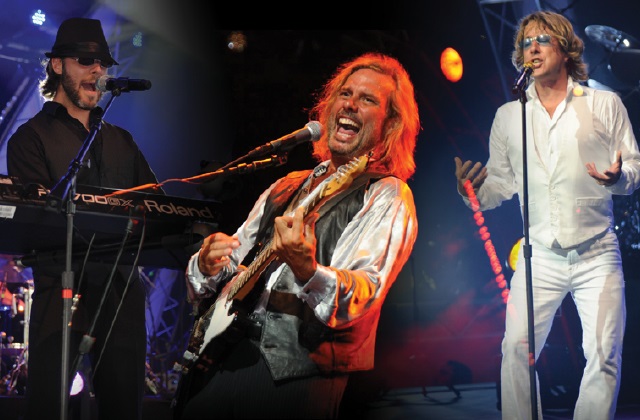 NORTHFIELD, OH, Oct. 9, 2018—Night Ranger; Walt Sanders – "One Night With You" – Elvis Tribute; and Stayin' Alive – A Tribute to the Bee Gees, are coming to the Rocksino. Tickets are available at the Rocksino Box Office, daily – 1pm – 9pm, or at Ticketmaster:
Night Ranger, 7:30p.m., Thurs., Dec. 20. Tickets: $49, $34, $24
"Night Ranger Rocks Into Its 35th Anniversary" – With more than 17 million albums sold worldwide, over 3,000 live shows performed and more than 1 billion in radio audience, Night Ranger, has both epitomized and transcended the area rock sound style of that era and beyond. For more information: https://www.nightranger.com/#!/
Walt Sanders – "One Night With You" Elvis Tribute, 8:00p.m., Sat., Jan. 12, 2019. Tickets: $20, $15
Stayin' Alive – A Tribute to the Bee Gees, 8:00p.m., Sat., Feb. 2, 2019. Tickets: $33.50, $24.00
Stayin' Alive is the most realistic tribute performance of the Bee Gees to hit the stage. This fine group of musicians gives audiences the songs and sights of a full Bee Gees play list, singing blockbusters such as "Night Fever", "Jive Talkin'", "How Deep Is Your Love", "You Should be Dancing", "Nights on Broadway" and "Stayin' Alive".
The leading Bee Gees tribute band today, this Canadian production allow you to re-live those great memories of the '70s. Stayin' Alive captures a full history of the Bee Gees music beginning with their 1967 breakout album Bee Gees First. They have performed throughout Canada, the United States, and internationally. Fans loved them in Vancouver, Toronto, Quebec, Mexico City, Bermuda, Cayman Islands, Stockholm, Helsinki, Russia, Atlantic City, West Palm Beach, Houston, New York, Chicago, Los Angeles, San Diego, and Disney World in Florida.
About Hard Rock Rocksino Northfield Park
Hard Rock Rocksino Northfield Park is Ohio's award-winning gaming, dining, and entertainment destination, located on the Northfield Park harness racing grounds, which offers more than 200 live harness races each year. True to Cleveland's musical history as a birthplace of rock 'n' roll, the Rocksino offers the legendary vibe of the Hard Rock brand, including more than 2,300 gaming devices offered both inside and outside, varied dining options and unparalleled live music events. The Hard Rock Live music venue, the fifth of its kind, hosts sell-out crowds of up to 2,100 guests for live entertainment by renowned musicians, in addition to hosting guests for a variety of functions and banquets. Hard Rock fans enjoy phenomenal dining at the world-famous Hard Rock Cafe; Kosar's Wood-Fired Grill, football legend Bernie Kosar's finest steakhouse; Concerto Italian Kitchen, a fast-casual restaurant, featuring personal pizzas, creative pasta dishes, gelato, and more; Fresh Harvest, an endless buffet with seven action stations; and Constant Grind, a bistro with sandwiches, sweets and more. In addition, the Rocksino offers a Rock Shop with famed Hard Rock merchandise to take home memories of the Rocksino experience, as well as a 350-seat live venue, Club Velvet, features comedians and illusion acts, dance parties, special events and is also readily available for private parties and events. As a focal point for the Center Bar leading into Hard Rock Cafe, Van Halen's red hot motorcycle makes "everybody want some" as one of many "arena rock" pieces from Hard Rock's unmatched, priceless memorabilia collection at the Rocksino. On October 18, 2017, the Rocksino opened ROCKSTOP GAS & WASH, a new Hard Rock branded and first of its kind, state-of-the-art gas service station and car wash. For more information about Hard Rock Rocksino Northfield Park, please visit www.hrrnp.com.