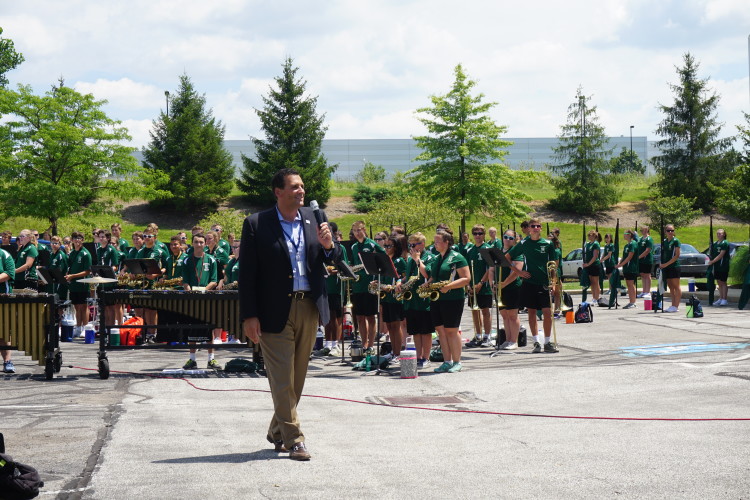 By Deb Stoneman
Companies find many ways to motivate employees. Have you ever heard of inviting a marching band to perform at a quarterly employee business event?
Well, MRI Software in Solon, Ohio did just that. The Nordonia Marching Band answered the call and stepped it up to prepare for their first performance of the 2017 season in just over two weeks.
The employees at the MRI Software headquarters experienced a unique and energized onsite event during their work day, recognizing their hard work and accomplishments. The band performance was also broadcast to the real estate software company's global locations in London, Hong Kong, Sydney, and beyond as part of the company's quarterly "Spirit Week." "We are thrilled that the Nordonia Marching Band was able to join us for Spirit Week," said Patrick Ghilani, CEO of MRI Software. "The hard work, dedication and school spirit of these talented students was evident in their rousing performance!" The Nordonia Marching Band saw their efforts working on physical training, marching fundamentals, music technique and overall team work pay off by receiving this invitation. Additionally, MRI Software made the commitment to become a corporate sponsor. This event was a win-win for both organizations and a great example of community partnership!
Be sure to mark your calendars and join the band in their upcoming performances.
FRI 08/25 – 7:00 – Football Home vs. Bedford
FRI 09/01 – 7:00 – Football Home vs. Woodridge
FRI 09/08 – 7:00 – Football @ Mayfield
FRI 09/15 – 7:00 – Football Home vs. Wadsworth
SAT 09/16 – 1:30 (tentative) – Bands of America Regional @ Canton Hall of Fame Stadium
FRI 09/22 – 7:00 – Football @ Hudson
SAT 09/23 – TBD – OMEA Revere Invitational
FRI 09/29 – 7:00 – Football Home vs. Stow
FRI 10/06 – 7:00 – Football @ Brecksville
FRI 10/13 – 7:00 – Football Home vs. Cuyahoga Falls
SAT 10/14 – 4:30 (tentative) – OMEA Buckeye Invitational at Ohio State University
FRI 10/20 – 7:00 – Football @ North Royalton
FRI 10/27 – 7:00 – Football @ Twinsburg
If you or your company would like to sponsor the band, contact Deb Stoneman, Nordonia Band Aides President @ nordoniabands.pres@gmail.com.
The first two pictures are from the event in Solon, the others are from band practice.