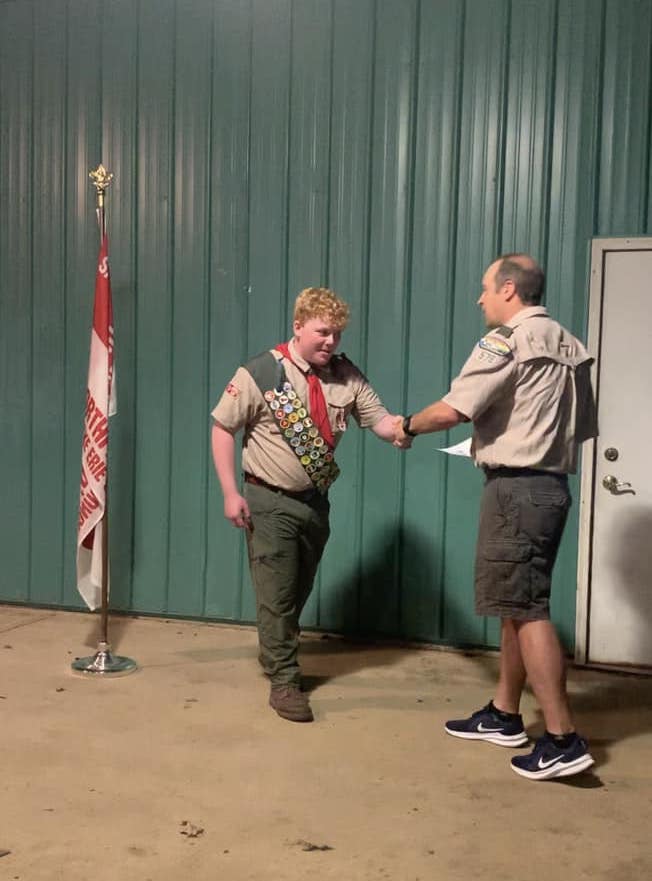 On September 21, 2022 Wesley Donnelly, a Senior at Nordonia High School, attained the highest achieved rank in the Scouts BSA program of the Boy Scouts of America. He passed his Eagle Scout Board of Review and took the oath the same day. He has also spent the past four years in the Marching band on the drumline, playing the tenor drum (quad drum). Wes has helped volunteer at Our Lady of Guadelupe since the pandemic started by filming and streaming Saturday masses.  He plans to attend college for Film and Media Production.
How Wes Began His Eagle Scout Project:
Wes spoke to Matthew Griffith, Coordinator of Religious Education and Youth Ministry at Our Lady of Guadelupe Church about expanding the work done by past Eagle Scout projects completed by Michael Ticchione, James Connolly and Robert Connolly, fellow troop 575 members. They built a beautiful outdoor space complete with fire pit to hold outdoor fellowship and worship. Fr. Kevin Shemuga, Pastor at OLG, and Mr. Griffith both approved Wes's plan to build 6 Adirondack chairs and a picnic table to provide seating for the outdoor space.
After months of detailed planning and approval, work began in May 2022. Wes was going to Germany with his German class for a school trip in the middle of June, and band camp would be soon thereafter, creating tight timeline for the project. Lumber was purchased from local sawmill; S&S Sawmill on Olde Eight Road.
A big part of the Eagle Scout project is leading and organizing volunteers. 14 young men from Troop 575, several adult leaders, his parents (Mary Katherine and Seth) along with Wes's sister -Evie Donnelly, a Sophomore at NHS.  Some friends from the NHS Marching band helped sand and stain the lumber, and assemble the chairs and tables. Chairs and tables have been used at OLG for family movie nights, teen program, vacation bible school, bible studies, and a place for parishioners to gather.
The following Facts- were taken from: About Eagle Scout (taken from: https://www.scouting.org/)
Since its inception in 1911, only four percent of Scouts have earned this rank after a lengthy review process. Cub Scouting is for youth in kindergarten through fifth grade.  For Wes Donnelly, the journey started in Kindergarten with cub scouts, and he bridged to boy scouts in fifth grade, with Troop 575 of St. Barnabas.
A total of 21 merit badges must be earned for the Eagle Scout rank, including these 14 merit badges obtained while a Boy Scout:  First Aid, Citizenship in the Community, Citizenship in the Nation, Citizenship in Society, Citizenship in the World, Communication, Cooking, Personal Fitness, Emergency Preparedness OR Lifesaving, Environmental Science OR Sustainability, Personal Management, Swimming OR Hiking OR Cycling, Camping, and Family Life. Prior to earning Eagle Scout; in the spirit of caring and giving, a scout must complete an Eagle Scout service project. Service to other people is what Scouting is all about. In many ways, their service project reflects who they are as a youth leader. The result should be of significant impact in their community and should represent their very best effort.
(Pictures provided by Matt Griffith and Mary Katherine Donnelly)