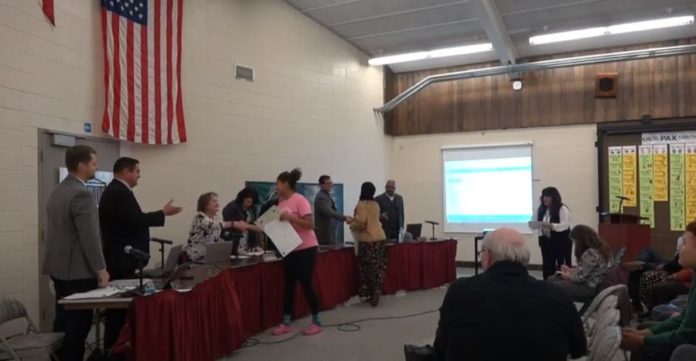 According to a recent report by an Ohio school safety consultant, Nordonia Hills Schools continue to be a state-wide model in student safety and school security.
"Nordonia leads the way," Tim DelVecchio told the Board at its September 26th meeting.
DelVecchio, a consultant for security services at the Ohio School Council, was referring to the district's overall school safety.
DelVecchio and District Business Manager, Casey Wright, released a 30-page report to the Board during a pre-public meeting executive session.
Wright could not share the entire report submitted in executive session, he said.
"I wish I could share with you, but I can't," Wright said.
And while the report listed areas which could be improved, it also contained several goals for the future, Wright added.
"Interestingly enough, safety has been at the forefront of what Nordonia has done for a long time," Wright said.
DelVecchio praised the district for measures taken to protect students and "They do it right, here," DelVecchio said of district security.
DelVecchio said further security improvements could be made with proper funding.
But that was not all.
"I was impressed that four different [police] departments have jurisdiction over the school district, and everybody gets along, works together and likes each other," DelVecchio said.  "Whatever you're doing down here keep doing it. You found a cake recipe – well done."
DelVecchio is a proponent of school resource officers.
"I think this is a critical factor for school safety," he said of the SROs. "You know, you can buy a lot of security features, but you know, someone is propping open a door."
Trained school staff and SROs will try to prevent doors from being propped open and work on other safety features, he added.
Potential improvements included making building vestibules more secure and keeping doors and hardware up to date and functional.
The report contained eight to 10 recommendations per building, according to Wright.
DelVecchio has more than 50 years experience in local, national and international security.
He was commander in charge of the major crimes and investigation unit, according to Casey Wright, the district director of business. DelVecchio, who has consulted with more than 1,000 schools on training and security, has also worked for the United Nations and Ohio Department of Homeland Security.
Consent items included:
A field trip to Germany for Nordonia High School German 2/3 students from March 30, 2024 to April 8, 2024, was approved. Transportation will be provided via major airline carrier. Approximate cost is $5,019 per student with no cost to the district.
A donation of a toaster oven from the Building Boosters of Nordonia Hills, Inc. valued at $65 and a TV stand/shelving unit for the office valued at $144, was approved.
A resolution approving transportation impractical for certain identified students, was approved.
Contracts with Turnkey Technology for purchase of security cameras at Nordonia High School, Middle School, Lee Eaton Intermediate, Rushwood and Northfield Elementary, was approved.
A resolution waiving required notice from Northfield Center Township in connection with a TIF to be adopted by Northfield Center Township, was approved.
A resolution supporting a TIF agreement with Macedonia, was approved.
A Memorandum of Understanding with Sagamore Hills Township Board of Trustees was approved.
An agreement of the Natural Gas Purchase Program of the Ohio Schools Council, was approved.
A contract with Chris Singleton Speaks, LLC., for professional development, was approved.
Purchase service contracts of Julia Dulaney John Eley, were approved.
Authorization to employ through the Summit Educational Service Center, was approved.
Several personal items were approved.
Special Board Meeting Minutes – August 29, 2022 Regular Board Meeting Minutes – August 29, 2022, were approved.
Student Activity Purpose and Budget – Fiscal Year 2022-23 Financial Statements – August, 2022 Federal Grant Review, were approved.
Appropriations and adjustments for FY 2022-23. were approved.
Advance Repayment Fund 590-9822 (Title IIA-Diversifying the Education Profession Grant) advance repayment of $1,000.00 to the General Fund, was approved.
The next Regular meeting of the Board will be Monday, October 17, 2022, at 7 p.m. at Northfield Elementary School, 9374 Olde Eight Road.