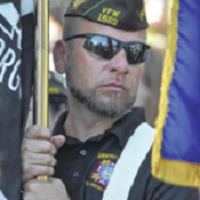 Northfield Village is honored to have Jose Torres be our guest speaker for the Veteran's Day Ceremony, at the village hall, November 10th at 3:00 pm.
Jose, a Purple Heart recipient and current Commissioner for Lorain County Veteran Services, lives in Amherst, Ohio.
Jose joined the Marines in 1995 after graduating from Southview High School and was sent overseas multiple times.
Jose was in the 1st Battalion 2nd Marines and was injured during the Battle of Nasiriyah. His recovery was in Landstuhl, Germany and National Naval Medical Center in Bethesda, Maryland. Jose medically retired from the Marines in 2008.
Jose joined the VFW in 2004 and became a life member in 2006 of Post 451. He has held the position of Commander of Post 451, in Lorain before he transferred to Amherst Post 1662 in 2014. In 2015, Jose became District 9 Jr Vice and has moved up in the officer chairs. In 2017-2018 he became District Commander and overseas 23 posts to make sure that all meetings are run according to the by-laws, committee reports are completed and filed and proper audits are being conducted.
Jose is active in the Ohio Veterans' Home Program Wreaths Across American and provides hospital treats for the holidays. He participates in POW/MIA programs, 9/11 Memorials and Veteran's Day activities, Ohio Day at National Home and the Founders Day Parade in Columbus, OH.
He is proud to be the founder of the 10K Annual "Ruck Walk/March" for Suicide Awareness for Veterans of Lorain County.
Please come to the program and meet Jose and hear his story.