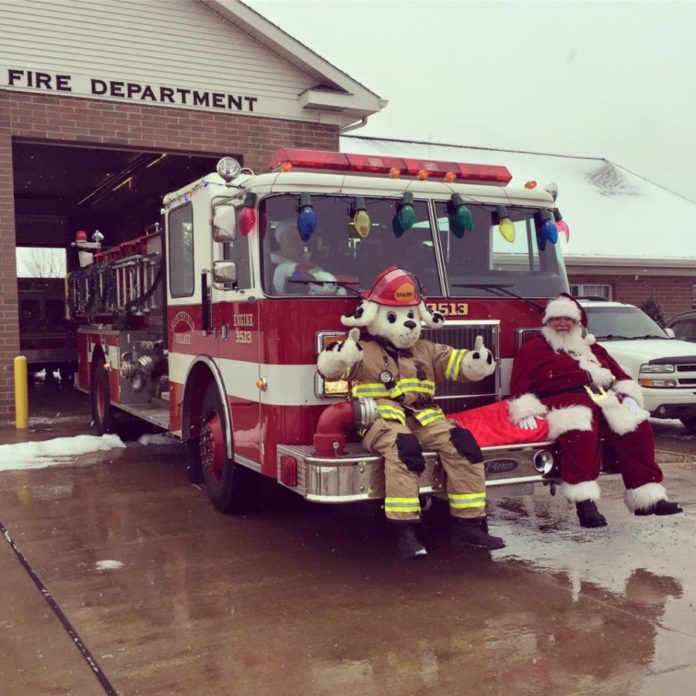 The Northfield Fire Department is pleased to announce the return of Santa's Fire Truck Gift Delivery! On Sunday, December 15th beginning at 9:00 A.M. The exact delivery route, locations and times will be posted closer to the event. Once gift delivery is complete, Santa will be at the Northfield Village Fire Station from 4:00 P.M. – 5:00PM for cookies and pictures. Residents can stop by to have pictures taken with Santa and Mrs. Claus as well as enjoy crafts and refreshments.
This event is open to all Village of Northfield residents. In order to make delivery possible, we ask that the following guidelines for gifts be followed:
-Gifts should be no larger than a shoebox size, one per child.
– Gift delivery forms are available in the fire station lobby.
-Age cut-off will be 12 years old.
-Gifts must be wrapped, and have a 3×5 index card label attached with the following information clearly legible:
Name of child, age, gender, address, and phone number of parent or guardian
-In order to expedite Santa's trip around town, we ask that groups of children that are family or friends and that live in the same neighborhood all meet at a single stop if possible. Santa has a lot of stops to make you know and this only helps him get there faster!
Gifts can be dropped off at the Northfield Village Fire Department (10271 Northfield Road) during business hours Monday through Friday, 8:00 A.M. through 6:00 P.M.
DEADLINE FOR GIFT DROP OFF IS WEDNESDAY, DECEMBER 10th at 8:00 P.M.
For more information or questions, please email Chief Jason Buss at firechief@northfieldvillage-oh.gov or call 330-523-9422
Please Keep in mind, while the fire truck will have small treats for those children whose parents do not drop off gifts, we will not be traveling every street in the Village if we do not have a scheduled stop on a particular street. We encourage everyone to drop off a gift to participate in the truck delivery or to stop by the fire station in the afternoon for the party with Santa!