If you have tickets to the concert click here for information
The legendary Olivia Newton-John continues to "LIVE ON" through her music, and passionate efforts in cancer care and research for the world.
By Felicia Naoum
As some of you may be aware, Olivia Newton-John recently announced a new cancer diagnosis. I had the privilege of interviewing Olivia before this announcement. Per Olivia's team, please know that her show is being postponed and not cancelled. Continue to check the Hard Rock Rocksino Northfield Park for Olivia's rescheduled performance. Interviewing Olivia Newton-John, as you can imagine, was truly a blessing. Through her music and endless cancer efforts, and with the permission of her team, we felt the need to still share her story despite the postponed show.
NORTHFIELD, Ohio – She captivated the hearts of millions decades ago with beautiful blonde locks, black tights that every girl still dreams of wearing, and the best looking leading man by her side, telling us how they go together after several summer nights. Decades later, Sandra Dee and Danny Zuko of "Grease", a match made in film history, are still in the hearts of fans everywhere. But friends, there is much more to the beautiful blonde than poodle skirts, summer love, luscious dynamite blond curls and sharp dance moves. It has been nearly 40 years since the release of "Grease" and the iconic Olivia Newton-John lives on despite her own personal trials and tribulations including beating breast cancer in 1992 and a recent cancer diagnosis that has caused the singer to postpone show dates.
Olivia's latest album, LIV ON, speaks from her heart and personal experiences as she and her friends capture the essence of pain and suffering, along with the ability to overcome such. I had the opportunity to interview Olivia to discuss her latest album, "LIV ON" – the title derived from her name. Olivia and I discussed how she continues to live on through her music, fight cancer around the world and yes, we even went back to the days of Sandra Dee.
" 'LIV ON' is a collaboration with two very dear friends of mine, Beth and Amy, and intended for those who wish to transcend loss while walking a journey toward new-found meaning and hope. As a group, it's our intention with this album to create songs with a message of compassion and hope – they are for anyone facing a time of challenge in their life, whether it is grieving a loss – or on the journey to health and recovery. I think fans can relate to me, and ANYONE, with this album as we all go through loss – none of us escape it," says Olivia.
An example of lyrics from this album include the song, "LIVE On", in which Olivia's message is captured:
Sometimes there's a miracle just beyond the pain
When you can see the rainbow in the rain
I asked Olivia how people can find their own rainbow in the rain as she did. Olivia not only beat cancer (and faces it again), but lost her dear sister to cancer just a few years ago. "My advice is to grieve in your own way – no two people experience grief the same way and it's important that you go through the process at your own pace."
The singer shares an experience from a fan that explains the importance of healing at your own pace. "I have a fan who lost her son in tragic car accident and she told me that when she returned to work people told her she needed 'to get over it and move on.' That horrified me! The song "Stone in My Pocket" is also very special to me because after you lose someone, that stone in your pocket is always with you. On rough days, it can feel like a boulder, and on better days, a pebble…but, it's always there with you," adds Olivia.
Olivia never lost touch with her hits that topped the charts decades ago. Fans can look forward to the old-school Olivia for an added treat because Olivia says "of course" when I asked her if fans will get to enjoy some of her classics, including 70s and 80s hits: "I Honestly Love You", "Physical", even "Summer Nights" from the one and only "Grease". I can tell you even more – Olivia is truly offering her fans the full package at her show. "My concert is basically a journey of my life through my music. From the early country songs that were my first hits here in America to the songs from 'Grease' and 'Xanadu' and of course 'Physical' and a selection of my pop hits. I will also be performing songs that I have written about the environment and nature – two passions of mine, as well as a song from my CD, 'Liv On.' "
For this hit maker, and leading lady, her pride and joy truly lies within the Olivia Newton-John (ONJ) Cancer Wellness & Research Center. "I am so proud of the work we are doing at the ONJ Cancer Wellness and Research Centre – I believe it will be my legacy. I am thrilled that we have treatment, wellness and research all under one roof – so doctors and researchers are working together on each patient's diagnosis and treatment. But, it is the Wellness Centre that is really my baby."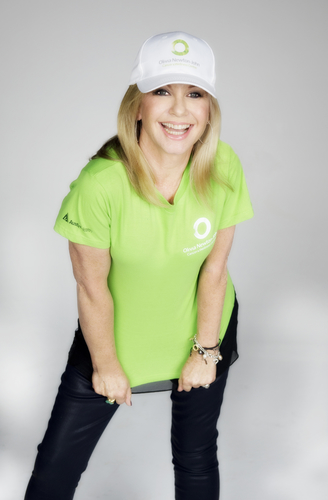 Courtesy: ONJ Cancer Wellness & Research Centre
Olivia's Centre goes beyond primary cancer-care. Olivia and her team work to heal patients in various aspects as they fight cancer. "When I went through breast cancer back in 1992, I did everything I could to help heal my whole person – body, mind and spirit. Whether it was acupuncture, meditation, or massage. We offer all of these programs, as well as art and music therapy free of charge to all of the patients. It's a very healing place."
Olivia wants to hear about your journey and how you have lived on through hardships such as illness and loss. "To coincide with the launch of the "LIV ON" CD, we are encouraging people to share their own "live on" stories on our website www.ONJCancerCentre.org – with hopes that people would create a global community of care," informs Olivia.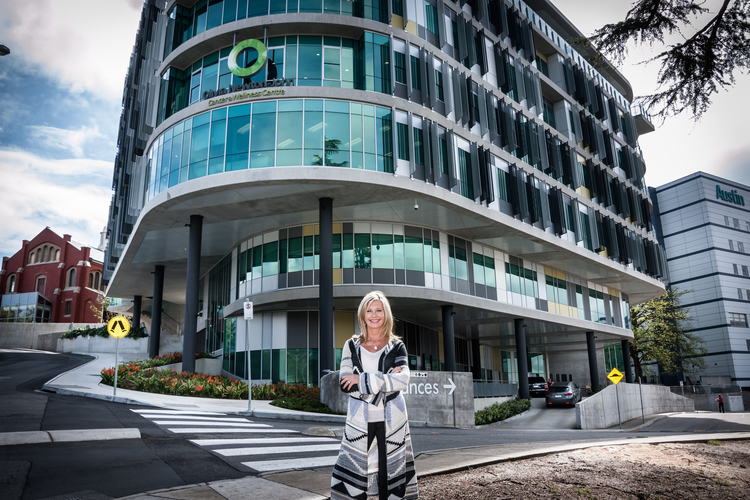 Courtesy: ONJ Cancer Wellness & Research Centre
Cancer, as some of us can imagine and many of us unfortunately know, is a grueling and heart-wrenching experience for anyone who faces it. I encourage all readers to visit Olivia's Cancer Centre website to share stories, and find out how you can aid in the fight against cancer. If you're unable to see Olivia perform on a future date, you may find more information regarding her healing music and "LIV ON" at http://www.olivianewton-john.com/.
Olivia wants all of us to find the light in any heartbreaking experience. She is one who turns even the most difficult negatives into positives. Her inspirational music, in and of itself, is a light at the end of the tunnel, or that rainbow in the storm that she sings about.
Olivia and I shifted gears towards the end of our interview to touch on that classic, "Grease", that stole America's heart many years ago. I thought we should end on a fun and nostalgic note! I asked Olivia to share her fondest memory of filming "Grease". Her response may prompt you to have your very own class reunion (as Olivia did) and watch "Grease" again.
"'Grease' will always hold a special place in my heart – people tell me all the time, 'I just watched 'Grease' with my grandchildren.' I love that the film has lasted this long and every year it finds a new audience, a new generation. I can't believe next year is the 40th anniversary since it was originally released. To pick just one memory from the film is hard but, I would have to say dancing with John Travolta and, just the experience of working with the entire cast – to this day we all stay in touch and, in fact of few of the cast came to Vegas to see my show there and came up on stage for 'Summer Nights'. It was truly like a class reunion."
I know one thing for sure. Olivia Newton-John honestly loves her fans and helping those in need. And I can say, without hesitation, so many honestly love her, too.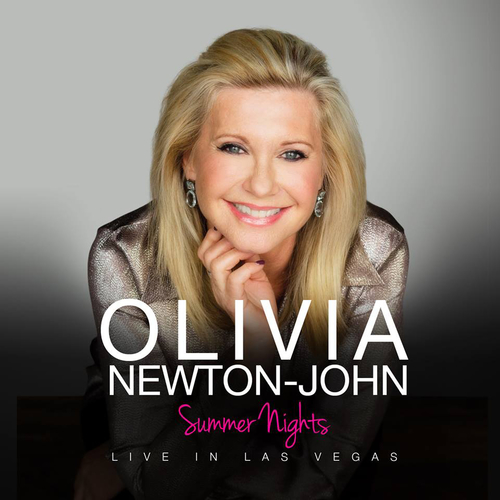 Summer Nights – Live in Las Vegas CD Cover
Save
Save