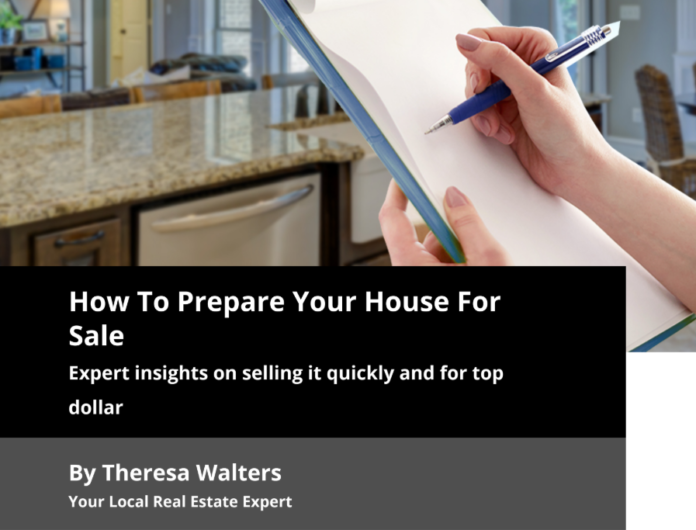 This is a part of a new series of articles about Preparing Your House For Sale.
Brought to you by Theresa Walters eXp Realty/Homes for Heroes.
It's easy to learn how to live with certain little issues around the house. Many people don't even view certain things as an issue until they're selling their house.
Like that gurgling noise that comes from the sink, for example. It might have bothered you at first, but then it just faded into the background once it became familiar. Or the drippy faucet. It's not like it doesn't work, it just likes to not stop working entirely when you turn it off. No big deal. As a homeowner, things like that aren't always bothersome enough to justify hiring someone or fixing it yourself.
It doesn't just have to be plumbing, of course. It could be the chipping paint on the ceiling…which happens to be caused by a small leak in the roof when it rains hard. Or a loose cabinet door that doesn't close quite right.
Whatever it is, there's probably something around your house that could stand to be fixed.
But here's the question: Should you fix these little issues before putting your house on the market?
The popular and most standard answer in the real estate industry is, "Yes." And let's just say that it can't hurt to fix the little issues around the house. It's like we talked about with the light bulbs that are burnt out — if buyers see smaller issues around the house, they might also wonder about what else you haven't taken care of.
But, on the other hand, you may be able to ignore the minor fixes and just see if the buyer brings them up during home inspection requests. It may be less costly and easier to negotiate a credit or agree to repair something only when a buyer actually asks for it to be repaired.
The same goes for more serious issues like an HVAC system that's not working properly. You should probably fix that sort of thing prior to putting your house on the market, but it could make sense to just wait and see how buyers react.
There's no absolute answer to this. So the best thing to do is make a list of all of the issues around your house and ask your agent for their advice.
You may even want to hire a home inspector to perform a pre-listing home inspection so you won't get caught off guard by what your buyer's inspector will likely find. Doing this is never a bad idea.