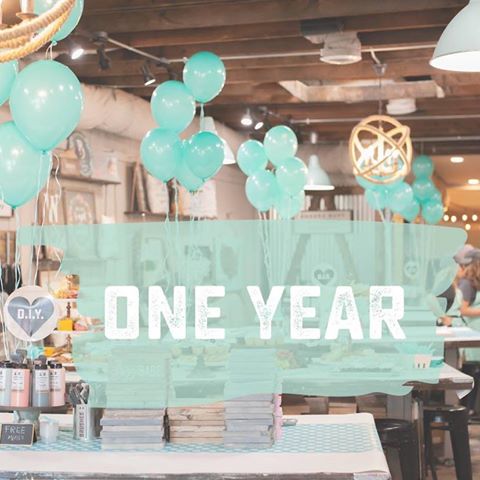 Hudson, OH , On Sunday, May 5th, AR Workshop Hudson, located on Main Street in Hudson, is celebrating their one year anniversary with an open house style party for all to enjoy. The party will be held from 1:00-3:30, and will feature a free mini workshop experience, treats for the family to enjoy, exciting giveaways every half hour, exclusive discounts for future workshops, and more!
The time, tools and instruction to build a "Home Sweet Home" door hanger sign will be a part of the event… This project is perfect for even the youngest guests to enjoy! Registration is not required for this open house event, however, pre-registered guests will be guaranteed a sign to make for free at the event. Registration is open on the schedule of events at www.arworkshop.com/hudson.
Since opening their doors April 29, 2018 with a Grand Opening event that drew over 300 guests, owners and Sagamore Hills residents, Susan Daniels and Mary Katherine Donnelly, have been conducting public workshops, corporate events, kids and adult birthday parties, bachelorette parties, youth summer camps, scout woodworking classes, and much more at their location on 85 South Main Street, between Starbucks and Great Lakes Baking Company. In addition, the duo has been actively involved in supporting the community and region through multiple fundraising donations (including this spring's Nordonia High School production of The Wizard of Oz), events for Hudson preschool parents and Eaton Estates Moms Group to name a few. The pair recently hosted a team building day for the Nordonia High School Girls' Varsity Softball Team (Picture attached).
Co-owner MK Donnelly states: "the support we receive from the Hudson community along with our own Nordonia Hills community is leading us to this success, from working with city officials and safety forces, the collaboration of fellow business owners to boost the local economy together, and of course from the community itself who have not only attended workshops, but spread the word to friends and family."
Susan Daniels follows on that thought: "People love the fact that we are helping them create unique and chic décor for their homes. They are so proud of their projects that many share their experiences online. We have received such amazing reviews on Facebook, Google, Yelp… and one area where we constantly receive compliments is on our staff. We are so grateful for the talented team who work with us and have received such high praise for their customer service."
The AR Workshop Hudson team will be on hand on Sunday, May 5th from 1-3:30 for their one year party, and they hope to bring some DIY to the day for everyone able to celebrate with them!
ABOUT AR WORKSHOP HUDSON
AR Workshop® Hudson is a boutique DIY setting with hands-on classes in which participants create custom and charming décor. Customers make everything from framed or plank wood signs, to lazy susans, serving trays, chalkboard art, centerpiece boxes, canvas pillows, totes and more. During instructor-led workshops, participants prepare their custom design, assemble and finish "Pinterest-worthy" projects with non-toxic stain and paint colors hand-chosen by the founders. The instructional approach enables visitors at any skill level to produce beautiful artworks and ensures consistent, high-end results for the home, office, or as a personalized gift.
To learn more, visit www.arworkshop.com/hudson or on find them on Facebook and Instagram @ARWORKSHOPHUDSON.