By Felicia Naoum
He's not one to boast about his accolades. He would rather focus on how hard he worked and still works. He's part of a famous set of siblings that have taken the entertainment industry by storm decades ago with longevity in this business that can only be marveled at. Shawn Wayans, known for "The Wayans Bros.," "In Living Color," "White Chicks," and "Scary Movie" to name a few – is ready to bring you laughs on stage with "The Off Color Comedy Tour at Hard Rock Rocksino Northfield Park March 10. And the lineup goes way back, too.
"Did you ever envision all of this success to take place?"
"No, um, I just envisioned what I wanted to do. The success – no one can predict that. That's just a lot of luck…"
"And hard work?"
'And a lot of hard work,' confirms Wayans.
Wayans and I went all the way back – in an old-school kind-of-way. Yes, we talked "In Living Color," as I couldn't allow the interview to conclude without touching on the legendary comedy sketch; you know, the one where queens like Jennifer Lopez got their start.  "It was such a fun experience for me. I was a kid. That was the first thing I'd ever really done other than standup. To be around that much talent and watch it all come together – it was an amazing experience. A lot of laughs," reminisces Wayans.
An interesting and perhaps unknown fact about "In Living Color" is that a lot of the sketches, according to Wayans, were developed from the cast goofing off and have fun in between scenes. I wanted to know if Wayans felt "In Living Color" set the tone for subsequent comedy in any way. "It definitely kind of changed comedy; comedy became more in your face as a result," he says.
With success dating so far back, and continued success today – the latest being "A Boo Crew Christmas Special" released this past Thanksgiving Day, which is derived from the 2006 Nickelodeon animation special "The Boo Crew." There is one element that remains through all the success: the Wayans family – who according to Wayans are tight-knit on and off the camera. "The Boo Crew" is a project cultivated by the Wayans siblings yet again and actually inspired partly from their childhood. The animation takes place around the lives of nine inner city kids. Wayans, a product of New York City, can certainly relate to the kids in "The Boo Crew." Wayans says 'a little bit of his childhood' lives in the series because how he grew up reflects the notion of children from different backgrounds and nationalities all playing together. Wayans garnered inspiration from his favorite childhood animation shows when cultivating "The Boo Crew" – like – "Fat Albert" and "Charlie Brown;" – 'they made me feel good, and I learned valuable lessons from watching those.'
Wayans, who learned life lessons from the shows as mentioned earlier, wanted to leave other children with the same imprint or life lessons that were akin to what he soaked up from his favorite childhood shows – welcoming "The Boo Crew." Wayans feels "The Boo Crew" stands out on its own. It's unique. "It is diverse. We try to make the show reflect what the world looks like, which is inclusive of everybody." Wayans adds that the show has 'more of a hip-hop swag' to it as well.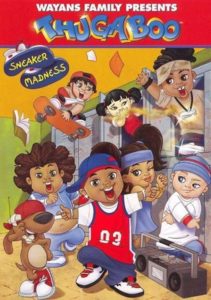 Wayans, who doesn't find it at all challenging to keep his own identity in a famous family, instead found it harder to live up to the success of his brothers David and Keenen Wayans. "What was hard was we started (me and Marlon) after David and Keenen, so they already blazed the trail, so we had to work to live up to the bar that they started," he says.
Although Wayans credits his brothers to paving the way, he too is paving his own way with "The Off Color Comedy Tour" where he is taking the stage with fellow "In Living Color" stars David Alan Grier and Tommy Davidson. David and Tommy don't have to carry the last name "Wayans" to be considered a brother to Wayans. The three go way back – all the way to "In Living Color" back, that it's tough to doubt any chemistry will be astray during this comedy act – Wayans calls it a 'brotherhood' that exists within the three. "We had a great time on "In Living Color;" [we] remained friends throughout the years." Wayans adds that the trio often spoke of doing something together while classifying Grier and Davidson as 'veterans of comedy.' The time has arrived, and perhaps audience members can find a bit of "In Living Color" on the stage – even if only through the presence of these three together again.
As for worrying about going too far on stage as comics, it's not something Wayans dwells on. I ask Wayans if censoring his act is needed not to offend audiences. His response is straightforward: "You can't do this without offending people. We can't really worry about that. If you want to enjoy comedy, thicken up your skin, or stay away from it."
And while Wayans take on the game of comedy is frank, his advice to those with dreams is still honest but also sincere and genuine. You can tell he roots for the underdog, especially when a guy with his level of not only success but longevity is willing to pass down his knowledge. "My biggest thing to anyone wanting to do this – work hard and never give up, constantly grow, keep educating yourself in any field you want to get in, take your time." And lastly, perhaps the piece of advice that is much needed from Wayans is… "Don't worry about being famous, worry about being good."
Because when you're as good as a "Wayans Bro.," you know you've done well. That's my quote, not his.
To see this famous "Wayans Bro." and his "In Living Color" sidekicks come back to the stage as "The Off Color Comedy Tour," visit Hard Rock Rocksino Northfield Park March 10 (get tickets here).