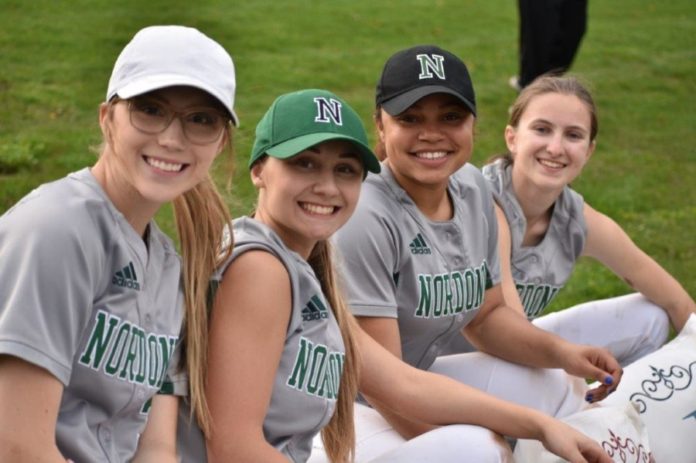 Game Highlights: Nordonia Knights Varsity Jumps Out To Early Lead In Victory Over Cuyahoga Falls
An early lead helped Nordonia Knights Varsity defeat Cuyahoga Falls 9-6 on Wednesday. Nordonia Knights Varsity scored on a double by Nina Christley, a walk by Mijae Lewis, and a double by Jenn Willis in the second inning.
Both offenses were strong at the plate as Nordonia Knights Varsity collected 13 hits and Cuyahoga Falls eight in the high-scoring affair. After Cuyahoga Falls scored one run in the top of the sixth, Nordonia Knights Varsity answered with one of their own. Cuyahoga Falls scored when an error scored one run for Cuyahoga Falls. Nordonia Knights Varsity then answered when Kat Pastor singled on a 1-0 count, scoring one run.
Nordonia Knights Varsity pulled away for good with six runs in the second inning. In the second Christley doubled on a 2-0 count, scoring two runs, Lewis drew a walk, scoring one run, and Willis doubled on the first pitch of the at bat, scoring three runs.
Grace Daniels led things off in the pitcher's circle for Nordonia Knights Varsity. She went four and a third innings, allowing five runs on seven hits and striking out three.
#6 led things off on the rubber for Cuyahoga Falls. She went one and one-third innings, allowing six runs on three hits. #32 threw four and two-thirds innings in relief.
Nordonia Knights Varsity collected 13 hits on the day. Pastor, Lewis, Christley, and Daniels all had multiple hits for Nordonia Knights Varsity. Daniels, Christley, Lewis, and Pastor each managed two hits to lead Nordonia Knights Varsity.
Cuyahoga Falls saw the ball well today, racking up eight hits in the game. #24 and #15 each managed multiple hits for Cuyahoga Falls.
"Powered by Narrative Science and GameChanger Media. Copyright 2019. All rights reserved."
All photos by Wesley Mowrer