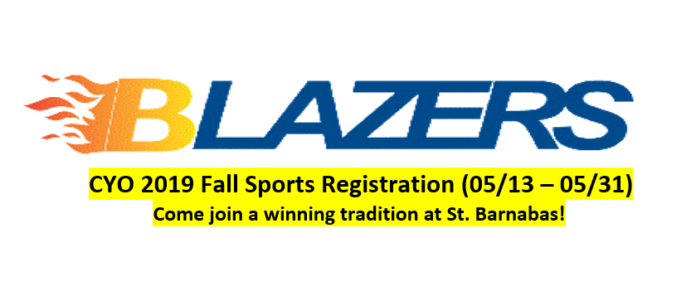 Come join a winning tradition at St. Barnabas! (Click for more info: St. Barnabas 2019 Fall Sports Registration Flyer)
NEW! Lacrosse:  Registration is open for the Summer Lacrosse clinic at St. Barnabas but ends on Friday, 5/24/19. This program is open to grades 1-8 (as of Fall 2019) and will be held on Thursday evenings from 6-8 beginning June 6th and ending July 25th. The format of the clinic will be casual, no one is expected to attend every week. An instructional segment will be provided followed by pick up games. The cost of the clinic is $20, which will include a Lacrosse pinnie that you get to keep. Please email size to barnabaslacrosse@gmail.com (ordering a size larger is recommended so the pinnie can be used again in the future (e.g., Spring 2020)).
Please note that boys will need full equipment including helmet, mouthguard, gloves, shoulder pads, arm pads, stick, and athletic cup.
Please note that girls will require a girls stick, mouthguard, and eye shields.
Registration URL: https://reg.sportspilot.com/106254/login 
Also, St. Barnabas is now accepting registrations for boys and girls entering grades K through 8th in the Fall of 2019 interested in playing football (flag and tackle), soccer, volleyball, cross country, and cheerleading. Your child will receive high quality instruction on the fundamentals of the sport including proper techniques to safely enjoy the game from our certified coaches. Programs at St. Barnabas are built upon Catholic Christian values, good sportsmanship, and promoting a positive environment of teamwork. Athletes will compete with their grade level and games are played locally on the weekends in the Nordonia Hills community as well as other CYO venues in the greater Cleveland and Akron area. 
Student athletes affiliated with a local parish, school, or enrolled in a PSR or RCIA program in the Cleveland Diocese are eligible to participate in sports at St. Barnabas. Registration costs range from $55 for K-2nd grade soccer and cross country to $180 for middle-school tackle football which includes equipment supplied by the school.  
To register your student athlete or coach, please go to the website:  https://reg.sportspilot.com/106254/login before June 1st.  Should you have additional questions, please direct your inquiry to Scott Klingensmith at scottkhome@roadrunner.com.
 Don't miss out…sign-up today!