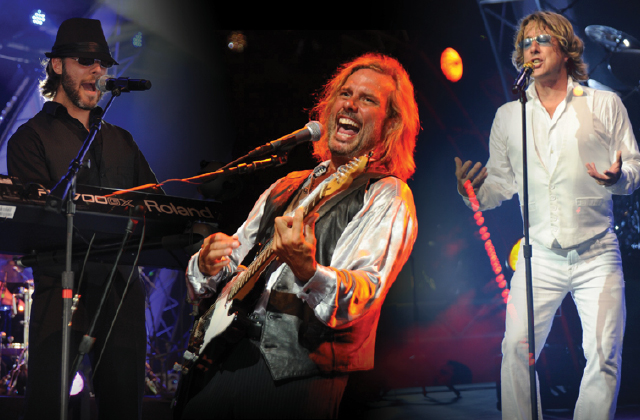 By Heather Holt
Bring your dancing shoes and get ready to go back in time with the Bee Gees tribute band, Stayin' Alive, at the Hard Rock Rocksino in Northfield on Saturday, February 2nd.
The Bee Gees' iconic songwriting and vocal harmonies contributed to their huge success in the 60's and 70's. The tribute show will cover all of the well-known Bee Gees songs that fans know and love. Additionally, the show will remind audiences of the great songs that were written by the Bee Gees that have since been covered by famous artists such as, Dolly Pardon, Kenny Rogers, Barbara Streisand, and Michael Bolton.
The Bee Gees are well-known for not only for the strength of their songwriting, which has allowed the band to stay relevant and resonate with a wide variety of fans across multiple generations, but also their iconic vocal harmony. Stayin' Alive will bring this iconic harmony and legendary sound back to life.
Stayin' Alive is comprised of three members who have been with the tribute band since 2012. The members include: Tony Mattina as Barry Gibb, Todd Sherman as Robin Gibb, and Joseph Janisse as Maurice Gibb. Tony Mattina's ability to capture Barry Gibb's tone and style is unbelievable. According to band-mate Todd Sherman, "Tony's voice naturally sounds like Barry Gibb's…it's almost eerie. It allows us to emulate the sound of the Bee Gees." Audiences everywhere will go crazy over Stayin' Alive's ability to replicate the band's iconic three-part harmony while they reminisce and dance along to all of their favorite songs.
While Todd Sherman, who portrays Robin Gibb, has been a member of other tribute bands over the years, including a tribute band honoring Tom Petty, he has always been a huge fan of the Bee Gees. "The Bee Gees are such good songwriters. I love their range of songs and how they reach such a diverse audience."
Sherman first learned of the Bee Gees when he was a teenager and heard, "I Started a Joke."
Since then, his love for the band grew as the years went on and skyrocketed with the release of the movie, Saturday Night Fever, featuring John Travolta, which introduced the world to memorable songs such as, of course, Stayin' Alive.
Stayin' Alive has been touring for seven years. In that time, the band has played at a variety of well-known venues domestically and internationally. Most notably, Sherman recalled some of the band's most memorable moments. These include performing with a symphony conducted by the well-known composer and conductor, Marvin Hamlisch in San Diego, as well as performing at Epcot in Disney World, Florida. Stayin' Alive will be stopping at the Hard Rock Rocksino on Saturday, February 2nd.
Don't miss your chance to go back in time and dance all night to your favorite Bee Gees hits with Stayin' Alive!