By Felicia Naoum
She is the voice of the 1986 hit 'Take My Breath Away' played in Top Gun – a famed song to this day. This lead vocalist of the punk rock group Berlin is excited to perform in Cleveland January 19 at the Hard Rock Rocksino Northfield Park. In fact, the home of rock and roll has a special connection with Berlin as Cleveland radio station WMMS was the first station to play Berlin's songs when no one else was playing them. It makes sense that the home of rock and roll recognizes musical greatness firsthand. As the band and its original members are together again, after a breakup that kept them apart for years – fans may wonder why now? According to lead vocalist Terri Nunn, it was failed relationships for two of the other band-mates that reconnected them to her and allowed for the birthing of new music.
The band recently signed with Capitol Records and will be recording this February. Before we go further, we must talk that aforementioned hit because all these years later, it still takes everyone's breath away. I mean, they play it at the end of Oscars each year!
"What does it feel like to have the legendary song, 'Take My Breath Away,' as yours?"
"It blows my mind as much as anyone else," says Nunn. Nunn feels similar about Berlin's song 'The Metro' which she describes as 'standing the test of time.'
Take My Breath Away seems like one of those hits that just gets better with time. It's a legendary song that becomes so relevant but remains so classic.
Nunn agrees. "'Take My Breath Away' is 35 Years old and it keeps going. It doesn't stop. People buy it for movies, commercials, and events."
Nunn shares a statement from one of the writers of the song that may be surprising for some, but certainly gives credit where credit is due. Giorgio Moroder who worked for Bowie, Blondie and Donna Summer described 'Take My Breath Away' as the 'greatest song' he ever created according to Nunn. Nunn stills seems fascinated with his compliment because of all the legends he has worked with. "He's been everywhere and for him to say that of all the music he created – I'm in awe. It's the gift that keeps on giving," says Nunn.
In 2018, Berlin has something to offer besides that greatest hit. Nunn says the band is bringing more subject-matter to today's music scene which is not something new for Berlin. "We bring more subject-matter, and we always did," she specifies. Although, Nunn admits that most of Berlin's songs back then were about sex – because, as she says, they were in their 20s and that's what they were doing. But, it's much deeper today. You will find an array of topics covered in the music on the upcoming album including Nunn's experience of adopting her daughter, a song called 'Transcendence' about the passing of her friend, and the heartbreaking but all too common end a relationship with a song called 'Time to Die'.
The lyrical content may be heavy and deep, but Nunn portrays herself as almost a lighthearted and free spirit. She tells me she is experiencing an enjoyment and freedom that she never has before. Perhaps it's age, or having lived a full life – but she sounds incredibly happy. Part of the freedom she is feeling may have always been with her. I say this as she explains how the band came up with the title 'Berlin.' Band member John Crawford is from Germany and came up with the title when he was witnessing a progressive, cutting-edge and artistic city of Berlin, Germany in the middle of a communist-led government according to Nunn. For Crawford, there was freedom amid the chaos in Germany.
In a partially analogous way, Nunn found her own creative freedom in punk music, which defined the genre of Berlin – long ago. When asking Nunn who is Berlin today versus the 80's, she says, "I'm much more into dance music than I ever was. When we created Berlin, I came out of the 70s era, and it was a lot of really bad disco, and I hated it. I was so mad at music for not giving me what it gave my brother – he came from the 60s – music was exploding; it was a movement and creating change in the world. I didn't get excited until the very end when punk came in and thank God for punk because that allowed Berlin to happen."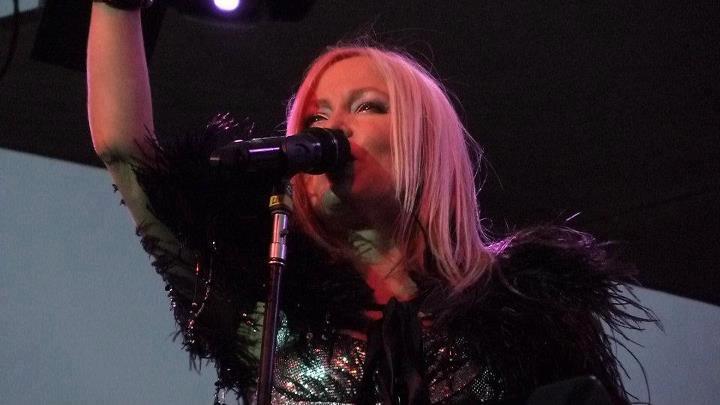 The band, like many others, did breakup for a period. Nunn touches on those tumultuous years crediting them to simply being burned out. "We couldn't stand each other anymore. It really wasn't about each other. We were tired. If we had just taken a break…record labels will never give you a break… it's a treadmill. It never stops. You're exhausted." Nunn adds the toll that continuous working depletes your personal life and is just not worth it. "You barely have a love life. Work is great, especially if you're successful, it's wonderful. But it's not everything; it can't be. We lost that normal life."
As for a "normal life" today, I don't have such specific details on Nunn's. However, I do know her spirit is joyful, genuine and appreciative of the simple things. During our interview, Nunn noticed the most beautiful rainbow outside and she had to step out to snap a photo of nature's beauty. I asked her if she could send me the photo for the story and she happily agreed. A beautiful rainbow shining over California may not be correlated with all things 'rock and roll' from a synth rock 80s vocalist, but it sure does give you a sense of who she is – one beautiful, colorful soul who I had the pleasure of interviewing.
Catch Berlin at Hard Rock Rocksino Northfield Park on January 19). More photos, videos and sound bytes here: http://berlinpage.com/