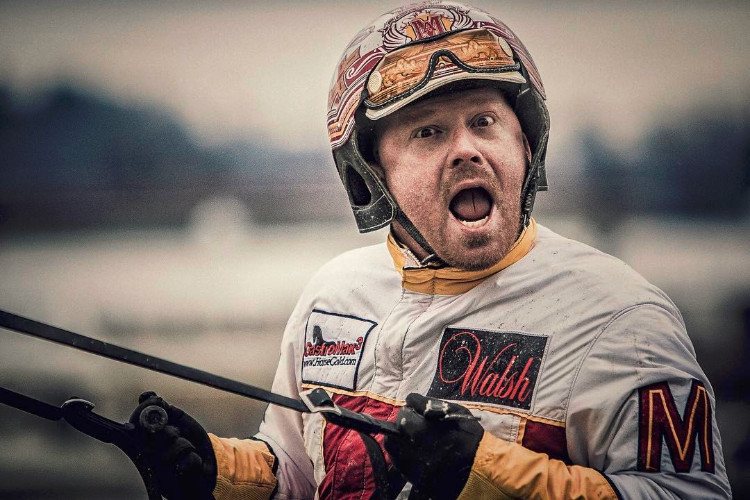 By Victor Milani

We at NordoniaHills.News and all of Nordonia Hills are honored and proud to call Nordonia High graduate (1996) and Northfield Park sulky driver AARON MERRIMAN a HOMETOWN HERO. Merriman has made us proud to call him one of our own. Merriman is a true champion in harness racing, and we applaud all that he has accomplished. THE BEST IS YET TO COME. GOOD LUCK!!
Starting today, Aaron Merriman has 8,921 winning drives and $53,964,438 in purse earnings.
His father, Lanny Merriman is a life-long horseman win 1,266 driving wins and almost $4.5 million in purse earnings. He previously campaigned previous standouts Tiercell and Rosemont Student.
He lives in Northfield, Ohio with his girlfriend Tessa and son Kristopher. He also has two-year old daughter, Ava.
Aaron is an avid Cleveland sports fan.
---
Below is a story that Ayers Ratliff from Northfield Park published March 1, 2016 when Merriman won his 8,000th win:
Northfield, OH — Aaron Merriman scored the 8,000th win of his driving career while piloting Watcha Got Abby in Northfield Park's sixth race on Tuesday (March 1). Watcha Got Abby boldly left from the gate and led her competition from start to finish, winning by a quarter-length in 1:58.2.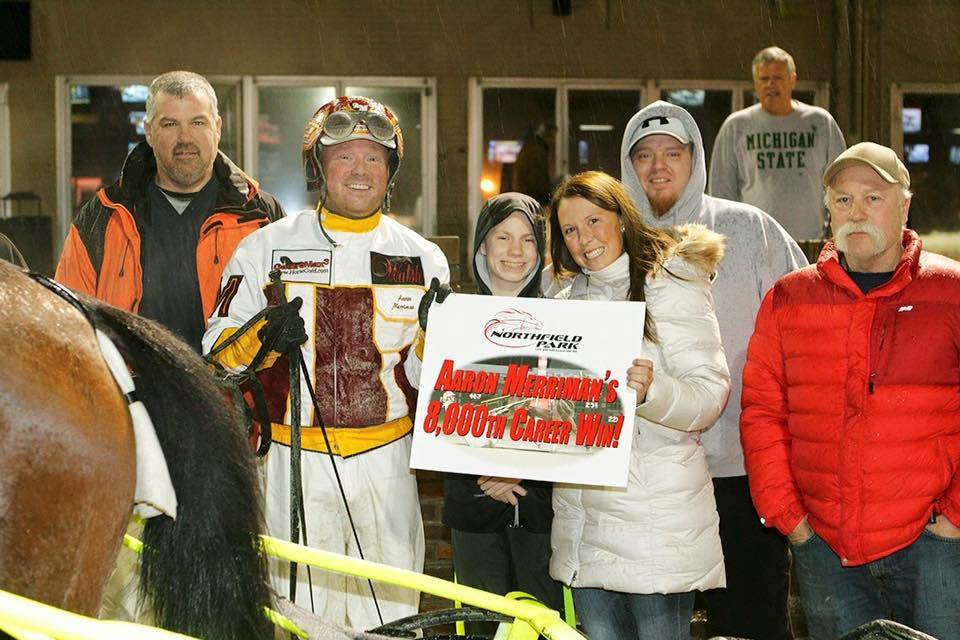 Merriman, 38, keeps a torrid schedule, regularly competing at Northfield Park and The Meadows. However, he also races at various other venues throughout the year.
Aaron is the reigning North American dash champion and his talents have been noticed on the national stage. Merriman has competed in some of the biggest races in harness racing. In August 2013, Merriman became the youngest inductee into the Northfield Park Wall of Fame.
Merriman's richest win came in a $300,000 Kentucky Sire Stakes final behind Palazzo Princess. Aaron's fastest win was timed in 1:48.3 with Kanaris at Scioto Downs in September 2014.
Merriman remembers his first win as being with a pacing mare named Albert's Filly at Raceway Park in Toledo, Ohio.
Although there are 8,000 to choose from, Merriman says that he has no favorite win.
"It always feels great to win a race," explained Merriman. "I really don't have a favorite. I have had the same elated feeling every time I have been to the winner's circle."
Aaron has driven many talented horses.
"It would be hard to say the best horse I have driven," said Merriman. "I have been truly blessed to drive a lot of nice horses in our sport's signature races."
Aaron has sat behind countless horses, but one sticks out to him above all others.
"I love to drive Tamarind. He is small and has a lot of problems, but he gives his all — each and every race."
Merriman started driving at the age of 21 and appreciates the successful 16-year career he has experienced so far, accomplishing the 8,000-win milestone and purse earnings in excess of $46 million.
"I've had a great run for a long time," said Merriman. "There are so many owners and trainers that have given me opportunities and I will be forever grateful to them. The chances I have been given are unbelievable and I wish I could thank them each individually. The horses deserve credit too — they are the ones who carry us around the track and deserve the real credit for my 8,000 wins."
---
Aaron Merriman answered a few of Nordonia Hills. News questions on his amazing career.
At what age did you decide that you wanted to be a sulky driver? What was your first job in racing?
I believe I decided when I was 21. A late bloomer for a sport where u can start qualifying when your 16. I started when I was 20. My first job was learning and working for my father Lanny.

Your father is in the harness race industry. Tell us what his guidance has done for your career?
My father Lanny (Merriman). Is the reason I am who I am today in racing. He taught me from the ground up. Making me do things the right way with no short cuts. He was/is always there for me as I'm still learning. His tutelage is unsurpassed. He instilled a work ethic that I love him for. There is NO way I'd win a single race without his love support and guidance. My mother not in the business also supported and supports me through all my goals and racing.

You graduated from Nordonia High in 1996. Were you born in the area, and if not, what year did you become a Nordonian?
I was born in Cuyahoga Falls. I have lived many places. Started Where born. Then stints in Chicago area when very little. Kent, Stow, Akron and then to Northfield in 93-94.

You overcame a serious injury many years ago, Tell us the nature of the injury, and the recovery time.
I was in a horrific accident in June 2010. I broke my neck, both wrists the right being open compound. And shattered left elbow. It was very grim outlook at first. But after multiple surgeries I was back short of 6 months. It was nothing short a miracle. They had a segment on Cleveland Clinic sports show of amazing sport recoveries.

Did you ever imagine that you would become the driver with the most wins in North America the past two years?
Honestly, I can't say I thought about it. I wanted it. Very bad. At the time of my accident I was on top of NA by hundred wins or so. I've been close and lost to some AMAZING drivers. But I've kept pushing myself to be on top.

You not only drive at Northfield Park, but the Meadows in Pennsylvania, sometimes both in one day. How do you maintain the stamina to make the nearly 140-mile drive between the two tracks, and perform at the highest level?
Haha, I don't maintain! I think sometimes I'm sleeping. But when I'm behind a horse and get to the tracks, whichever place it is. I'm happy. I love what I do and I LOVE the horses. There are many great people I interact with, and compete with that make it easy as well.

Your girlfriend Tessa has been a factor in your success. What roll does she play in TEAM Merriman?
Tessa has played a roll a long time. She gets the things done I can't. She's been a better than perfect mother to our son Kristopher and has stood behind me. My torturous schedule and sometimes way of life isn't the easiest thing to be loyal to. But she has solidified the statement of stand by your family n man. I have many tasks I must do and if I can't do them she does. I would never have pursued this much just catch driving horses without knowing Tessa is there for Kris and life is taken care of better than I could do.

Which race so far would you say has been the highlight of your career?
Hard to pick a race. There can be something special about races no matter the purse or horse type. But driving in the Hambletonian has to be proudest moment. Just the signature race in our sport. And not easy to get a drive in there.
Which horse has been a favorite to drive over the years?
There are so many horses that I've just love to drive. A mare named Midnight Jewel kind of gave me confidence and she was such a great horse. I really have enjoyed driving a horse named Tamarind. Trotter he's very small but can race from anywhere on the track. But there are so many and I just love the breed.
You could say that you are the big fish in the little pond at Northfield Park. Yet your notoriety is known throughout North America. Did you ever get the itch to go to a major market?
>A very loaded question…I've itched or had opportunities to move east or even west. It's crossed my mind at times but I absolutely love the area I live. I still get opportunities to compete w the sports best (by some public opinion) although we have some of the best here in Ohio. I couldn't ask for a better place to raise my son, so I continue to travel and work from my home base of Ohio.

It's been 20 years since you graduated from Nordonia High. What are some memories or teachers that you recall?
wow so much of my life runs together cause of the schedule I keep. I enjoyed my 2 years at NHS. I remember everyone being so friendly and open to a new student. The education I received was great as well. I only look back at me slacking a bit here or there and wanting to show teachers whom may have not thought I'd be successful, haha… well….I survived!
At the current age of 38, how many more years would you like to race? There are some drivers who compete into their sixties!
I don't think of my age or quitting. As long as I'm at a high level of competition I will continue. But I do see myself slowing down schedule wise. Just haven't decided when. I'm a day to day kind of guy.

You have witnessed the highs and lows over the years at Northfield Park. With the Hard Rock having come to Northfield, what is the difference they have made in purses, quality of racing, and conditions at Northfield Park.
Truthfully the money is the biggest change. The quality of horses in upper classes have changed. But Northfield Park has ALWAYS been a top-notch facility. I'm so happy for the track, the horsemen, the city, etc. for the added revenue we received. It's such a positive impact in our horsemen's community and local community. But the changes are mostly superficial. Being that I feel Northfield was always top of their game.
Nordonia Hills. News expresses our thanks to Aaron Merriman for taking the time from his hectic schedule to assist us in this feature. We would also like to acknowledge Chris Gooden and JJ. Zamaiko on their great pictures and Ayers Ratliff from Northfield Park for his excerpt. AARON MERRIMAN- OUR HOMETOWN HERO!!
Save
Save
Save
Save
Save
Save