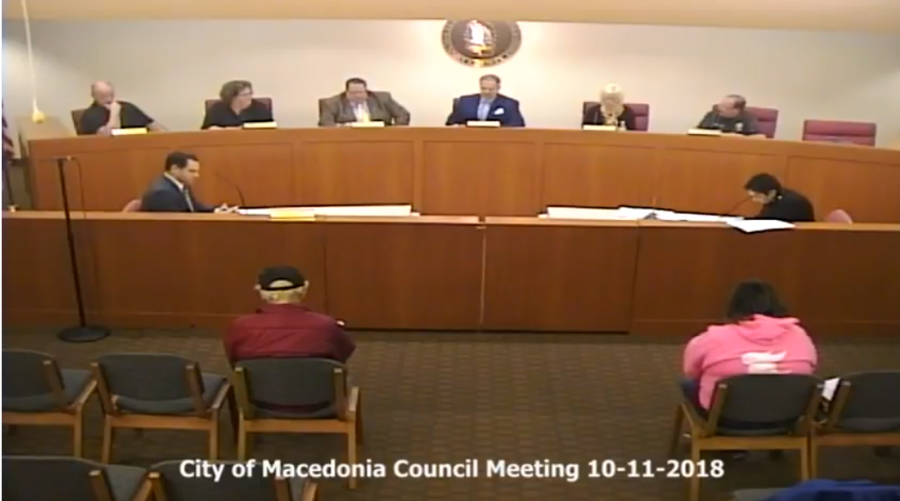 By Victor Milani
The Macedonia Council Meeting was held this past Thursday, with very little on the agenda. Rachel Stephenson from the Citizen Committee supporting the Summit County Children Services levy Issue #8. It will be 2.25 mil to support Summit County Children's Service agency to assist in the aide to our children during troubled times.
Mayor Nick  Molnar touched on many things including the reminder that the Twinsburg Rd. Railroad closing for two weeks beginning Oct 22. Letters have been delivered to businesses in that area. This is a railroad decision, not Macedonia. Halloween (trick or treating ) will be held Oct 31st  from 6-8. The Macedonia Recreation Center will be closed for annual maintenance from Oct 22 to the 28th.
Mayor Molnar again voiced his support for the upcoming Macedonia Levy on the ballot that would bring additional needed funds to the Police, Fire and Service Departments.  He stated that only 26% of Macedonia residents would be affected by the increase by the passage of the levy. Mayor Molnar projected a carryover of $477,000 into 2019. The normal carryover for a city like Macedonia should be $2.8 million. Molnar asked residents to be leery of any LAST MINUTE, UNSIGNED literature that may be stuffed into their mailbox by anti-levy propagandists.
The Committee and Department Directors reports and more are included in the video below. Some important items to note: The Macedonia Recreation Center will be closed for the annual "building closing for maintenance" for the week of Oct. 22-28 and the Macedonia Annual Haloween Party is Sunday Oct. 28th .  You can also listen to Mayor Nick Molnar's Nordonia Hills. News podcast at this link.