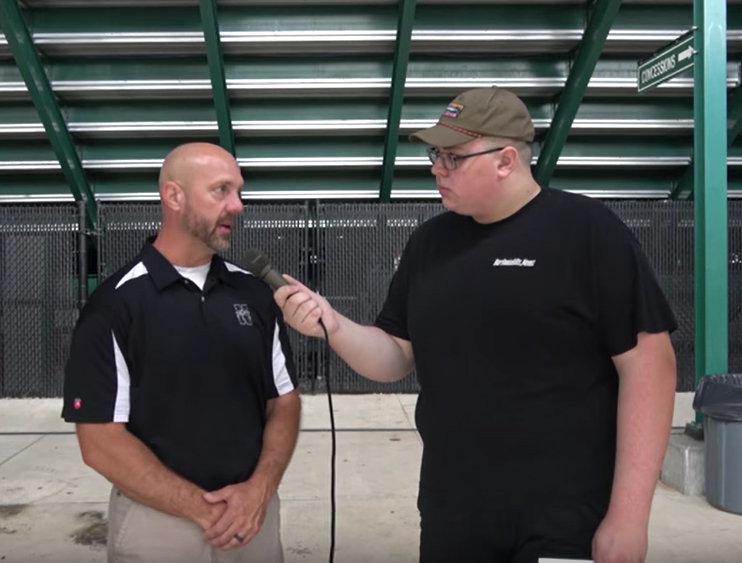 By Victor Milani
Give our readers a brief background of where you grew up, college and current family members?


My grade school days were spent living in Garfield Hts and attending St. Monica Grade School, while in high School at Holy Name HS; my family made the move to Medina. After graduation, I attended the University of Toledo where I received a BS in Exercise Science with a specialization in Kinesiotherapy. After leaving Toledo I continued my education at Baldwin-Wallace and picked up my athletic training course work.




I've been married for 21 years to my college sweetheart, Debbie; we have 3 beautiful daughters. My oldest Carmen just graduated from Nordonia and is attending BGSU this fall. I still have 2 daughter's currently attending Nordonia. Angelina a senior and Isabella a junior.

How long have you lived in the Nordonia Hills area?


We will be going on our 5th year as a resident of Northfield.

Before coming to Nordonia, where were you the trainer?


My previous 22 years of experience as an ATC were at Westlake HS, Holy Name HS, and Maple Hts HS.

Coming in to replace beloved Trainer Jeff Kime (Trainer Jeff) who was at Nordonia for nearly 20 years, what is it like to fill those big shoes?


It's always tough to replace someone who has been at a school/community for that long of a period of time, but we both passed the same national and state qualifications. We both have outstanding backgrounds and relationships with our former athletes, families, coaches and administrations. Those are the traits that i look to continue and build on.

High school sports and trainers have changed the way they handle injuries. What is the biggest change you've seen in the past 5 years regarding heat and concussion issues?

Science has backed us up on how we handle these issues. We are learning more and more each year about recognition, evaluation, return to play criteria, and rehabilitation of both these issues and that is back by science and research more so today than it was 5 years ago.

Do you attend all sporting events, home and away?

Being one person and looking at the amount of venues/events on a given day we try to attend all home events and away varsity football games. I try to make myself available as much as possible, but I am only one person.

When you have multiple sporting events held at one time at home, how do you handle that situation?

Events are broken down likelihood of injuries or simply by collision sports (football), contact sports (soccer), and non-contact sports (tennis).

How has the Nordonia community welcomed you?


Everybody has been awesome!

Someday, if the budget were support it, would you like to have an assistant trainer to help ease the workload?

Without a doubt. Its not just about easing the workload but about player safety and availability; especially with overlapping venues. It allows an ATC to be onsite to just not cover a venue but to be available to evaluate and rehabilitate injuries.

Being a resident of the community, how does it feel driving 10 minutes to Nordonia, than 45 to Westlake?


The short drive is a blessing, not just for me but for my family. It allows me to be more available to them; whether they like it or not.

Do you have any parting comments you'd like to make to our Nordonia Hills. News readers?

I just like to say thank you for making this transition easier and I hope I can live up to and possibly surpass the standards of care that JT has previously set up.
Thanks to new Nordonia athletic Trainer Dominic Ramicone – Interview with Dominic below by Samuel Milani!!