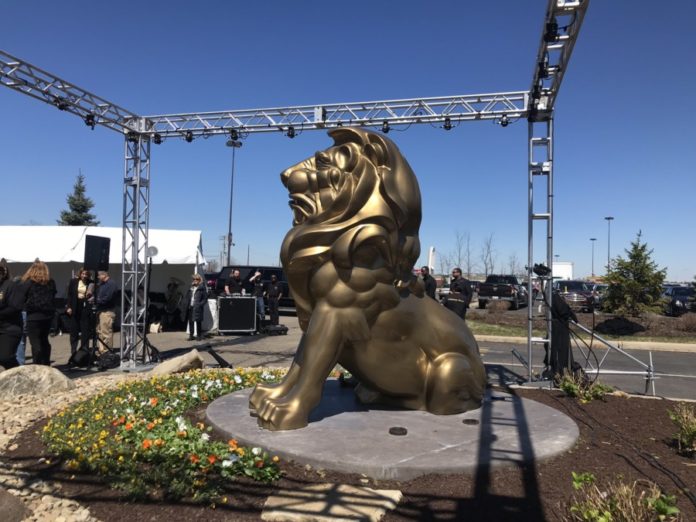 The  Northfield Park/ Hard Rocksino officially changed it name to MGM Northfield Park on Tuesday. Since opening in April of 2014,, The Hard Rock Rocksino has been the #1 gaming venue in Ohio. The facility, built by Northfield Park owner Brock Milstein, was sold by Milstein to MGM for $1 billion dollars late last year With the deal now complete, the newly rebranded MGM Northfield Park officially reopened April 1, 2019 as MGM Northfield Park. A reopening celebration marking the transition, occurred today.
Community leaders, guests, MGM management team members and President COO Chris Kelley all spoke during the history making event. Kelley had previously stated that" MGM has been proud to work alongside the 950 dedicated employees during the transition. Through the hard work of all the team members, the harness track and Rocksino have established themselves as the market leader. We are excited to begin this new journey together."
NordoniaHills.News asked Chris Kelley: "When might table games come to MGM Northfield Park?" he said "We will see what happens legislatively and certainly be prepared to react to what every decision is made." When asked about the timeline for the MGM Hotel, Chris responded: "We see a tremendous amount of potential on this property as you walk around the and see all of the opportunities for growth that exist here. The hotel is one of the those opportunities that we will take a look at over time and evaluate but at this point we do not have a timeline to share.
Northfield Village Mayor Jesse Nehez said, "On behalf of the entire Village of Northfield community, I would like to express the enormity of our excitement about the current rebranding and improvements taking place at MGM Northfield Park. The fact that MGM, a company with such significant global presence, resources, and options, continues to make such significant investments in the Village is humbling."
During the transition, the Hard Rock never closed down and continued to operate for its patrons to enjoy. BELOW ARE A FEW NEW ADDITIONS AND CHANGES MADE BY MGM NORTHFIELD PARK:
Fast Facts
Property owned and operated by MGM Resorts International, effective April 1, 2019.
Location: 20 miles south of Cleveland and 20 miles north of Akron
200,000 square feet of non-stop entertainment featuring a 1,900-seat music venue, 300-seat event space, year-round live harness racing, gas station and car wash.
Largest gaming selection in Northeast Ohio with over 2,300 video lottery terminals
Capacity: 10,705
Five dining options
Four bar and lounge experiences
President & COO: Chris Kelley
MGM Northfield Park Lion Statue
The statue is 7-feet tall, 5-feet-2-inches wide and 7-feet-3-inches deep.
The lion is designed after its siblings at MGM National Harbor and MGM Springfield; each lion is hand-sculpted and no two are identical.
The statue weighs approximately 350 lbs.
The statue is made of fireproof fiber reinforced plastic (FRP), a durable, weather-resistant material; products made from composite FRP materials offer significant environmental benefits because of their characteristically low weight, good mechanical properties and excellent resistance to corrosion.
The lion was made by Raymond Company, a Las Vegas theming contractor.
The statue was installed on April 9, 2019 after traveling cross-country by flatbed truck from Las Vegas.
MGM Lion history: http://www.logodesignlove.com/the-mgm-lions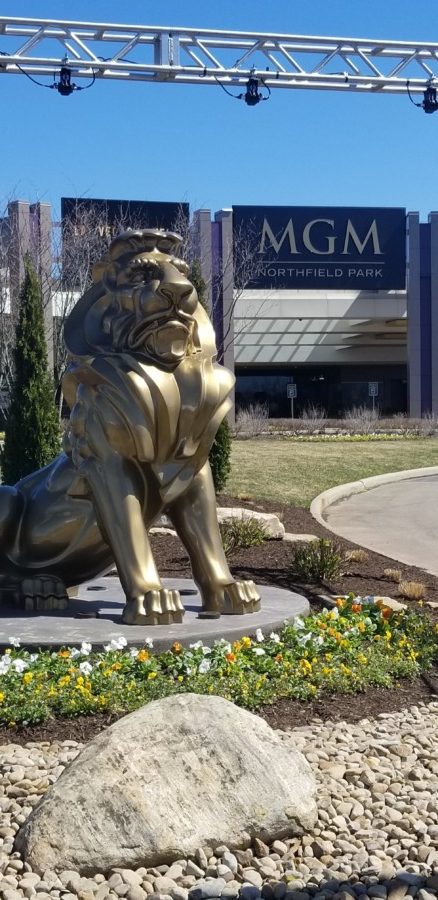 Food & Beverage
Kosar's Wood-Fired Grill – Honoring former Cleveland Browns quarterback and local star, #19 Bernie Kosar, Kosar's Wood-Fried Grill offers wet-aged steaks and chops, in addition to fresh seafood, cooked to perfection on the restaurant's wood-fired grill. Bernie Kosar memorabilia, provided from his personal collection, along with TVs for all game watching needs, fill the space.
TAP Sports Bar – A high-energy restaurant and sports bar that offers classic and contemporary American culinary favorites along with an extensive selection of local and craft beers.
The Buffet – With over 60 fresh selections daily and six live-action cooking stations, The Buffet offers an array of global cuisines.
Concerto Italian Kitchen – A fast-casual Italian restaurant, featuring personal, handmade pizzas 30 fresh topping choices, in addition to pastas, sandwiches, salads and sweets.
The Roasted Bean – Serving gourmet coffees, pastries and sandwiches.
Center Bar and Lounge – Located in the heart of the venue, Center Bar's elevated space is the central social gathering space, and offers domestics, imports and specialty cocktails.
Neon Room Bar – Gaming bar complete with domestics, imports and craft cocktails.
High Limit – Play and imbibe in MGM Northfield Park's premium gaming lounge with 55 video lottery terminals and an outdoor patio.
Entertainment
Center Stage
Home to some of the best concerts in Northeast Ohio, the 1,876-seat music hall boasts concert-style seating, state-of-the-art audio and lighting systems and standing room for about 2,100 patrons. Legends such as Chicago, Dolly Parton, Diana Ross, Sammy Hagar and Earth, Wind & Fire have performed on the stage.
The Neon Room
The versatile showroom is equipped with state-of-the-art audio and lighting systems and can host up to 300 guests for special events, private parties, intimate concerts, viewing parties and much more. A full service bar and gaming options are available. 

Gaming
MGM Northfield Park is proud to offer the largest gaming selection in Northeast Ohio with nearly 2,300 video lottery terminals. The gaming floor features popular, novelty and one-of-a-kind games such as Bernie Kosar's Stike and Michael Stanley's video lottery terminals.
M life
M life Rewards is a premier loyalty program that is available to all guests, transforming everyday travelers into VIPs. Members receive benefits for virtually every dollar spent at 20+ world-renowned destinations in Las Vegas and across the U.S. Visit Mlife.com for more information.
Northfield Park Racetrack
Northfield Park features year-round, live harness racing. Ohio's premier racetrack, "The Home of the Flying Turns," has been thrilling race fans for over 60 years. Visitors can enjoy full-card simulcast wagering in the state-of-the art Race Book or Trackside Lounge and patio; a VIP sports bar with theater seating; and dozens of high-definition TVs for guests viewing pleasure.
Rewards Gas & Wash
The first-of-its-kind in Northeast Ohio, the state-of-the-art gas service station and car wash is a unique property amenity. The station is equipped with LED TV's, full retail store and six double pumps for a total of 12 handles to dispense gas.
Retail
The Shop – The Shop serves as the property's sundries store, offering snacks, gifts, MGM Northfield Park merchandise and more.
For more coverage, watch News 5 Cleveland video here: