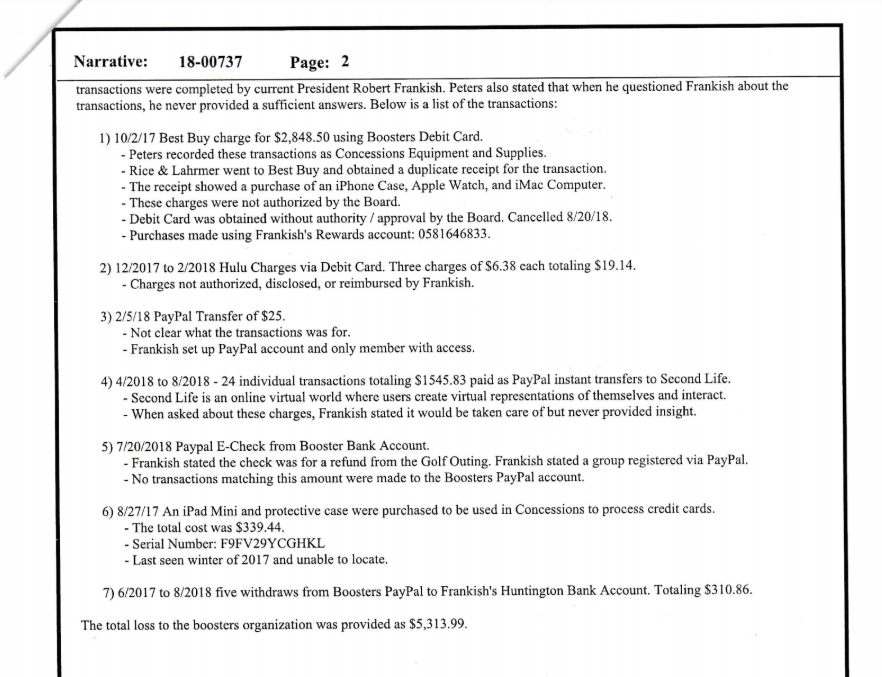 By Victor Milani
Nordonia Athletic Booster Club President Robert Frankish resigned as President after allegations of misuse of booster club funds was discovered. Total of the purchase in question is $5,319.99. That figure includes a Best Buy bill for $2,848.50, of which an Apple watch, iMac Computer, and an iPhone protective case were purchased. These items were charged to concession equipment. See page one of the police report here.
Another big ticket item was a bill for $1,545 to Second Life, an online virtual world system which provides a virtual representation for individuals. There were 24 separate transactions to this account.
Another loss was from a PayPal transaction for $310.86 from Booster funds to personal Robert Frankish personal bank account.
The sad reality of all this is that he allegedly stole from the Athletic Boosters, whose funding is derived from car washes, mulch madness, bakes sale, concession funds, golf outings, and 50-50 raffles, to name just a few.  Adding insult to injury, Frankish allegedly stole from the parents and children whose hard work, time and labor went into accumulating these funds. It's tantamount to robbing a child's lemonade stand.
These funds are not taxpayer monies, but money from individuals wallets. The Nordonia Athletic Booster Club is separate and not funded or under the supervision of the Board of Education. They are also separate from the Nordonia Band Boosters.
On an editorial note, I would hope Mr. Frankish is held accountable for these purchases. Restitution of the entire $5,319.99 should be just part of the sentence as well as some time working fundraisers, car washes, mulch madness, and long, hot hours working the concession booths. He can then look into the eyes of the young adults he stole from, and apologize. Having said that, just working an event like a fish fry would not be enough.
Don't penalize the student-athletes by not supporting the Boosters. I should hope this an isolated incident, and future checks and balance accounting methods are put into place.