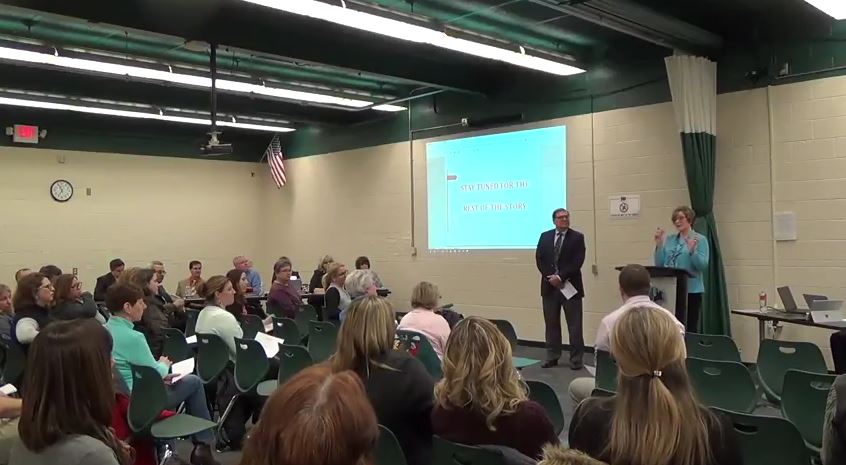 By Victor Milani
Nordonia Hills Supt. Dr. Joe Clark hosted an open forum meeting to the public on March 7. Topics discussed were school funding and facilities issues. The possibility of a six mil levy put on the November ballot and school safety concerns in light of the Florida tragedy were also addressed. Dr. Clark stated that Nordonia High School WILL NOT PARTICIPATE OR ORGANIZE a walkout on March 14 at 10:00am for 17 minutes. They will allow and monitor the students who wish to do so. After 17 minutes, the students will be asked to go back to there respective classes. Nordonia High School Principal Casey Wright has been monitoring the pulse of the student body, and is prepared for the walk out. Dr. Clark hopes in the future to continue to create a safe culture, as well as hire additional school resource officers to insure a safe school environment. The safety of the students is the highest priority according to Clark. A Safety Summit among the five communities in the Nordonia Hills School system is being held on April 11 from 11:30 to 1:00 at the Macedonia City Hall. Elected public officials and police and fire chiefs will discuss safety methods being utilized now, and in the future for the Nordonia Hills district. This event is not open to the public.
The funding of the schools and facility needs were also topics of conversation. The Nordonia Hills system is beginning to dip into its general fund reserves. The need for additional funds was discussed, pointing out teachers have taken a pay freeze for three years in the past. Nordonia Hills has the second lowest residential income tax rate in the county currently, and ranks high academically with Hudson and Twinsburg who, have a far higher mileage rate. Nordonia Hills indeed gets their bang for their taxpayer buck! Building repairs which have used band aides in the past for quick, inexpensive fixes, are now in need of replacing old, worn out equipment.
There was a question and answer period at the end of the forum, where the audience asked questions concerning everything from funding to school security. The video (see below)will go into further detail the content of the meeting!