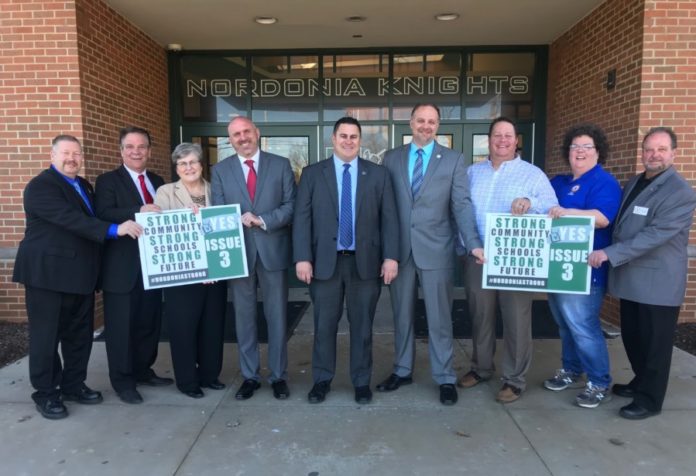 By Victor Milani
On May 7, the Nordonia Hills Schools will place a 6.98 mill operating levy on the ballot. Proceeds will fund all school district operations, including upgraded security measures. Failure of this levy will result in the dismantling of programs and services. 2300 students will lose busing. The passing of ISSUE #3 would result in an additional funding of $7 million dollars annually, beginning in 2020. A similar levy failed last November by 685 votes.
If the levy passes, busing would be restored and 38 employees whose jobs would  be eliminated,  would be re evaluated for employment next year. Security measures would be increased.
On Tuesday, political leaders, community leaders and levy team members met at Nordonia High School for a group photo to acknowledge their hard work AND ENDORSEMENT of the Issue #3 levy. Macedonia Mayor Nick Molnar and Macedonia Council members were represented in the photo. Northfield Village Mayor Jesse Nehez and most of Northfield Council were present for the endorsement shoot.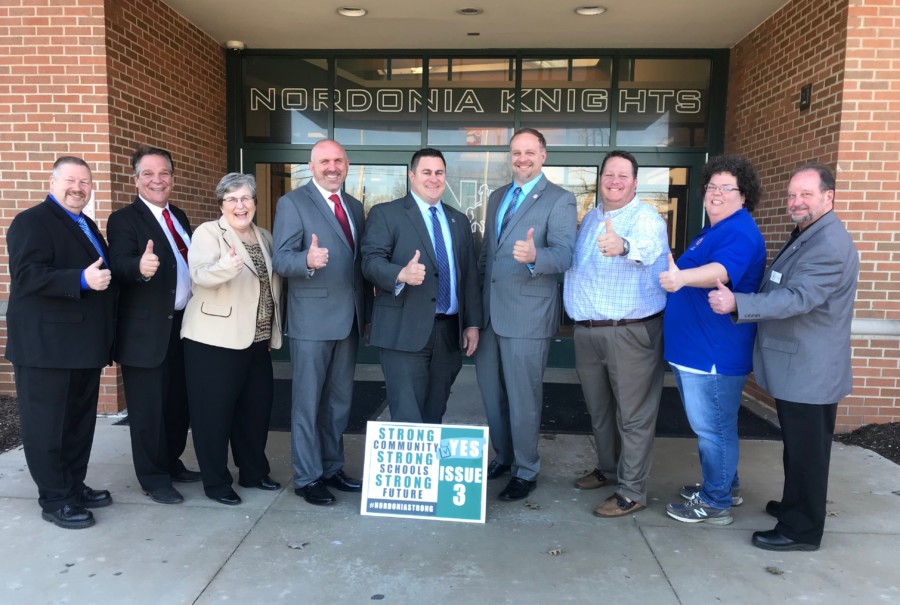 Macedonia Council Members Jan Tulley, and Shane Barker, Village of Northfield Council Member Jenn Domzalski, Casey Weinstein, the Ohio State Representative for District 37 also endorse the school levy but was not able to be in the picture.
Village of Northfield Council Member Keith Czerr stated "I am for children and for education. I don't know every persons' financial circumstances, it is wrong and unfair for me as a council person to tell or influence anyone on how they should vote on the Nordonia School Levy. That is every voter's decision and their right."
From Northfield Center Trustee Paul Buescher: "The "Friends of Nordonia Schools Levy Committee" recently asked our Board of Trustees to endorse the upcoming school levy.  I respectfully declined this request because I have long held the belief that as Township officials, we should not involve ourselves in school issues and schools should not involve themselves in Township issues.  This is particularly true when it comes to levy and bond issues."
The Trustees from Sagamore Hills declined to be included as well.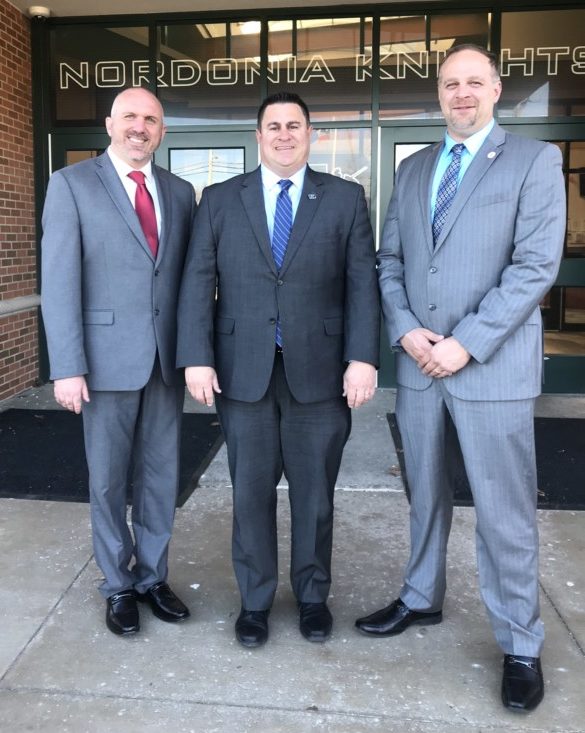 Here are some of the comments from the endorsements participants:
Having the opportunity to work as  chairs on the levy committee has been a tremendous experience.  We've had the opportunity to witness, first hand, the hard work and dedication of the Nordonia staff. To us, the levy committee has focused on Issue 3 as a community issue.  Investing in our schools is an investment in our community. We have seen the value of connecting with voters about something we are extremely passionate about.  We want our children to grow up in a community where schools are valued and considered an investment.  So many people, from voters, to staff, to volunteers have stepped up because they strongly believe in our schools and community.  This has truly been a grassroots effort. Kudos to the community leaders who have come out publicly supporting ISSUE 3.  Their courageous leadership is commendable! – Levy Chairs: Allison Brumfield, Paul Destino, Matt Ford, and Julie Moran.
"I am proud of our elected officials for showing the courageous leadership to support issue 3. They recognize that strong communities need strong schools. Their support of the schools shows their commitment to Nordonia children and families. I thank them for their endorsement." – Joe Clark
Strong School = Strong Community – Nick Molnar Mayor of the City of Macedonia
"Our community is only as good as its school system. Our children represent our future. I endorse Issue #3."  – Jesse Nehez Mayor of the Village of Northfield
Nordonia Newsletter Knightline