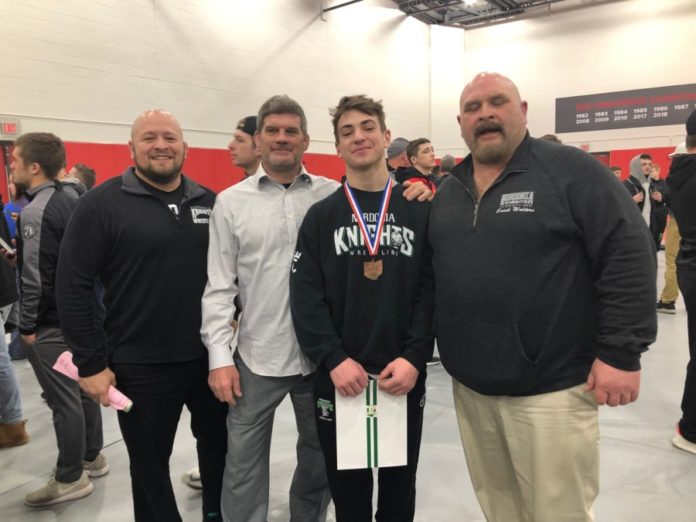 By Victor Milani
Sal Perrine, played linebacker and cornerback on defense for the football team last fall. But these says, Sal just finished up wrestling at the State Finals in Columbus. Coach Walters would like to see him wrestle at a higher weight class next year at 180 lbs. Little brother Gino wrestles on the Nordonia Middle School team. Sister Hannah is a Junior on the Baldwin Wallace Softball Team. Older brother Anthony went 12-7 this year at Gardner Webb Collage. Mother Chris and Father Paul are very proud!
See more photos from Jessica Archer here.
Coach Walters has quoted that "Perrine is one tough kid, who unfortunately spent more time in the restroom due to being sick, than on the mat in Columbus. Perrine will be the cornerstone for next year's squad, which will be tough due to many graduating seniors.
We asked Sale about this recent tournament. His answers are in red.
Sal, congratulations on your 7th place finish at the Ohio State Wrestling Finals in Columbus. As a sophomore, you must feel a great sense of pride and accomplishment. I'm sure your family is extremely proud of you. I know that you were sick during the meet, having lost eight pounds while battling a flu like bug. That makes your accomplishment even more impressive. You are making a name for yourself. We hope to see you on the first place podium in the next two years in Columbus!
Watching your older brother Anthony go to states, what influence or advice did he give you on your initial Columbus?

My brother told me to wrestle like it's just another match. Don't make it more than it is.

Did you ever imagine being on the podium as a finalist in your sophomore year?

My goal as a sophomore was to get to state and wrestle my best!

What influence did Head Coach Jason Walters and his staff have on you, and your team's success?

They make sure we were in the best shape we could be in.

Each coach brings a different approach to the team and it definitely works!

How long does it take you to go from football shape to wrestling shape?

It took me about 2 weeks to get into wrestling shape. 

What was your final record for the year on the mat?

43-5

Did you ever feel the pressure about filling the shoes of your superstar brother Anthony?

No! I don't worry about that stuff!

Will you now take a few weeks off from both football and wrestling to recharge your batteries?

Yes, then I will get into freestyle season.

What type of year are you looking for in football after a remarkable year, and when will you start conditioning for next season?

We want to build off of

what we did last year! I will juggle both lifting and freestyle season over the next couple of weeks.

The Nordonia Wrestling team has made an incredible comeback spearheaded by Coach Walters and staff. How does it feel to be a vital piece in the next two years in this comeback story?

It feels great. We need to keep working hard and fill the spots of the 11 seniors here we are losing.

Where did your family go to celebrate your great season?

They went to see my brother Gino wrestle in his Solon Conference Tournament.