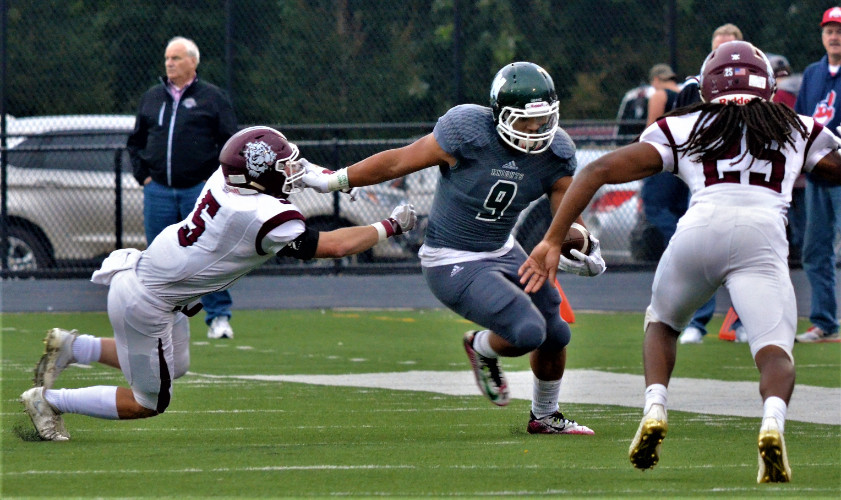 By Victor Milani
Nordonia, trying to rebound from a week one debacle against Bedford, had high expectations to rebound against Woodridge at home Friday night. Unfortunately a bad beginning lead them to another defeat, losing to Woodridge 46-36. Playing under cool, fall like conditions, Nordonia stumbled out of the blocks, trailing 20-0 in the first quarter. With the score 26-7 at halftime, the Knights seemed destined to being blown out again, similar to Bedford in week one. The Knights offense kicked it in gear finally, and fought back to trail only by three, 32-29 with 7:24 left in the game. That was as close as it would get with Woodridge responding with two touchdowns, leading 46-29 with 2:40 left in the fourth quarter. The Knights would respond with one more touchdown, making the final score 46-36, in this offensive shootout. The Knights offense was lead by quarterback Robby Levak, who passed for 337 yards. Wide receiver Donny Wizniak had 4 receptions for 137 yards, including one going for 60 yards. The Knights, now 0-2, hope to break into the win column next Friday when they travel to Mayfield. To state the obvious, the defense needs to improve for the Knights to have any chance at a winning record this year.
See related cheerleader pictures here.
See Band and Fans pictures here.
All photos by Victor Milani
Look for Cheer, Band and Fans pics coming soon.